Our latest case study takes a look at La Cuadra de Salvador, an exclusive American-style steakhouse restaurant, that recently opened a new location in the San Isidro district, located on Calle Santa Luisa con Tradiciones. The restaurant is well-known for using very high-quality meat imported from the United States as its main ingredient, attracting visitors from around the world.
We spoke to the General Manager, Pedro Pablo Pazos to find out more about the restaurant's success, their transition from pen and paper as well as their upcoming expansion with a third location in Lima, Peru.
Introduction
La Cuadra de Salvador opened its first restaurant in Barranco in October 2013, in the old Casona Montero Bernales, and it differs from the competition by using broilers – high-temperature gas ovens. "My restaurant is a high steakhouse chain in Peru. Right now we have two locations. And next month we're going to open a third location and so in total, we will have three restaurants," Pedro says.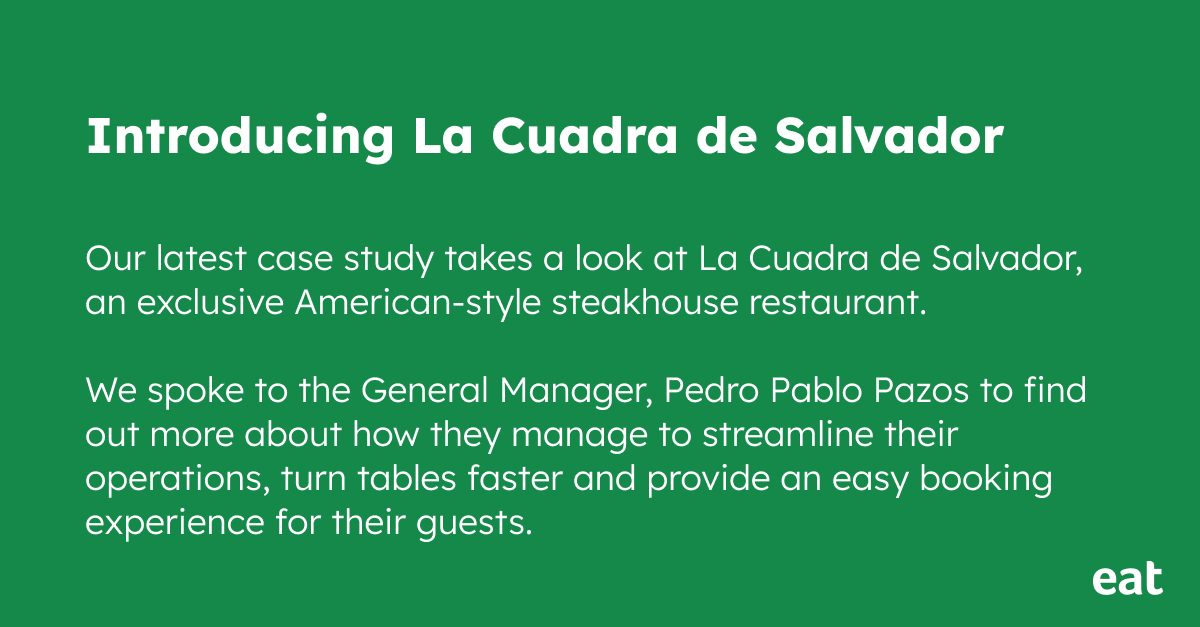 Up until today, the restaurant managed to attract international and local visitors alike due to their incredible imported meat and unforgettable dining experience. "What makes our location unique is, first of all, the quality of the meat we import is the highest quality possible. The second quality is that we have very big locations. For example, one of our locations is about 1000 meters, so approximately 10,000 square feet," the general manager, Pedro says. "The second location is almost the same because we have such big locations. We probably have 200 seats now in each one," he adds.
So, with much larger locations, how do Pedro and his team manage to streamline their operations, turn tables faster and provide an easy booking experience for their guests? Let's take a look at the challenges they face as a steakhouse restaurant and how they managed to overcome them using a table management system like Eat App.
The problem
The size of the restaurant is one of its unique qualities, that adds to the establishment's incredible aesthetic and atmosphere. But, of course, like most restaurants with a much larger venue, the seat count comes with its challenges. "We found that the tables were not rotating as much as we wanted them to, you know, and we didn't have anything like a software or an app that could help us with rotations," Pedro explains.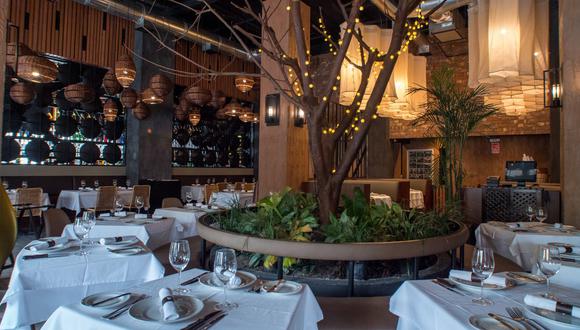 Before using a system like Eat App, organizing tables and planning for the night ahead was a very manual process. "What we did before was we did all the reservations on Monday. So basically, if you want to make a reservation you will have to call us. And there was a person writing your name, the time, the number of guests. And at a certain point we would just make notes," he says.
To improve the reservation process Pedro then realized they needed to make a shift from pen and paper to help streamline their operations more effectively. And most importantly, help their staff save time. "We saw that there were a lot of reservations and we said, OK, let's close it. But we didn't know if there was a space or if we counted more people," Pedro explains. "We didn't have the data. And we did it all manually. For example, it was a Saturday evening around 4 p.m. and you had the people that take the reservation calls, the people that were in charge of closing the website at 4 p.m. and sometimes that person didn't answer the phone. So we would have an internal crash because more people would come in than we were in a position to take in," he says.
So how did Pedro and his team overcome this obstacle?
The solution
To help them improve their reservation process and work more sufficiently, they needed a table management system. "When we started using Eat App, we solved these problems because we were able to select the table and the day (available for reservations) and we were able to put the duration that we wanted each reservation to last. So, for example, we saw on our soft days, we don't have much of the public coming in. We have a certain type of reservation for the tables that work," Pedro says.
It also helps that the system is user-friendly. "It's very easy to change the settings. That is a very big advantage that Eat App has compared to other software we tried in the past. Here in Peru, you have like two local software that everyone uses for reservations. But their settings, on how to use it, is not as easy as the ones we use at Eat App," he adds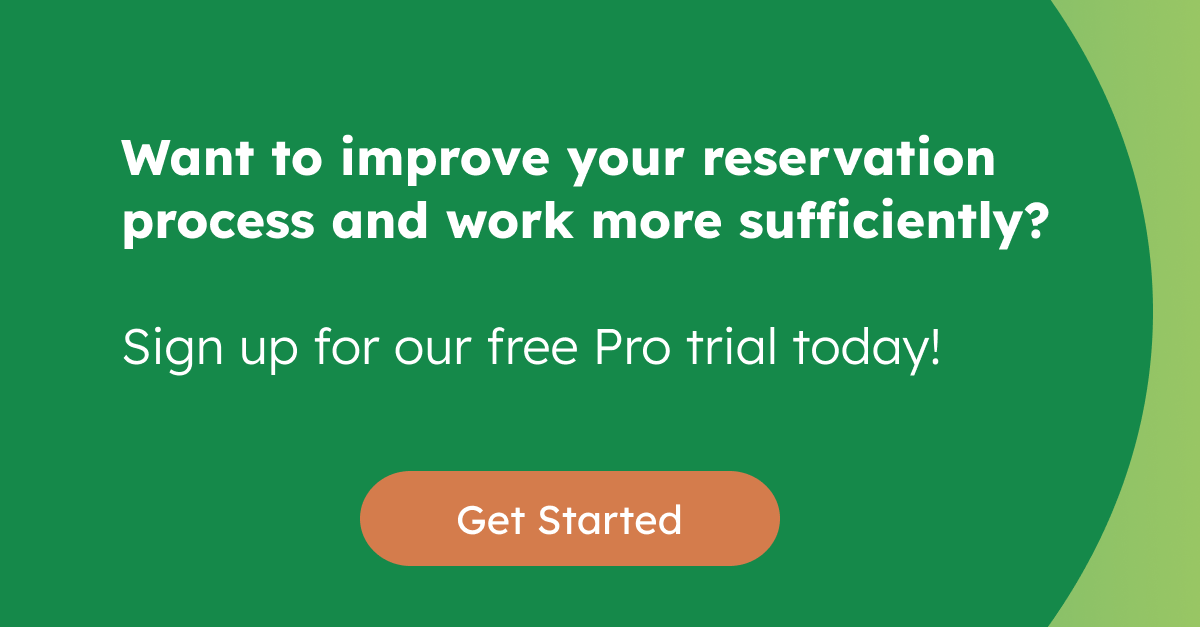 What's next for La Cuadra de Salvador?
Today, the popular steakhouse has seen massive improvements when it comes to its booking process and of course, an increase in revenue. This has led to staff members having a lot more time to rather focus on the guest experience, as well as the restaurant's future expansion to yet another location. "We have two [locations], and one more location coming in the next month," Pedro says. "I think with the third one, we're going to stop, because Lima, where we are based, is a very small city, and not as big as other places. So maybe we are looking to expand the brand and go out to other continents to expand," the General Manager of La Cuadra de Salvador says.
Why they recommend Eat to other restaurants
Collecting valuable information about their restaurant and guests has become extremely important for Pedro and the team. Luckily, with Eat App restaurant operators can easily view and digest the data to make informed business decisions. "What I like the most is the visualization and how easy it is to understand the data and the graphs of customers," he says. "What I liked the most is how Eat App shows the information to you. I mean, it's super easy, super simple. It's user-friendly and not hard to understand," Pedro adds. Eat App also offers restaurant owners the opportunity to customize the system to suit their internal needs.
"And another thing is also the automation processes that you have are super easy to create and they are really easy to use. And also obviously all the support you get from the [support] team. Although they are not locally based, the support team is always available to assist via email regardless of the time, someone will always respond to you. This also helps me a lot," he says.
Another benefit - Eat's advanced CRM system
To help increase guest loyalty and get VIP visitors to come back, Pedro and his team have set up automated emails by using Eat App's advanced built-in CRM system. "The email messaging is working very well. And we find it very useful because we send all types of information [to our guests]," Pedro says. "And it also helps us, for example, when you made a reservation three months ago and you haven't come back, then we send you another one just to let you know that we're still open and we want you to come back to your restaurant. And we have like maybe four or five types of automation messages and they're working very well," he adds.
These marketing emails will help you increase loyalty by reminding your guests about upcoming events, and special offers. "We also get results [from these emails], because we are able to add a big sale to one of those messages. So we're able to track how many people have opened the email. And how many people go to the website from those messages. So of course it helps us. And even if you don't open the email, for example, you still see La Cuadra de Salvador in your Gmail and you can see we're still there for you," Pedro says.