Restaurant branding is something you need to consider before opening your doors or launching any marketing to promote your restaurant. Get it right and all elements of your marketing campaigns and even how you run your restaurant and train your staff will become far more intuitive.
Many people mistakenly think that branding is just about your restaurant name and logo, but it runs much deeper than that.
Your brand encompasses your business personality, it helps customers to identify with you, and ideally, it differentiates your business from the competition.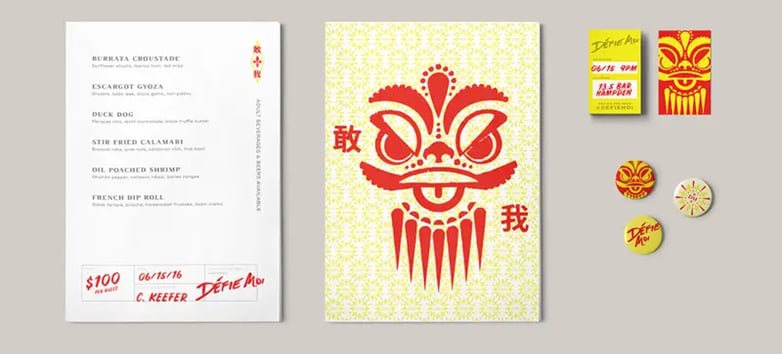 Let's take a look at some of the key elements and how branding should factor into your wider marketing efforts.
What are the key elements of restaurant branding?
Your restaurant branding starts with your concept. What kind of restaurant are you in? What do you serve? How do you want customers to feel when they dine with you and what will you be known for? You may want to work with a branding company to help get the basics in place. Start with:
Your restaurant name – this should ideally be search engine friendly, ie a unique word or phrase, and not infringe on the copyright of other businesses.
Your restaurant logo – this will help customers to recognize your premises, communications, and social platforms, and should represent your restaurant ethos well.
Your company ethos – what is really important to you as a company? Do you focus on culinary innovation and bringing guests new experiences? Do you want to focus on sustainability and creating a relaxed atmosphere? This ethos needs to translate into the tone, style, and visuals of your communications too. It's part of the core values of your restaurant.
Your restaurant décor – how you fit, furnish, and decorate your restaurant is even more important in the social media age. Diners can and will appraise how a restaurant looks even before they step foot on the premises. Your décor should fit with your branding and things like tableware and glassware choices shouldn't be an afterthought.
Your booking process – this should be easy and hassle-free as it impacts your brand reputation as well as your ability to plan stocks and staffing levels. If you accept bookings over the phone ensure all staff is trained to give an excellent first impression. And if you use an online booking system, it needs to be easy for customers to find and use.
Your website – As a key representation of your brand you'll want using your website to be a positive experience for diners. It also needs to be instantly recognizable as your website. Make sure it's linked to your restaurant's social media platforms too.
Beyond the basics
To begin to develop your brand you'll need a firm idea of who your customers are likely to be, where you sit in the market place and what your unique selling point is. Ensure you carry out audience research to help inform this. Who is doing what well and why? What's missing? How do you fit in?
Remember, branding isn't just about the logo that's on your sign; it's about adopting a consistent attitude online, and in real life, and helping your brand to be instantly recognizable. Part of this is training your staff to be brand ambassadors for you, ensuring they are dressed in a manner that fits and working together to create a particular dining experience for your guests.

The importance of your restaurant menu
Designing a successful and branded restaurant menu requires careful planning. Along with building a menu around dishes that fit with your concept and ethos, you'll want to consider your menu design from a branding and psychological point of view. To get started, consider:
Does the language in your menu fit consistently with your brand?
Does any imagery in the menu fit with your brand?
Does the menu layout encourage your diners to make dining choices that are profitable for you?
Extensive research on the impact of menu layouts on diners' ordering habits has been carried out and while some experts suggest people naturally scan menus in an A-Z shape from the left-hand corner, research from San Francisco State University found that people read menus sequentially from left to right. Boxing items, using different typography for certain dishes or placing them next to pictures can also draw the eye to them, helping to sway diner's choices.
The art of menu design extends beyond just customer psychology, it can also directly impact your restaurant's profitability. A well-designed menu is one that not only caters to what is naturally appealing but also places profitable dishes in the most convenient locations on the menu.
Only after conducting food cost calculations of each dish at your restaurant can you then begin to organize your menu items to take advantage of higher profit margins - i.e., menu engineering.
Getting Inspiration
With branding, it is often helpful to see other examples to get a sense of what is required and how other people go about branding their restaurants.
Where should you go if you are looking for inspiration?

Pinterest - The image-sharing social network has a huge selection of branding examples. Be prepared to wade through 100's of examples.
99 Designs - The freelance designer marketplace is a great place to find branding examples, especially for your website. You can also hire designers if you need help.
The Dieline - Packaging magazine with plenty of inspiring examples of restaurant branding.
One Xtra Pixel - Design resources also with plenty of restaurant branding examples.