Our latest case study takes a look at Bombay Bungalow - a newly re-branded and re-named traditional meets contemporary Indian restaurant located in the popular Beach area of Dubai's Jumeirah Beach Residence (JBR). Serving around 220 covers at capacity, the restaurant serves traditional Indian classics as well as more progressive menu items in a casual, vintage interior.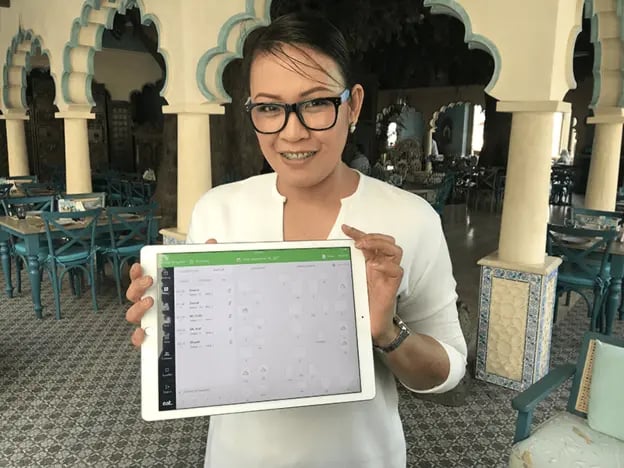 The problem with pen and paper
When Bombay Bungalow upgraded its menu and interior it became clear that their service also needed an upgrade. Providing a great front-of-house and customer experience is a crucial factor for remaining competitive in Dubai's increasingly crowded, upscale casual dining scene, and the limitations of using pen and paper to take bookings we're immediately obvious.
Upgraded guest service and hospitality
Digital reservation systems have a huge impact on restaurant customer service at restaurants used to using pen and paper. With a digital system, Bombay Bungalow now automatically collects a rich profile for each guest that comes into the restaurant and manages these contacts in a secure database.
This means when a returning guest calls or arrives as a walk-in, staff can quickly see dining preferences and a complete history of the guest at the restaurant and provide a level of personalized service unavailable when using pen and paper.
"It's made a huge difference. Everything is digital now and it makes life much easier for staff. We can collect personal details and provide a better customer experience. Nowadays guests want to be acknowledged when they come in and everything is on the system. We don't need to ask them anything" - Denzil
An organized floor
Today guests come into restaurants from multiple sources - phone calls, online from websites, reservation platforms, social media, and Google as well as through walk-ins. This new reality means effective table management is crucial for staying on top of demand.
Bombay Bungalow uses Eat's reservation widget technology to take online reservations and sees online bookings as an important future source of new customers as it takes the pain out of making a booking at the restaurant.
Whilst online bookings are growing, as casual dining restaurant Bombay Bungalow still gets a lot of its guests as walk-ins. A key reason for choosing Eat's reservation software was that it has features built specifically for restaurants with a high volume of walk-ins.
The floor plan view gives staff an accurate snapshot of service so they know instantly which tables are free. But crucially with one tap staff can see the status of any table for the remainder of that shift.
"Of all the features in Eat, the floor plan is the easiest for us. You know exactly which table is finishing and which table is pending." - Denzil
Improved marketing
Like many restaurants, Bombay Bungalow regularly sends promotional emails about events and promotions to its users. Eat's digital reservation system automatically collects and maintains the restaurant's customer database. The database is easily downloaded and can be used for email marketing initiatives.
The process of joining Eat
Getting up and running with Eat takes on average 3 days.
Sign up to Restaurant Manager by Eat

Download Eat's iPad app from the Apple App Store

Create restaurant floor plan directly in the app
Migrate existing customer database into the app
Add unique online reservations links to the website, Google Business, and Facebook pages
On-site training with all restaurant staff, (between 2-4 hours)
Provide details on how to receive ongoing app support.