Our latest case study takes a look at not one but two exquisite restaurants at Novotel Al Dana Resort; the only internationally branded 4-star resort located in landscaped tropical gardens in the capital of Manama. This one-of-a-kind resort offers visitors from around the world a unique opportunity to experience relaxation as well as delicious cuisines at their restaurants, La Perle and Fishbone.
We spoke to the Marketing Executive, Giorgia Beltrami to find out more about the two restaurants and their ongoing success, their aim to provide guests with an incredible experience, as well as expand on their marketing efforts to help increase bookings, giving restaurant visitors a seamless process to book online.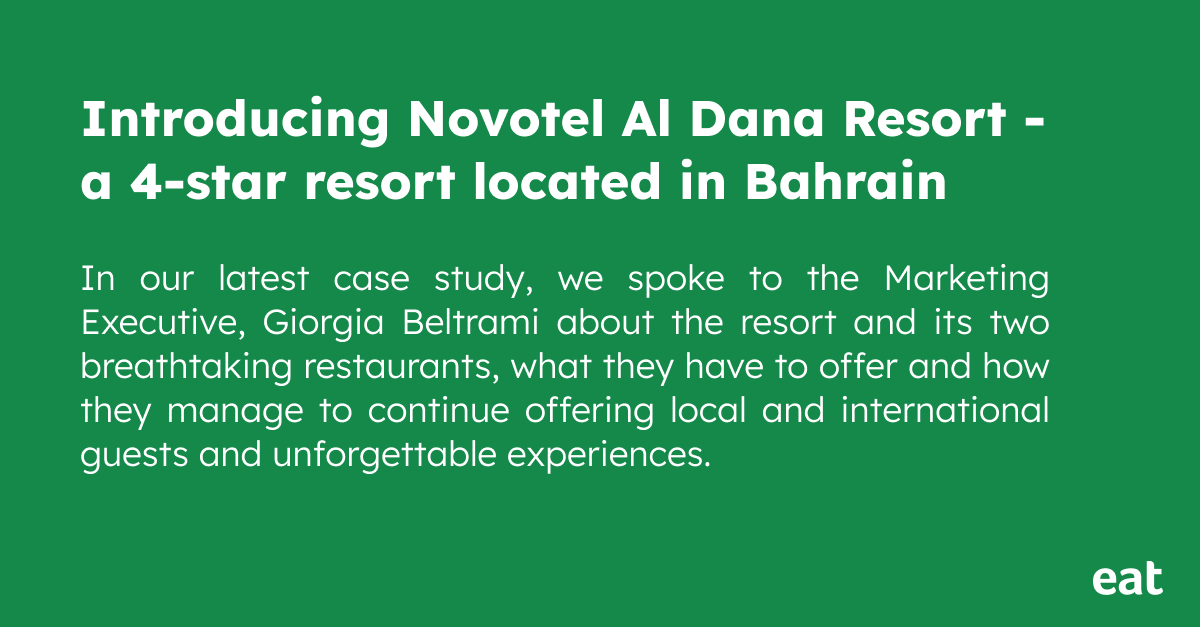 Introduction
Let's start with La Perle, a unique seafood restaurant located in the capital of Bahrain, Manama. This perfectly situated location offers guests an overview of the city with a terrace rarely found anywhere else in Bahrain. Here, local and international visitors alike, are also welcome to enjoy a traditional shisha with their favorite beverage while they overlook the spectacular views of the city. "La Perle is absolutely unique. It's a seafood restaurant, mainly. And one of the special things about La Perle is that it is almost like a fish market. Guests are welcome to choose their own fish as if they were the chef. The restaurant also offers a very classic style feel to it," says Giorgia.
La Perle is also well known for its wide selection of fresh local and imported seafood products guaranteed to leave any guest wanting more. "And now we are running a promotion, which is on Tuesday. It's lady night, which means all women get 50% off on food and beverage," she says.
But La Perle's offering doesn't stop there. "Guests can also come and enjoy our lavish brunch with delicious selections from traditional Italian cuisine, refreshing drinks, and Dj Elena. This takes place every Friday, starting from 14 October 2022 onwards, from 12.30 to 4 PM at our magnificent beachfront resort," Giorgia adds.
>>>Make a reservation at La Perle here.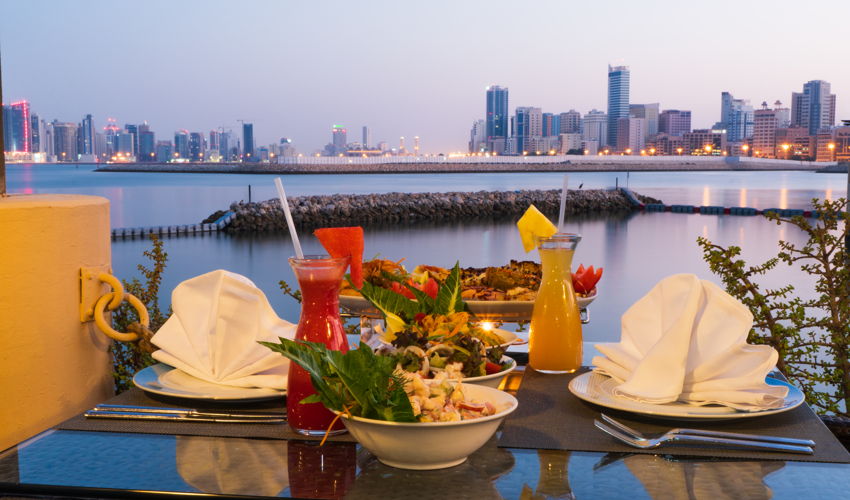 If that wasn't enough, Novotel Al Dana Resort offers another special location for guests to dine and unwind. Introducing Fishbone, a modern European trattoria & bar lounge by the sea. When visiting, guests will enjoy a contemporary, 'rustic refined' dining experience with a local twist.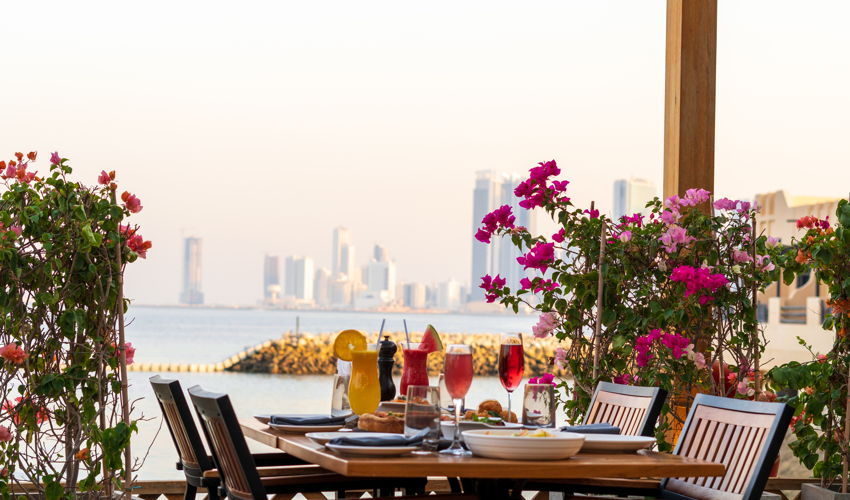 Fishbone opened in 2018 and is perfectly located along the seaside, showing off the Kingdom's bountiful land and sea; a dream for any Bahrain visitor. The restaurant is known for capturing "trattoria cool" without trying too hard. When it comes to Fishbone, the restaurant offers an atmosphere that contributes to the Italian-inspired dishes. "Fishbone offers Italian and European cuisine. They have arancini pizza and the restaurant is considered Italian fusion. It's a very pleasant location too," she says. "The restaurant also offers live music, " Giorgia says. "The food is also very good and it's really a spectacular place to go," she adds.
>>> Make a reservation at Fishbone here.
The Challenge
In 2022, tourist destinations like Bahrain have become filled with hospitality groups, providing unique experiences. The competition has therefore become extremely high, especially for restaurants and resorts. "Nowadays there are so many restaurants in Bahrain. So it can be very difficult to compete with them," she says. "This is a challenge for us," Giorgia adds. For both of these exquisite restaurants, it's about standing out from the crowd.
So, what can restaurants like Fishbone and La Perle do to continue standing out from the crowd?
The Solution
Today's guests expect more than a delightful atmosphere and great food. What they really "crave" is for restaurants to give them a personalized experience they won't forget. Like most things, guests want to feel special from the moment they enter the doors. Restaurants such as La Perle and Fishbone invest in a trusted reservations system like Eat App to help them take their guest experience to the next level. With a powerful tool in place, operators will be able to streamline their operations, as well as meet their guests online while providing them with a seamless booking process. They will also be able to give their visitors that unforgettable guest experience.
To help take your guest experience from good to great, like La Perle and Fishbone you can start by:
1. Integrating your booking widget into your social media channels
This is an easy (and free) way to help turn your social media followers into guests. As an official booking partner, Eat App allows restaurants to turn their social media pages into booking channels, helping you meet your customers where they live online.
>>>> For more on this topic and a guide on how you can get started, download our eBook here.
2. Collect important guest information by building your own guest data
The pen-and-paper method might have been effective 20-30 years ago, but today we live in a high-paced environment. Guests not only expect things to happen faster, but they also need to be more personalized to accommodate their preferences and special requirements. So, how can restaurant owners and staff members keep up with these high-quality demands, and improve their guest experience? Even though the question seems daunting, the answer is simple.
With a reservation and table management system like Eat App guests are automatically added to your guest database when they book through your reservation button. This will not only help operators create rich guest profiles on autopilot, but guests can easily notify you of their preferences before they arrive.
You can do this by easily setting up your reservation preferences. Here your guests will be able to book a reservation, whether it's from your social media channels, Google, TripAdvisor, or your website and inform you of their requirements beforehand, giving your staff enough time to prepare. Your visitors' preferences can be in the form of
"Indoor" vs "Outdoor" seating, "Smoking" vs "Non-Smoking'' sections and they can even choose what section of your restaurant they prefer.
But, that is not even the best part. As we mentioned above, all of this important guest information will be automatically stored in your guest data. You and your staff members will then be able to use this data to provide a more personalized guest experience, making each visit even better than the last time.
3. Email guests with special offers and get them to come back
Use your powerful guest profiles to create impactful marketing campaigns. With your guest data, you will be able to filter and segment your restaurant guests. To break it down, you will be able to segment:
Guests who haven't been to your restaurant in a while and let them know about your upcoming specials.
You will also be able to group together your VIP guest, or high spenders and let them know about exclusive offers.
Other great qualities of this feature are that operators can view where most of their online bookings are coming from daily.
It's all about customizing your reservation and table management system to help your restaurant make data-driven decisions.