In a world with millions of potential customers, competition in the hospitality industry is fierce so restaurants are caring about their marketing strategy more than ever. Fortunately, harnessing social proof can help eateries of all sizes attract new customers. From five-star reviews on Google and Yelp to boosting the quality of search results, here's how to master social proof to improve your reputation, broaden your audience and boost sales.
Boost Your Customer Service Strategy
A whopping 60 percent of restaurants go out of business in their first year, and 80 shut down after five years. But every restaurant that succeeds has something in common: strong customer service. If customers aren't happy with the way they've been treated, they'll be gone before you can say dessert. So what's the secret to providing outstanding customer service at a restaurant?
Hiring friendly staff is the first and most important step. When your staff truly care for your customer's happiness, they'll go the extra mile to care for them. This means that, in the instance something goes wrong, your staff will do whatever they can to fix it.
This is important for two reasons: it keeps customers coming back, because they know they can trust your establishment to do right by them. Secondly and most importantly, it bolsters social proof. Happy customers are more likely to spread the word to friends and family. They're also more likely to leave a positive review, as shown below
One way to ensure you're hiring staff that understand your customer service mission is to create an employee handbook. This should detail how to deal with conflicts and what to say in the instance of a mistake or an unhappy customer, says Candice Keralla Høpfner-Dahl.
"A good idea is to set some standards regarding customer complaint handling; what do you do if the customer complains face to face? Or what do you do if he calls to say exactly what he thinks? Also, how do you greet your guests – do you shake their hands, do you seat them, do you inform them of today's specials right away?"
Creating a consistent conflict management solution ensures that people's needs are consistently met.
Building Loyalty and Gaining Endorsements
Increasing word-of-mouth can boost foot traffic and strengthen existing customer relationships. So how can you get people talking about your restaurant? Here are a few ideas.
Share Buttons
Add a share button to your website to inspire customers to share your website with their friends. If they like something they see or they enjoyed their experience, they'll be more than happy to spread the word on social media in an organic way.
Hashtags
Creating content for your business has never been easier. Simply create a hashtag and offer the chance for your customers to be featured on your website. You may want to include these details on table tents alongside specials and event announcements.
Giveaways and Contests
Creating a $25 gift card contest is a great way to attract new customers to your social media sites. Simply ask current customers to tag their friends in the post for a chance to win, and be sure to give the card to new customers who aren't already a fan.
Boosting Reviews and Testimonials
In a BrightLocal survey, 88 percent of consumers said that they trust online reviews just as much as recommendations from friends and family. Moreover, this survey showed that people look at two to three different review sites before deciding to do business with an organization. For restaurants, this shows why it's so important to have reviews across sites like Google, Yelp, TripAdvisor and Facebook.
Having a five-star review on multiple sites isn't easy; in fact, it's nearly impossible. But leading restaurants show that you can get pretty darn close. Consider the 4.9 star Google and Facebook rating of Denver-based restaurant Comal Heritage Food Incubator, for example.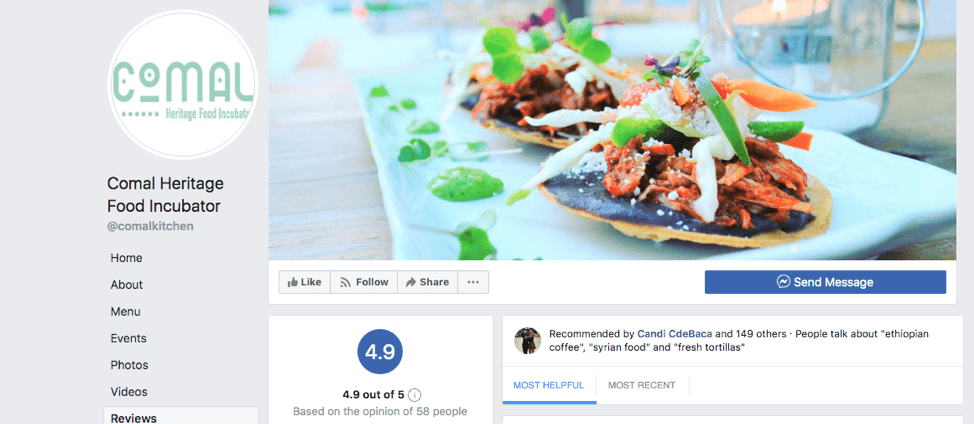 The fact that they have the same high rating on two platforms already boosts their credibility. Moreover, it shows that they've created a consistently positive experience for people.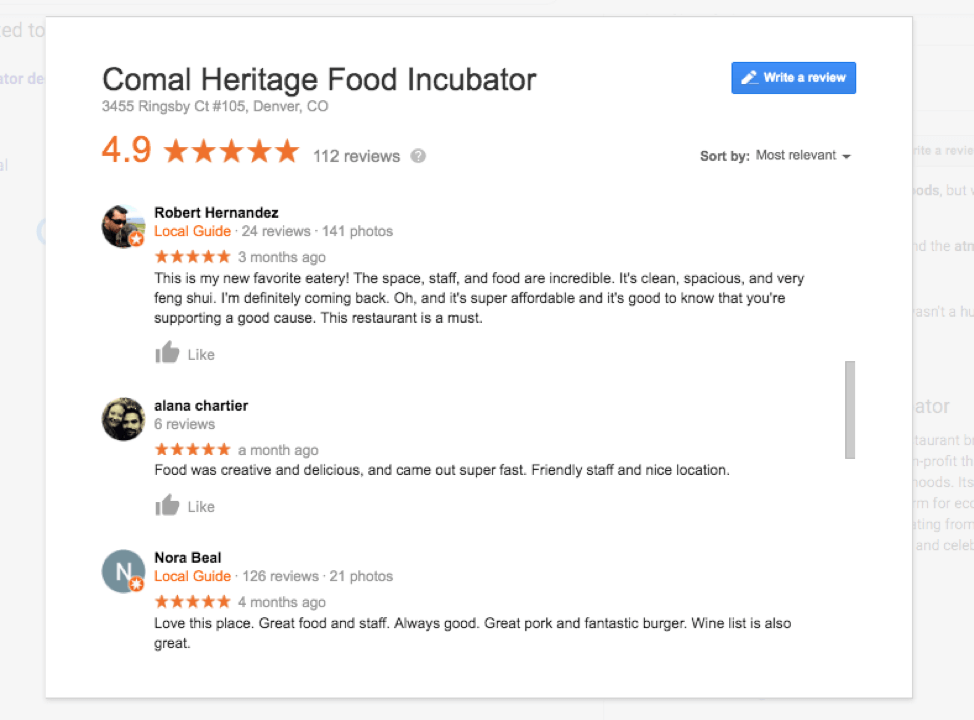 To garner reviews in an organic way, you might consider placing a sticker or sign at your entrance, either on the front door or at the host stand. (TripAdvisor stickers are available to businesses for free.) Another idea is to invite people to review you when they visit your website. A friendly popup or a scrolling widget that shows reviews can entice customers to do the same.
Similarly, review schema markup can be used to add reviews and ratings to google search results. Incorporating social proof directly into search results helps give your restaurant an added dose of social proof. Additionally, these stars help it stand out from the other results on the page.

Tapping into Fears to Grow a Following
Nobody wants to feel like they're missing out on something great. That's why it's so important to tap into the fear of missing out, or FOMO, to garner a following. One of the main pillars of your marketing plan in this context is to include mouthwatering imagery across all of your review and social media sites. Current customers tend to respond to this content well, so this will show potential customers just what they're missing out on.
Another idea is to interact with customers on social media. Anytime someone leaves a review or comment, be sure to leave a detailed answer. This helps create a positive relationship between you and the customer that other people can see. Mention that you loved having them and you're happy to see them again. As seen in the review of Scone Age Bakery below, the owner directly responded. Having his photo and a link to his name helps make the review feel more personalized.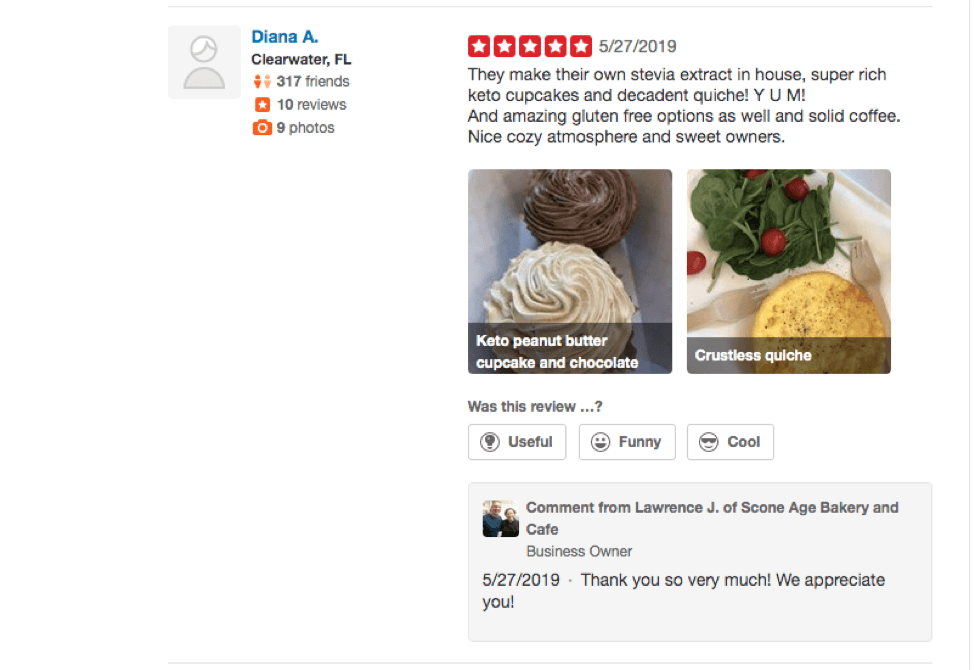 Lastly, take advantage of your busiest moments as marketing fodder. Have a line out the door? Have just one cupcake left? Selling a previously sold-out special? Take photos of these occasions and share them on your social media. People love to jump on the bandwagon and be part of the next most popular thing. Making your customers feel left out momentarily isn't a bad thing — as long as you treat them like movie stars when they walk into you restaurant for the first time.
Conclusion
Review sites like Google, Yelp and TripAdvisor can make or break a restaurant's reputation. What many restaurants don't realize is that they have direct control over how these reviews affect them. By creating strong customer relationships and promoting social sharing, you'll create an effective word-of-mouth strategy that keeps people flocking to your door.
About the author
Michelle Polizzi is a writer for CandyBar and ReferralCandy, two loyalty and referral marketing tools for small and medium-sized businesses.