Wolfpeach is known for being a complete "gem of a spot". Located in a little seaside town called Camden, the "new chophouse with a Maine twist" opened its doors in December 2021 bringing locals and international visitors an authentic hospitality experience they will never forget.
We spoke to wolfpeach owner Gabriela to learn more about their journey of opening a new restaurant in a small town, where community means everything. And, most importantly why they needed a reservation system, like Eat App to help them get started and increase their guest loyalty.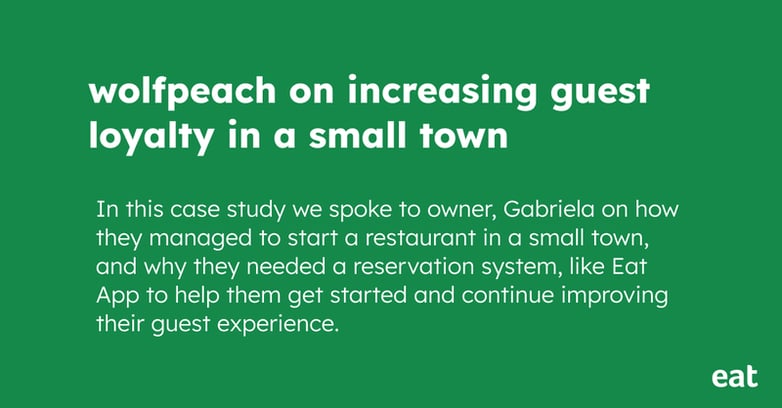 Introduction
Inspired by the history of the beautiful town, Gabriela and her partner Derek decided to leave the hustling and bustling of the big city life behind and start an authentic restaurant they can call their own. "My partner and I both have backgrounds living in New York City and Austin and working in restaurants there and doing a lot of fine dining. We love that, but we also want to live in a town like Maine and to be able to have a sense of community," she says.
The culinary duo wanted to create an intimate and warm dining experience for guests, so they kept their tables to a minimum. "We only have 32 seats and that's including the bar seats. So very very small," Gabriela says. The wolfpeach owner describes her exceptional restaurant with passion, explaining their long-term goal is to provide guests with a unique dining experience, including a menu created from intentionally sourced food and beverages. Another way for Gabriela and Derek to contribute to the theme of "community". "It's very seafood-heavy, and a very tiny menu and the same with the beverages. We're trying to focus on not only local wine and beer but ciders and local aperitifs and Amoros that are also from Maine," she adds.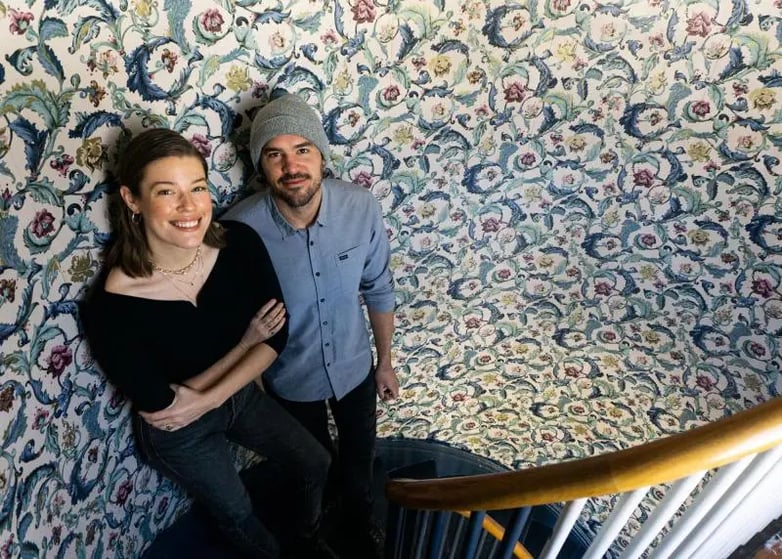 And as for the restaurant itself, guests will have an opportunity to dine at one of Maine's special historical buildings, rich in culture and beauty. "The physical restaurant is an old Victorian home and the restaurant is on the first floor and we live in the apartment on the second floor. It's very intimate (she laughs). It's beautiful," Gabriela says.
When deciding on a location for their restaurant, Maine seemed like the perfect spot. According to Gabriela the small town is not only loved by locals but tourists alike. "We get the best of living in a quiet community, but then you also have a high season with 10 000 people coming through," she says.
But, with good food, a great location, and a beautiful restaurant setting all in place, one important aspect remains to help drive success, and that is to ensure they increase their guest loyalty and impress the local community. Especially in a small town, like Maine.
Today, wolfpeach is described as a restaurant with "great people, great food and great atmosphere." So how did the unique seafood restaurant owner Gabriela and her team do it? How did they start a new restaurant in a small town where community is considered extremely important, and gradually start building their guest loyalty?
In this case study, we take a look at wolfpeach's challenges and how they manage to overcome them with the help of a reservation system, like Eat App.
Building guest loyalty in a small town
To start off, like any new restaurant owner, Gabriela wasn't sure whether the community would be as excited and accepting of their new restaurant. "We're trying to figure out how to appear less scary," she says. Unlike other restaurants in the area, wolfpeach is taking a unique approach by introducing "no tipping" to their establishment. "No tipping is very rare in the United States. And so our price point has to be higher to make up for that because we're trying to really pay everybody a living wage," Gabriela says.
But besides that, Gabriela says there are many qualities that make them different from restaurants in the area, with the hopes of winning over the local community. "There are a lot of things about our identity that are unsettling or a little scary, especially right now because we just opened in winter," Gabriela continues to say. Another reason why building trust and expanding on their guest experience has been extremely important for the wolfpeach owner.
>>> Learn more about meeting your guests' changing needs with data. Access your free eBook today.
Therefore, Gabriela knew having a reservation system from the start would be beneficial for the restaurant and the guests visiting their establishment. "I was not interested in manually booking reservations nor having a reservation book," she says. Besides offering her guests a seamless way to book online, she wanted a tool that will help them understand their guests a bit better and improve their guest experience.
Let's take an in-depth look at the features wolfpeach uses for exactly that:
wolfpeach's go to Eat App features to help build customer loyalty
"Right now, we're just using it for booking, online booking, for plotting every night, how we reorganize the tables and then for guest tracking and that we are being attentive to putting in notes about what guests are coming in," Gabriela says.
Here's a breakdown of how Gabriela and the team at wolfpeach are currently utilizing the Eat App features on a daily basis:
1. Offering guests a seamless booking experience
Eat App offers restaurants the opportunity to activate their booking widgets online, including their website, Google, and social media channels, giving guests a seamless booking experience. Like in Gabriela's case, locals have been finding their online booking system a "breeze".
"Eat App is so user-friendly. Everyone in the community we've talked to is so much older, and most people who live here all year round are in their sixties and so tech isn't always the easiest. But, I definitely have to say, the number of folks that said, 'your booking portal is very easy' and gave you the gold star is a lot. 'The whole process was very easy,' they would say. 'You didn't make it hard for us.' And that has been really good. It's really straightforward and that's great," Gabriela says.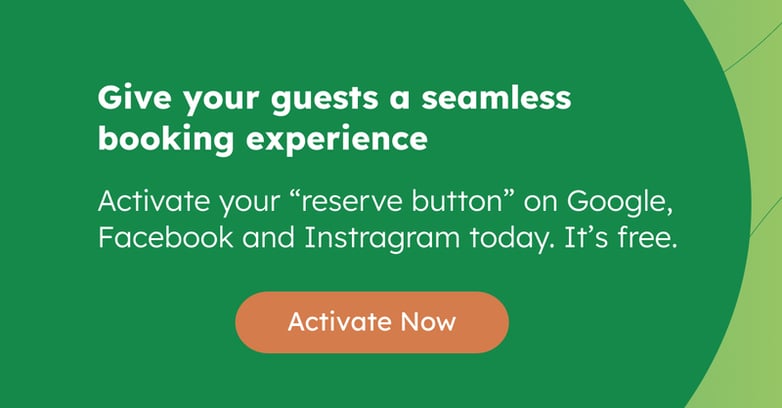 2. Taking notes to better understand their guests
Being the "new shiny restaurant" in a town where community is extremely important, Gabriela wanted to make sure they made their regular and VIP guests feel special. "People here have known each other for years, we're newcomers to this space. So for me, it's important to make sure that we're honoring the community and paying attention," Gabriela says.
With Eat App's guest database feature, each restaurant visitor that makes an online booking is automatically added to the system, creating a customized profile. This way, restaurant owners and staff members will be able to pick up whether they've been to their establishment or not. This powerful tool is especially helpful when making their loyal guests feel special when they come back for their second, third, fourth, etc time. "If somebody comes in three times, that's a big deal in a small town," she says. "I think people would be a little affronted if I was like, oh, 'it's so nice to meet you'. And they were like, 'I've been three times'," Gabriela adds. This unique Eat App feature has been a key tool in helping wolfpeach understand their guests and giving them an unforgettable guest experience.
Another great addition to Eat App's unique features is the "Notes" tool, allowing hosts and staff members to add notes to the guest's profile when they make a reservation. This feature is essential to helping restaurants understand and remember their guest's needs and in addition, improve their next dining experience. "The notes include what wine they get or if there was something they didn't like or if there's anything, in particular, they did like. That aspect for me is incredibly amazing because that is the type of hospitality that I like to do," she says. "In a small town, it's about intimacy. It's just the way people interact here," Gabriela adds.
3. Improving guest experience with great hospitality
By gathering important data from guests, restaurant owners, hosts, and staff members are able to take their dining experience to the next level. According to Gabriela, guests should have "an incredibly personal experience." With Eat App, restaurants are able to do just that, offering guests a unique experience customized to their needs.
"Every guest is a friend coming over for dinner. You know if your friend likes cilantro or not. You know if your friend prefers sparkling water or doesn't drink alcohol or whatever," she says, explaining why Eat App has helped her build guest loyalty. "People forget hospitality. You have fine dining service where you're just doing all these robotic things, but then there's hospitality and that's just being nice to people. It literally costs zero money," she adds.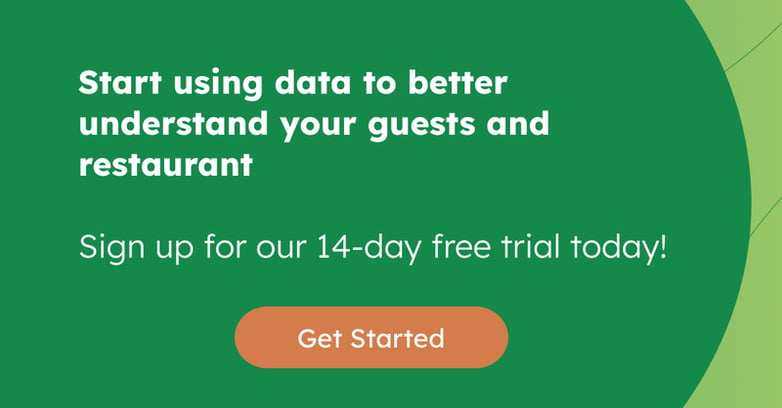 To elevate your guest's dining experience and focus on the true meaning of "hospitality", having a reservation system, like Eat App, is key. Even though the food and beverages of a restaurant are important, what your guests walk away with is an unforgettable experience. "You're not like, oh, the hospitality was great, but what you do leave with is, a really positive feeling and really wonderful memories. And that's something that you carry with you forever," Gabriela says. "It's an incredibly intimate thing," she adds.
For Gabriela, this is exactly what hospitality is - an incredible dining experience. "It's all about emotion and it's not tangible and you can't put a price tag on it, but what it does do is it makes people feel really, really safe," Gabriela says. "Yes, it's about the food and beverage, but it's also, it's about human connection and that's why those guest notes are important," she adds.
4. Helping staff save time
In addition, signing up for a reservation system is also about helping the team save time so they can focus on what is most important, the guest experience. "To be able to create a system where we are not forced to carry all that data in our heads and we can just build a compendium of information about the people who are coming to dine with us is great'', Gabriela says. "And so, that person can walk in and we can say, 'Welcome back, Thomas, it's so great to have you for your third visit. I remember the last time you had this wine, were you thinking in that vein again, or do you want to do something different?' And that's an incredible tool to be able to have baked into the system. That has been very very helpful. I absolutely love that," the wolfpeach owner adds.
5. Fill more seats out of peak hours
When it comes to planning your shifts and streamlining your reservations, Eat App is a great tool to help you do just that. Take the guesswork out of planning, and elevate your guest experience with a seamless reservation option. For example, when guests all try to book at the same time, the system will easily show them what tables are available and where they need to place guests on a waitlist. "Around here everybody is pretty regimented. So, for the most part, the locals eat dinner at 18:30 and it's really amazing. It's like nobody and then 18:30 hits and everybody walks in and then everybody leaves and that's it," Gabriela says. "And so to have a system, obviously that will force people to kind of focus on slightly different times, very helpful," she adds.
6. Access to more features like automation is "the cherry on top"
When using Eat App, collecting important guest information is just the start to improving your visitors' experience. "The possibility of, even though we're not using a ton of it now, the automated communication, and having that infrastructure built-in, is so incredible," Gabriela adds. "Thus far I have been very pleased with Eat App."
With Eat App, it's about helping restaurants build their guest loyalty, increase revenue and streamline their operations. With our unique packages, our customers get access to an array of features to help them exceed and grow each month. "I don't feel like I'm paying a ton of money for tools I'm not using. I feel like there's this really nice excess point. I'm happy to pay the amount that we're using it for at the moment, but there's this cherry on top, that there are all these other tools within it, that we're not taking advantage of and, 'wow' we can if we're ready. That is also really incredible," Gabriela says.
Even though Gabriela wanted to gradually get into setting up her reservation system and focus on hospitality, the variety of Eat App features is easily accessible at any point. For example, if she wishes to start sending blast messages to her loyal customers, a great tool to let your regulars and VIPs know about special offers at your restaurant.
"I really appreciate that the system functions really well when using it in the most simplistic way and it's not reliant on the more complicated aspects in order to function in a more holistic system because that made me nervous. If I'm going to turn off these things, is that going to affect the guest experience? Is it going to feel like something is missing? And I don't think that's true. It's almost like it's a treat when we add those things back in. Thus far it's been great," she says.
Why did wolfpeach decide on Eat App?
Like most things at wolfpeach restaurant, the main recipe is intentional sourcing. So, when it came to selecting the right reservation and table management system, Gabriela did a bunch of research. "I've done a lot of comparisons and I wanted to try it [Eat App] out," she says. With Gabriela's past experience in the hospitality industry, she had tried and tested a few well-known systems, which helped her make an informed decision.
"I've worked in the hospitality industry professionally for 10 years and not professionally as a kid, and I've pretty much worked with every reservation system under the sun. And when we were in the process of opening our own restaurant, I just wanted to be intentional about doing the research and finding the right fit for us," Gabriela adds. "I think everything about our restaurant is about that - the intentional resourcing of our ingredients and why won't we apply the same logic to systems we're using?", she adds.
Setting up and getting started with Eat App
When she reached out to Eat App, Gabriela felt good about the "prospects of growth and evolution". "I just had a really great introduction with Eat App after requesting a demo. I really appreciated the attention to detail regarding guest notes and the tracking of information," she says.
For Gabriela, the setup was really easy! "Antara [Eat App rep] has been incredibly helpful in helping us make a subsequently progress pattern for ourselves saying we're going to start here and keep it really simple for people to book, and that's it," Gabriela says. "She is incredible. She is one of the best reps I've ever worked with," she added.