How much time do you spend on your menu card design? Your menu isn't just there to make your food look appealing, it needs to align with your brand, reassure your guests they're in the right place and set expectations for the type of dining experience they're about to enjoy. Color, typography, imagery and layout are all important.
The language used to describe your food on the menu card also has a vital part to play, and it's not just about choosing the right adjectives to make dishes seem interesting.
In fact, rather than adding adjectives, you may find straight talking sits better with your customer base. When you put a menu together you should think about how you want your customer to feel when they open it. Use this as your starting point and don't neglect to consider the finer details like how easy the words are to read under your subtle restaurant lighting.
There are many factors in successful restaurant menu design, such as accurate food cost calculations, pricing formulas, and menu engineering, design is definitely one of them. We're going to spend some time appreciating the skill that goes into menu design and looking at a few menu card examples.
Some of these are menus designed with specific restaurants in mind, while others are templates that can be adapted for your own use. Let's see which menu cards catch your eye…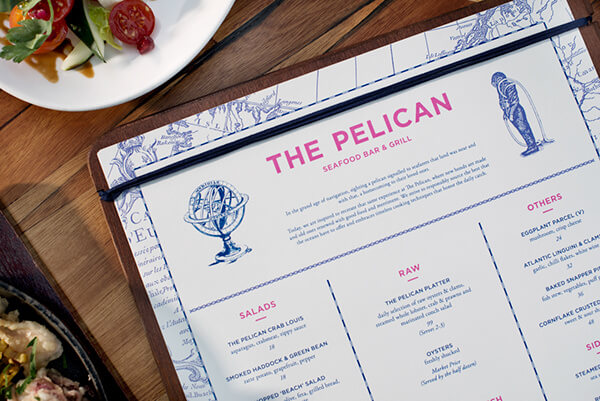 The Pelican - by Foreign Policy
Perfectly demonstrating that you don't need to make your menu monochrome to keep it classy, this menu is for a seafood-dining institute. The playful cover features both humans and sea animals, while the food inlay itself is quite formal in design. It's laid out in clear sections with lots of clean, white space, so it's easy to understand. The typography works with the vintage style but is still easy to read. Prices are displayed under each entry rather than across from the description, which is smart if you don't want your diner to dwell too much on price. The illustrations around the edge add interest with the globe hinting that the food is worth the travel. It's a beautiful menu, don't you agree?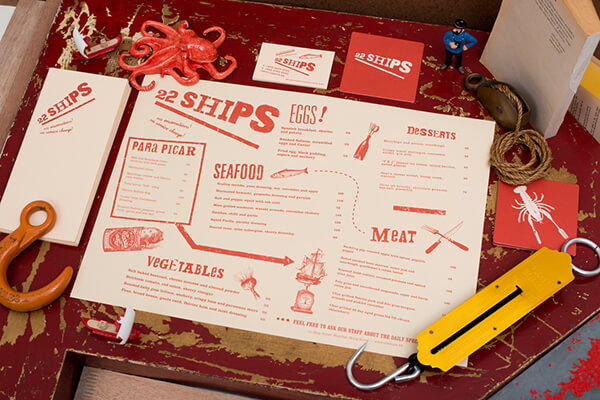 Ships - by Foreign Policy
Staying on the nautical theme, this Hong Kong menu shows similar design principles applied for a more casual dining setting. Illustrations and large category titles break up the menu card and draw the eye and there's a prominent feature for the restaurant name and a hard-to-miss request to ask about the daily specials too. By using a single shade of red against the cream background the design hints at a treasure map. Wouldn't we all like to think of our menus are a map to culinary treasures? This is a really fun menu design that appears in keeping with the restaurant's informal approach, which includes not taking reservations or charging for service.
The Clifford Pier - Foreign Policy
Perhaps seafood restaurants are at an advantage because of the opportunities they have for interesting illustrations? However, as you can see from this third example, even within a specific restaurant niche there's plenty of scope for creating a menu that's different and stands out. The beautiful illustrations in the Clifford Pier menu are fully rendered and set against a colored, nautically patterned background. Again the typography works to embellish the menu and there are further hints at travel with the postal stamps. Sometimes, opening a menu is like opening a book and with a few simple devices you can start to tell your restaurant's story.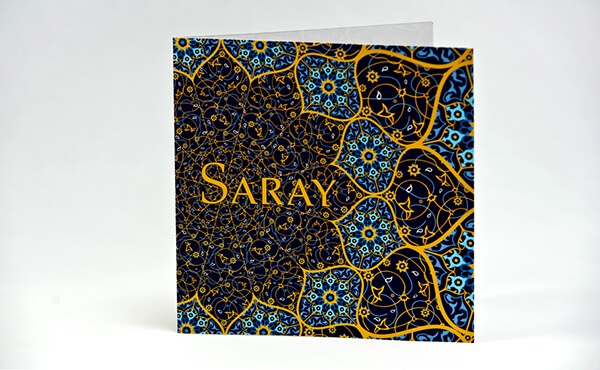 Saray - Donovan Brien
Illustrations don't need to feature food to describe the menu. This award-winning menu for a Turkish restaurant uses ornate illustration in eye-catching colors to draw the diner with a beautiful nod to the restaurant's heritage. The design is continued subtly on the menu inlay, which is neatly laid out for easy digestion.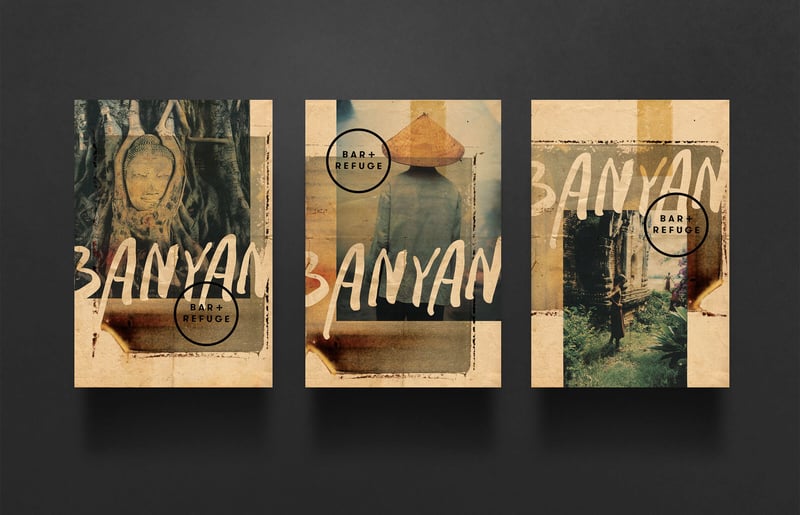 Banyan - The Gallows Group
Clean, bold, with categories clearly laid out and dishes highlighted using simple boxes, this menu card shows the impact your choice of paper or card and what it's mounted against can have on the overall design. It's useful also to see the menu in context alongside the other marketing assets for this modern Asian restaurant bar.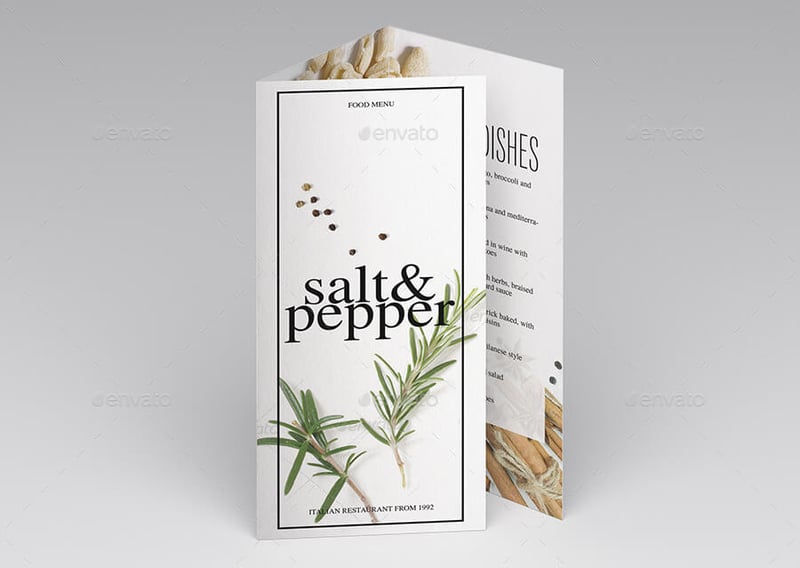 Minimal food menu - gianlucacarraro86
Fresh and clean with photography of ingredients in the background that certainly look good enough to eat, this menu card is part of a bundle that can be personalized to your restaurant. There's a poster menu that's neat and easy to understand along with a brochure, trifold and bifold menus and table tents to sit on outdoor tables. To maintain the 'healthy vibe' given off by the combination of white space and photos of fresh ingredients you simply need to switch in photos of components of your own dishes snapped against a white background.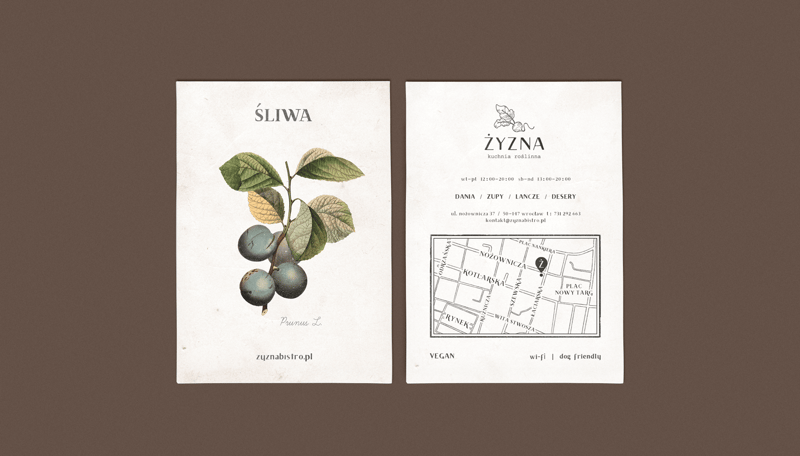 Żyzna - Anna Warda
The number of people following plant-based diets is rising rapidly, and while this menu for a Vegan bistro certainly gives a nod to the healthy, fresh ingredients with some of the inner illustrations, the overall design also incorporates a sense of luxury and indulgence with the use of some fantastic styled food photography. The illustrations of the fruit and vegetables are vibrant with texture and color against the cream background. Delicious!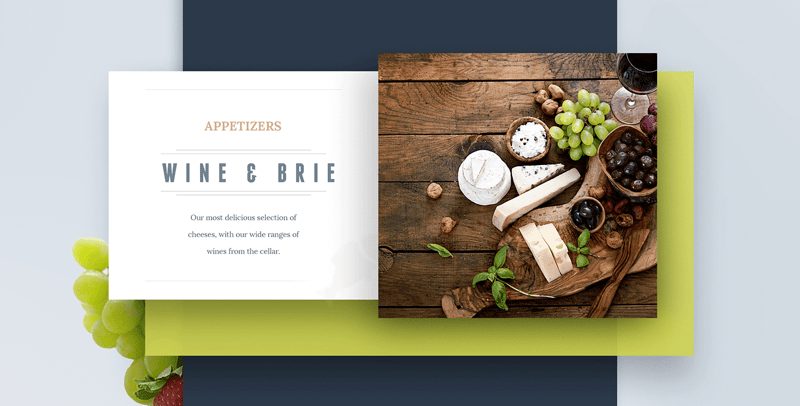 Menu from the world - Aurelien Salomon
Upper class restaurants often shy away from using photography in menu design. The photographs used need to be of a very high quality to do the food justice and many often prefer to use descriptions of dishes and a tasteful illustration or two instead. This elegant example shows how crisp typography and whitespace juxtaposed with styled colorful food photographs can work really well in the right setting. Crucially, the photos used don't appear flat like some can, so the diner is left with the impression they could lift something right off the page and take a bite.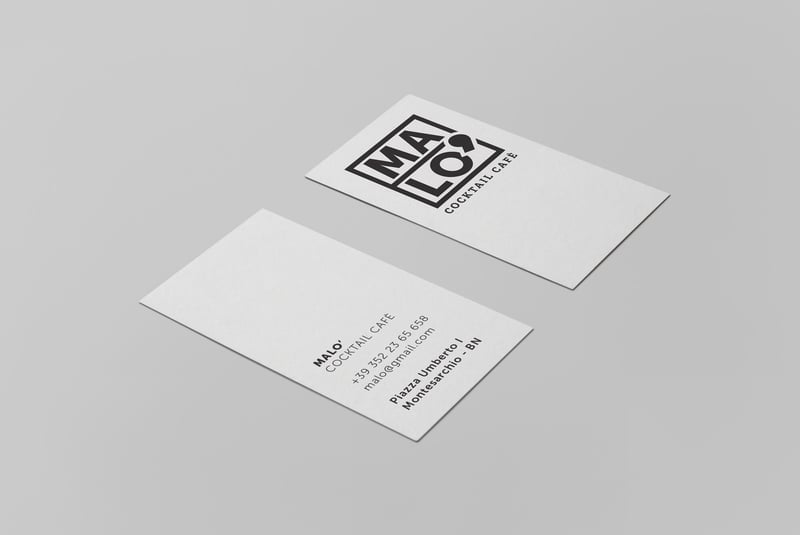 Malo - Giuseppe Fierro
Sometimes less is definitely more. This monochrome café bar menu use's the brand's logo prominently. Playful use of different typography grabs your attention and draws the eye around the different sections of the drinks menu, starting with the cocktails. However, the drink descriptors are succinct and ordered. The overall result is a bold menu that's easy to read.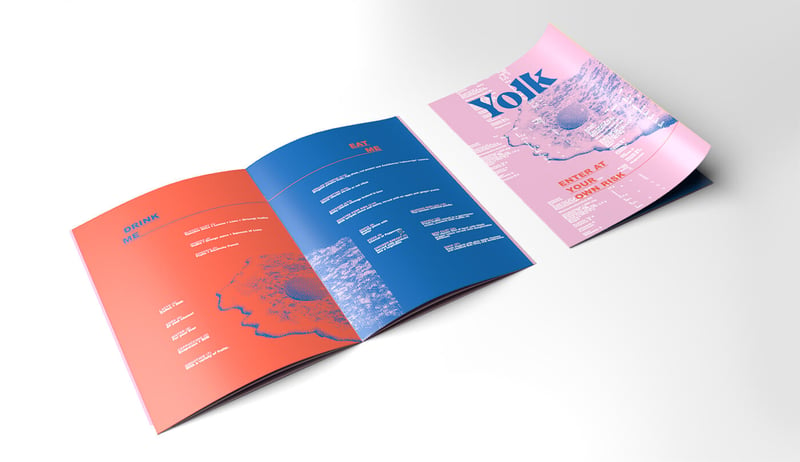 Yolk - Lauren Hakmiller
This menu with its vast, colorful backgrounds and small dish descriptors takes a very different approach to some of the menus in this list. The menu itself almost looks like a small magazine and while there are culinary illustrations featured, the focus is far more on the ethos of the eatery, a place for the 'love of the inside' where regulars share jokes. The result is a really fun and unusual design.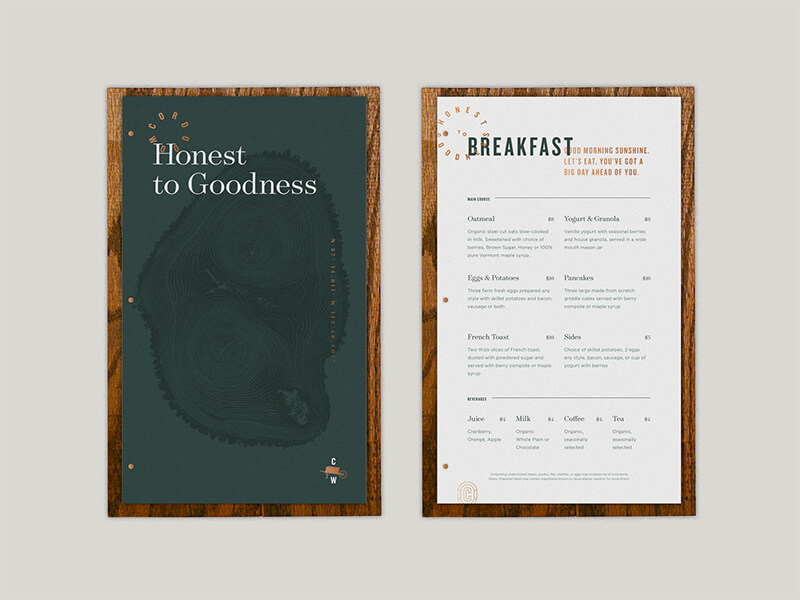 Cordwood Menu Style - Tavish Calico
This breakfast menu features strong earthy colors and the added design notes state that the menu is bound with copper Chicago screws and backed with reclaimed wood. Teamed with cute messages like 'honest to goodness' and 'good morning sunshine', the suggestion is that the dishes presented will give you a good, wholesome start to your day. Broken down simply into food and drinks sections, the menu is easy to browse quickly. Branding isn't neglected either with the restaurant logo incorporated on the cover and insert in different forms.
Which restaurant menu cards do you like best and why? Does your own menu use illustrations or photographs to bring dishes to life or do you really on the carefully chosen words of dish descriptors to make your menu sound alluring?
What's next?
Now that you've taken the time to learn about menu design practices, it's important to take the necessary steps to calculate food cost for each of your menu items. This is helpful when organizing your menu layout, allowing you to position higher profit dishes in more advantageous locations on the menu, bringing in more revenue for your restaurant.