Your menu helps you to present your food in an appealing way. As part of the overall dining experience, the information in your menu should be easy to digest and the quality, look and feel should be in line with your restaurant's branding and reflect positively on the quality of food that you serve.
Like restaurant interiors, menu design trends come and go but the elements of what make up a great design stay the same. Before you begin designing your successful menu it's essential to calculate food cost, price your menu profitably, and understand common menu engineering practices.
A clear menu with on brand typography, well matched colors, interesting illustrations or quality photography can help to set your guests' expectations. It can also help your restaurant stand out amongst competitors on online platforms like social media, online ordering platforms and reservation apps.
If you'd like to update your menu, you could consult with a branding agency to freshen things up.
Another option is to select a menu template that can be customized using your restaurant logo, your choice of colors and of course, details of your delicious food offering.
Here's where you can find food menu templates to get the process started. Some of these sites as featured in our restaurant menu makers post offer a full online design process.
This means that you can select a menu template, edit and download or print, all from one platform. Others we have included are marketplaces where designers sell customizable templates for you to edit with your own software. With this in mind, if you buy from a marketplace you'll want to select a menu that's available in a format that's editable with the tools and skills you have at your disposal. Now, here's where to look online for some great menu templates…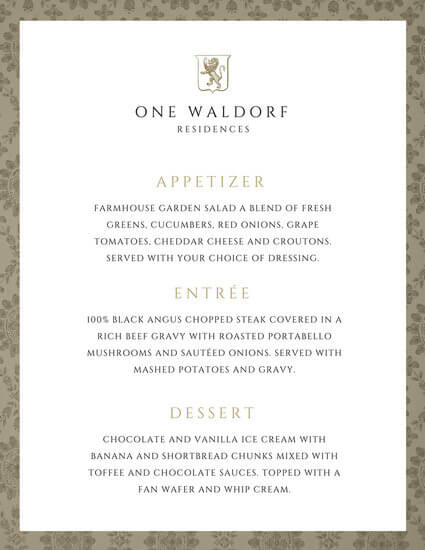 Canva offers all kinds of design templates including restaurant menus. It's a platform that allows you to select a template to work with and edit it on site before downloading, sharing or ordering some prints direct. Select 'restaurants & hospitality' use and tell Canva you'd like to make a menu and it will present you with different template categories like drinks or desserts.
You can also for menu templates using keywords such as elegant, Fancy, French, Italian and Dinner. The tutorials section of the site even supplies you with color combinations that work together. All you need to do is edit your images, add details of your food and refine your design. You can then download as PDF, PNG, JPG or order prints.
How much does a template cost?
The menu templates are free to work with as is use of the platform, though if you want to upload custom fonts or would like to set your color palette for future use or resize your designs you'll need a Work subscription, which is available for a free 30 day trial. You'll also find lots of images and illustrations that can be incorporated into your menu priced at $1 per image.

Another 'menu maker' that comes with a selection of menu templates to get you started, Poster my wall features lots of easy to adapt designs. Some of the 'restaurant' specific templates are aimed more towards takeout and café businesses, but searching outside of menu templates can help you track down some elegant wedding and event menus that could easily be adapted to make beautiful dinner or tasting menus.
How much does a template cost?
You will need to pay to download your edited template from Poster my wall, with costs starting at $2.99 for a photo quality image you can self print at home. There's also the option to order prints directly as well as the option to download web quality posters for free if you either don't require photo quality or if it is out of your budget.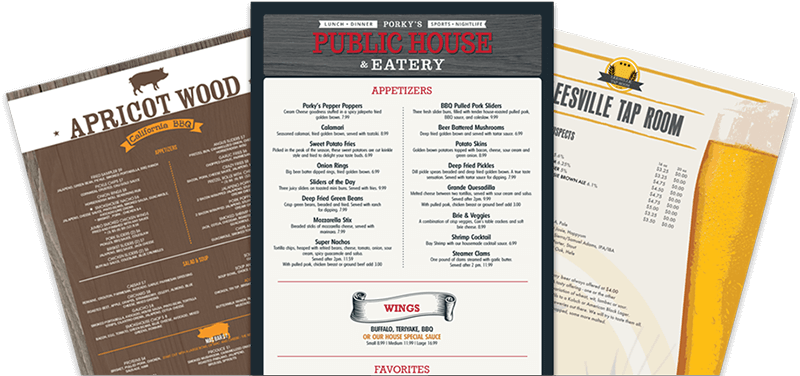 This site has 3000 restaurant menu templates and a range of size options including kids, table tents poster and digital options. However, if you'd like to work with any of the templates you should be aware that you'll need to order your prints onsite rather than downloading your edited template. There are some fantastic templates and if you'd like to make your life even easier you can commission the Must Have Menus design team to create something on brand for you.
How much does a template cost?
You'll pay $44.95 for fifty menu card prints sized 8.5 x 11. Bespoke designs are priced at $199 per page.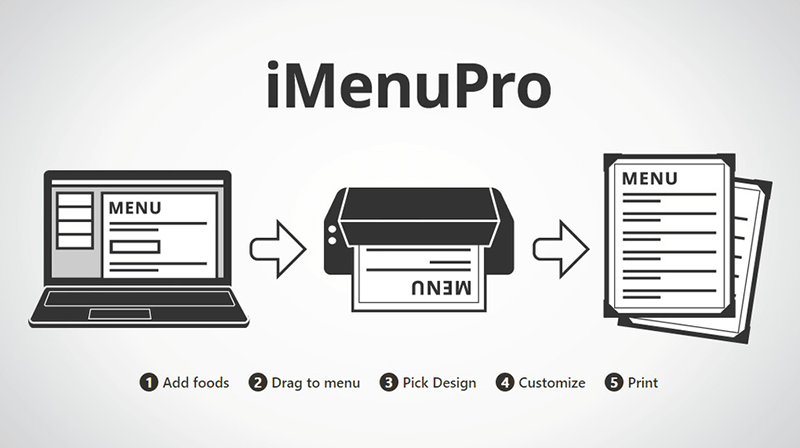 If you're refreshing your whole marketing bundle, iMenuPro has you covered. Here you can use templates to create menus along with other marketing assets such as gift certificates and event posters. You can upload your own logos and images and you don't have to retype your menu each time you change design, as it's stored for you in the foods list. It's easy to mix and match design elements using drag and drop and preview functions and you'll end up with a PDF ready to print.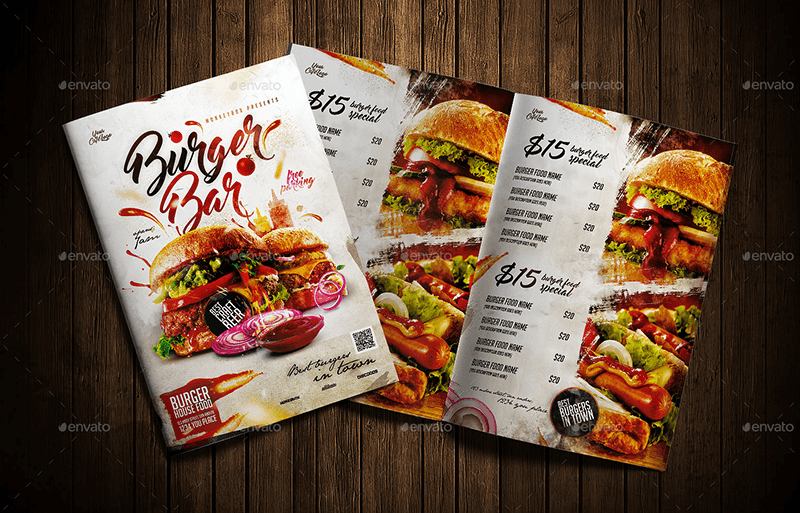 These sister sites are marketplaces for creative templates of all kinds; you can also place a bespoke order with designers via Envato Studio. Search for your ideal template by browsing food menus and filtering by rating or using tags such as modern, elegant or vintage. There are a huge range of styles available, just be sure to check your selection is compatible with whatever software you plan to personalize it with.
How much does a template cost?
Individual menu card templates bought on Envato market start at just a few dollars or you can become an Envato Elements subscriber for $228 annually ($29 monthly). Choose the latter and you'll be able to download other templates for business cards, infographics and presentations or even Wordpress templates for use on your website.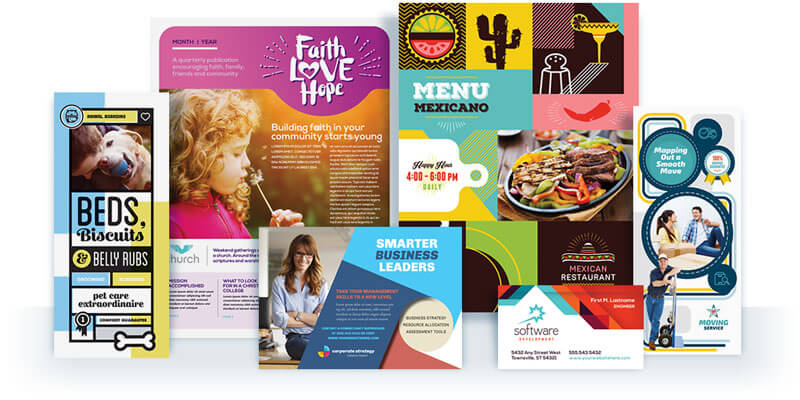 6. Stock Layouts
Start with one of the restaurant menu templates and download to edit in QuarkXPress, InDesign, Illustrator, Microsoft Publisher, Apple Pages or CorelDraw. You can then add your own photographs, illustrations and logos at home along with your menu information. This is a relatively small collection of 44 restaurant specific templates. However, it's always worth perusing other categories to see if a design could be adapted to work for you.
How much does a template cost?
A single template costs $99 but you can purchase ten templates across the site for $199. You could choose the second option if you also plan to create business cards, newsletters, loyalty cards etc.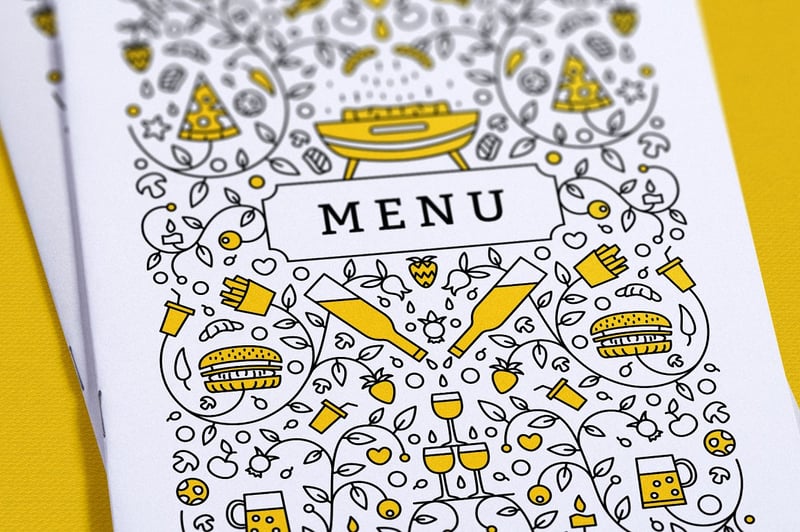 As the name suggests, this online marketplace offers a range or creative products for purchase of photos graphics and fonts through to templates and of course, menu templates. It's also possible to purchase whole restaurant identity packages so that your menu matches with items like your loyalty card and other marketing assets.
You'll find some nice premium quality designs here and again, it's easy to narrow your search using tags like 'trendy' or 'vintage' if you already have a menu style in mind. Don't forget to check which software the file(s) you're purchasing are compatible with so you can edit accordingly.
How much does a template cost?
Individual templates are priced at just a few dollars upwards.
Hopefully this post has given you some ideas for your menu card update. Even if you're planning to have a bespoke design created for your restaurant, browsing templates is often a good place to start the process, as it will help you to firm up which styles you do and don't like. Why not take a look at our menu card examples post for further inspiration?
What's next?
Once you've chosen a menu design, it's important to take the necessary steps to calculate the food cost for each of your menu items. This is helpful when organizing your menu layout, allowing you to position higher profit dishes in more advantageous locations on the menu, bringing in more revenue for your restaurant.