Nowadays, if you're looking for a sure-shot way of getting the word out about your restaurant, it's Instagram.
Apart from the fact that Instagram is quickly becoming one of the most popular social platforms with 1.3 million users (and that number is growing as you read this), adding Instagram to your marketing suite has become increasingly important for restaurants because of the following reasons:
Almost

50% of people

reported that they visited a restaurant after coming across it on Instagram

24% of people

said that they check the Instagram of a restaurant before visiting

69% of millennials

post photos of their restaurant food on social media
The numbers speak for themselves. Instagram as a marketing channel can no longer be ignored by restaurants. If you're not actively working towards marketing your restaurant on Instagram, you are most definitely missing out on potential customers and falling behind your competition
With new trends popping up every day, Instagram can definitely be hard to navigate as a business
But don't worry, you don't have to be doing everything at the same time to make your Instagram marketing successful! Here are a few useful tips that will help you build a successful Instagram marketing strategy.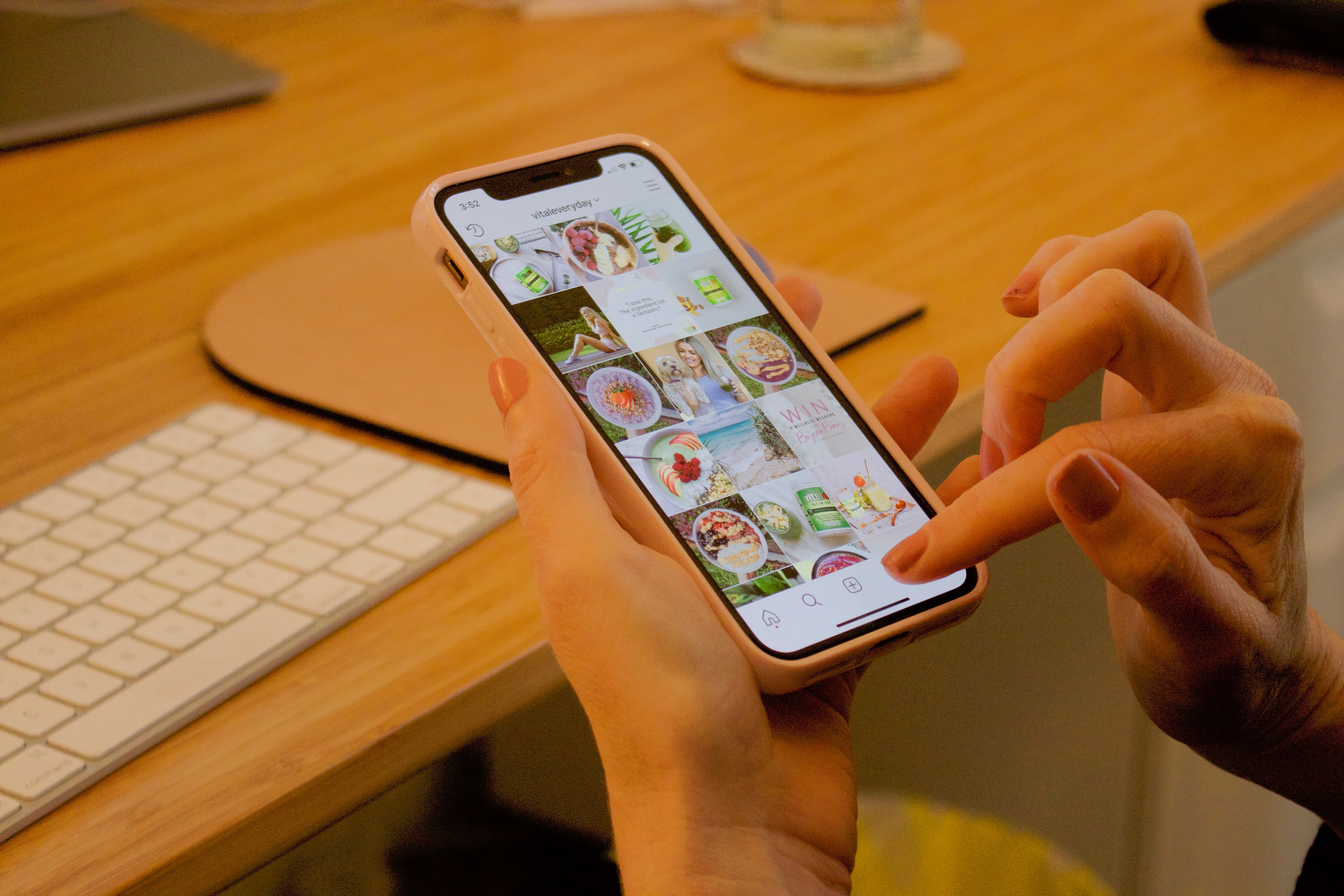 13 Effective Restaurant Instagram Marketing Tips
1. Dedicate a person or team for Instagram management
Managing a successful Instagram is a full-time job. With the amount of time and effort, it takes to build a strategy, create a calendar, schedule content, manage a community, and keep track of your marketing performance, having a dedicated person or team handling your Instagram is necessary.

If you have the budget, we recommend hiring a social media expert who will be able to help you with all these aspects. However, if you're just starting out, you can always learn and do it yourself. There is plenty of free information available online!
2. Make your Instagram account easy to find
Use a simple and easily searchable name for your Instagram accounts to make sure that people can find your restaurant quickly and conveniently. It's best to have a name that is as close to your restaurant's name as possible. If the exact name is not available, try to add a few simple variations like your location or a simple symbol which will make it easy to identify.
3. Follow your brand guidelines religiously
We all know that Instagram is a crowded market. Even then, there are some brand posts that you immediately identify when scrolling through your feed - it's because they follow a set of brand guidelines.

Using your brand colors, fonts, and overall identity on Instagram helps people recognize your restaurant amongst others.

Make sure you're following a cohesive brand identity across your marketing channels to increase brand retention and recognition in people.
4. Use a mix of different content types
Instagram allows you to post a variety of content like static images, long-form videos, short-form videos (reels), stories, guides, and more. A successful Instagram strategy must include each of these content types in order to reach as many people as possible. Instagram also promotes accounts that make use of all the available content features.

Recently, Instagram said that it's transitioning into a video-focused platform. This means that focusing on your video strategy has become even more important. Make sure to add a good amount of videos to your content mix to ensure maximum reach and engagement.
Here are some interesting Instagram post ideas to help you get started
5. Be consistent
Consistency is the key to Instagram success. As we mentioned earlier, Instagram is bustling with users. And the Instagram algorithm is constantly evolving and favoring users that use the platform consistently. The only way to ensure that you're able to reach customers online is by putting out content consistently.

According to Later's study, accounts with 1000-10,000 followers should be posting 14-20 times a week for maximum reach. On Instagram, there is really no downtime.
6. Pre-plan your Instagram calendar
Having a pre-planned content calendar is crucial to maintain consistency on Instagram.

If you rely on creating posts without having a proper plan in place, you are more likely to fall off-track and miss out.

Planning your content in advance helps you discover ideas and themes, and gives you time to create the content on time for posting, helping you stay consistent on the platform
You can also pre-schedule your Instagram posts using Instagram planning tools like Later and Planoly.
7. Create high-quality content
Instagram is a highly visual platform, which makes it very suitable for restaurants as they can use it to display their delicious food to users. However, with the growing popularity of the platform, just any regular photos don't do the job anymore.

It's important for restaurants to post high-quality, good-looking images and videos that attract people and help you stand out amongst the thousands of restaurants on the platform.

If it's within your budget, we would highly recommend hiring a professional photographer to help you create content that will make your Instagram profile picture perfect.
8. Use relevant hashtags
Hashtags can be confusing to understand at first but are an important tool for your Instagram marketing strategy. They help your posts reach more people and increase your account's engagement.

If you're wondering what hashtags actually do, they help label and categorize your posts into certain categories, almost like tags. This enables Instagram to show your posts to relevant users who are interested in the topic.

As recommended by Instagram, using 3-5 relevant and focused hashtags can help your content reach the right people and improve discoverability.

Make sure you are using hashtags that are related to your restaurant. This can include your restaurant's name, location, and cuisine, along with a few generic ones like #food, #restaurant, etc.
9. Build a community
The people you connect with on Instagram are the backbone of a successful Instagram strategy. As a business, it's very important to build human relationships with your followers on social media to help create a relatable connection with them.

Building a community allows people to see your brand as more than "just a business" and leads to stronger relationships, which eventually leads to loyal customers.

Make sure you're constantly engaging with your followers and responding to their comments and messages to make them feel seen.
10. Set up a reserve button to drive bookings from Instagram
Did you know that you can get reservations directly from your Instagram page? Instagram's official 'reserve' button allows restaurants to capitalize on their social media followers by turning their Instagram page into a booking channel.

This feature has been an absolute game-changer for restaurants as it enables them to convert their followers into customers. By partnering with official Instagram booking partners like Eat App, you can start taking advantage of this feature instantly.

Setting up a reserve button on your Instagram page is simple, learn how to do it here.
11. Collaborate with influencers
Influencers have shaken up the Instagram marketing scene in recent years. Partnering with relevant influencers can be quite beneficial for your restaurant. It can help build social proof for your restaurant amongst the crowd, especially because influencers are seen as a more organic and trustworthy source of information than a brand's own marketing.

Collaborating with influencers also helps restaurants reach a bigger audience and gain access to a new network of users, which can be helpful in improving brand awareness and discoverability.

When looking for influencers to collaborate with, make sure you're picking the ones whose brand and values represent your own.
12. Experiment with paid advertising
Running ads on Instagram is a good way of improving the reach and discoverability of your content. Set a monthly ad spend budget and dedicate it to promoting your best content on Instagram. Usually, the content that does well organically performs the best when promoted, as well.

Have a look at the performance of your past content to identify what people are liking the most on your page and create a paid strategy accordingly.
Here are a few examples of successful ads on Instagram
13. Keep track of your performance
Tracking your Instagram's performance is crucial for creating a successful Instagram strategy. It provides you in-depth insights into what is working and not working, helping you make changes accordingly.

Without tracking, you are likely going to rinse and repeat your current strategy regardless of how well it's performing.

Instagram provides various useful insights within the app, like reach, engagement, impressions, comments, audience breakdown, etc. that help you assess your performance over time.
Ready to get started with Instagram marketing for your restaurant?
Before you begin, here are a few more useful resources to help you make the right decisions:
5 Easy Ways to Upgrade your Instagram Restaurant Marketing
How to Add 'Book Now' button On Instagram
How to Promote your Facebook and Instagram Reserve Button

15 Creative Instagram Post Ideas for Your Restaurant

Best Restaurant Instagram Ads Examples (Including How-Tos)

You can also download our free Restaurant Marketing Plan template to help you create your overall marketing strategy with a dedicated section for Instagram marketing.