Our latest case study focuses on Cuisinero Uno, a restaurant and bar in the Steinenberger Hotel, Business Bay, Dubai that provides Dubai's office workers with an international tapas menu in a laid-back, funky atmosphere. The restaurant also works with Jack Daniel's which is the whiskey brand's first official foray into the Gulf region.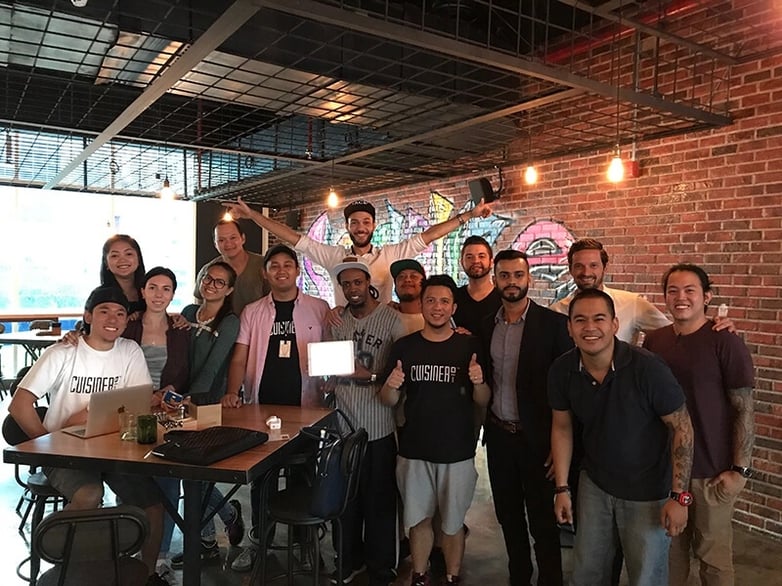 Cuisinero Uno is run by Culinary Director and Owner John Buenaventura. John previously worked at many of Dubai's famous restaurants including Fairmont the Palm and Atlantis the Palm.
What Cuisinero Uno needed to effectively manage their front-of-house
Organization
Staying organized is key for the staff of Cuisinero Uno. They needed a reservation system first and foremost that made managing their front-of-house fast and straightforward for their front-of-house team.
The solution: Restaurant Manager by Eat stood out for the team because it's an intuitive, design-focused interface that allowed them to get up and running in a day. Installation and training for the whole team were provided in a few hours.
"We were looking for a straightforward system for managing the restaurant. After looking at other solutions it was clear which one ticked all the boxes."
Flexibility
At Cuisinero Uno, the staff has an informal 'be yourself' style of service so they needed a system flexible enough to adapt to all the different ways the teamwork.
The solution: Restaurant Manager by Eat was built with flexibility in mind. It runs as an app on synced iPads, so staff can move freely around the restaurant if needed as well as having multiple management options for working with reservations. Staff can view and manage reservations as a floor plan, calendar, or in grid view - our unique reservation management tool that allows F&B Managers to determine kitchen capacity and dining room status on an hourly basis.
Stock management
Central to any restaurant operations is the effective, (and profitable) management of food supply. Keeping track of expected diner levels for upcoming days is a crucial part of maintaining an efficient kitchen.
The solution: Quickly assessing upcoming covers for future days gives Cuisinero Uno the upper hand when it comes to managing food stock levels.
Manage high volumes of walk-ins
As well as a restaurant, Cuisinero Uno is also a bar, popular with the surrounding business workers. As a result, they have a high number of daily walk-ins. Their table management system, therefore, needs to have a robust feature set for managing walk-ins.
The solution: The system makes dealing with walk-ins as easy as reservations with a full set of features quickly seat walk-ins:
Waitlist - add walk-ins to a waitlist and seat them when ready directly from the same interface.
SMS - Send your guests on the waitlist an SMS when their table is ready.

Find availability - Tap any table and see upcoming bookings in seconds so you know where to seat your walk-ins.

Add guest notes - We've made it extremely easy to create a database contact for walk-in guests so front-of-house staff can take diner info with minimal disruption.
"Because we cater to the after-work business crowd we get a large amount walk-ins so we needed a system capable of handling, not just online bookings but also a large number of people arriving on the night."
Demand generation and marketing support
Dubai is one of the most competitive F&B markets in the world. As a result, it was important for Cuisinero Uno to choose a platform that offered marketing and online reservation solutions to support their launch and generate awareness from day 1.
The solution: Cuisinero Uno was able to harness Eat's consumer apps and marketing support through email, social and mobile push notifications. By using our own customer database we were able to assist with launching the new restaurant into the Dubai market.
"The fact that Eat has a booking app for customers was really important to us. Internally we focus mostly on word-of-mouth marketing so having support through a reservation app was a great add-on."
The balance between features and price
Restaurants are always on the hunt for good-value products without sacrificing quality and features. This was exactly the case at Cuisinero Uno where they were looking for a solution that met all their demands without overpaying.
The solution: With competitive pricing without sacrificing on features, Restaurant Manager by Eat met the needs of the team at Cuisinero Uno.