Calculating potential revenue is one of the most important tasks for a restaurant owner.

As you develop your restaurant business plan, predicting revenue will help you determine whether your strategy is feasible.

Understanding your average revenue should also give you a benchmark to compare each month against. This helps to ensure that you combine the right menu prices, occupancy levels, and stock purchases to thrive.

Ideally, we'd all love to be able to see into the future and figure out exactly how much we're going to be able to earn. Unfortunately, there's some important work involved in calculating your restaurant revenue.

Today, we're going to discuss the various elements that go into calculating your potential revenue and show you what you need to do to generate success.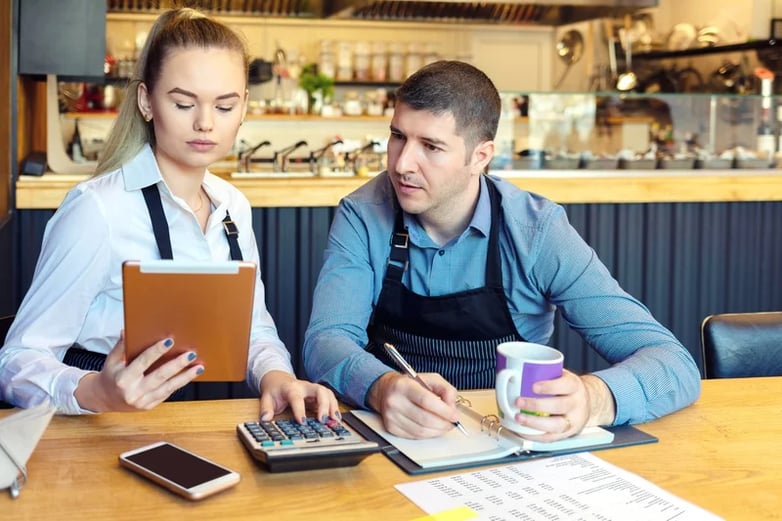 Restaurant revenue definition
Revenue is the income you generate from your restaurant. Crucially, this isn't the same as your profit margin, which you can usually calculate from your POS data and invoices. Profit margin highlights the amount of cash left over after you've handled your regular operating expenses (merchandise, food, drink sales, gift card creation, and so on).

Unfortunately, there's no one-size-fits-all restaurant revenue benchmark for every business. All kinds of factors can impact the amount you earn, from your restaurant's occupancy to the number of seats, the menu prices, the kind of food you sell, your location, seasonality, and more.
How to calculate restaurant revenue
Calculating restaurant revenue is easier if you already have a pre-existing location. You can examine the numbers for your current restaurant and compare them to the outcomes of similar companies in your space. However, calculating revenue for the first time is a little tricker.

Start by looking at your restaurant occupancy. What is the total number of seats served per shift? Using your POS data, you should be able to divide your total number of sales for each day by the number of guests. This gives you an insight into how much customers are spending.

Track all of the data you can gather about your average occupancy per day, the amount of cash your customers generally spend, and your daily revenue over the course of a month. From there, you can begin to calculate averages. For instance, if during your 30-day month you have:

• 10 days with 70 guests
• 12 days with 75 guests
• 8 days with 60 guests

Your average calculation would be:

(10 x 70) + (12 x 75) + (8 x 60)
700 + 900 + 480 = 2,080

2080 / 30 = 69.3

So your average number of guests per day is about 69.

Using the same calculations, you may find that the average spend of each guest is around $20, which means your average revenue for each shift is:

69 x $20 = $1,380

This makes your average weekly revenue $9660 (or $1,380 x 7), and your average monthly revenue around $38,650 (or $9660 x 4).

You can even use your monthly revenue to calculate the average income you can expect per year from your restaurant ($38,650 x 12), which would be around $463,680 in this case.

After you've calculated your revenue, you'll know what kind of goals you can set for your income. Although this particular calculation suggests a lower income than the average restaurant, it may be perfect for a very small space without many outgoing expenses.

Comparing your revenue with the costs in your restaurant business plan will help determine whether you can run a profitable business.
How to add in additional locations to your calculations
If you're toying with the idea of opening another branch, calculating its potential revenue shouldn't take much time. That's because you already know how much revenue your first restaurant location generates. Plus, you have an idea of the factors that could impact revenue, like menu price or seasonality. However, you shouldn't expect the second restaurant location to operate at full capacity within the first year of business.

To estimate how much your second restaurant location will bring in, you should calculate your initial location's monthly or yearly revenue, then multiply it by 60% (60% being the operating capacity).

So if the average monthly revenue of your first location is $38,650, the second location would generate:

$38,650*60% = $23,190 per month

If your restaurant does catering, be sure to include those figures in the calculation. Just add the total proceeds from the sale of catering services to your monthly restaurant revenue to get your overall monthly sales figure.
The main factors that impact restaurant revenue
If calculating your restaurant revenue shows you that you're earning less than you should be, you'll need to find out what's dragging down your earnings. Analyzing your point of sale data should give you a better insight into what's going wrong.

There are various factors that can influence your restaurant revenue, from the state of the economy to the weather and people's willingness to come outdoors. Even the location of your business can make a significant difference. However, there are three main factors that usually form the foundation of most sales problems:

• Occupancy: The number of people you serve
• Sales: The average amount that people spend
• Service: How frequently you fill seats with new and returning customers

Here are some of the strategies you can use to address various revenue problems.
Find more customers
If you're not filling the right number of seats in your restaurant every night, then you need to focus on generating traffic. Marketing campaigns are crucial here, as they allow you to generate new attention for your business. Showcase your brand on social media, with plenty of pictures of your delicious food and welcoming atmosphere.

Consider writing a blog, building a website to spread brand awareness, or working with influencers to push fresh customers through your door. You can even use word of mouth and social proof by asking existing clients to give you a review on popular sites like TripAdvisor and Google.

Discounts and referral deals are an excellent way to generate more traffic. However, make sure that you have enough space in your location to serve all of your customers. If your space is too small, then you may need to expand before filling more seats.
Upsell and cross-sell
If you're already attracting the right number of customers to your restaurant, but they don't seem to spend much while they're there, focus on upselling and cross-selling. Can you upgrade your menu to include more desserts, side-dishes, and smaller nibbles for people who don't want a big meal?
What about offering gift cards so that your customers have more reasons to spend while they're there, or merchandise so that clients can take your famous sauces home with them?
Cocktail hours, happy hours, and weekly offers are an excellent way to get more people spending extra at your restaurant because they feel as though they're getting a great deal. Remember to reward your loyal customers too. Setting up a loyalty program will help you attract repeat clients who are known to spend more than first-time guests.
Deliver the best service
Excellent service is a crucial part of running an effective restaurant. Deliver the right service, and you'll attract new and existing customers again and again. Think about how you can make the experience more impressive for your target audience.

Can you give your staff a portable POS system so that they can take payments at the tableside? What sort of software and tools would empower your employees to provide faster service? Can you use a CRM system connected to your POS data to make every interaction more personalized for your diners?

Speed, politeness, and a commitment to customized service are all factors that will encourage your customers to talk more positively about you to their friends. If you're not sure how you can improve your service, pay attention to your customers' feedback. They can often provide helpful tips on what they'd like to see in your restaurant.
What is an average restaurant revenue?
While many restaurateurs would love a definitive answer, the average restaurant revenue varies widely across the different restaurant types, sizes, service models, and locations. For instance, a fine dining restaurant will have a different monthly average than a casual dining establishment. It's not logical to compare the two's revenue. For a basic insight into what you might expect to earn, you can try and find what restaurants with a similar setup, capacity, location, and menu type as yours are generating in sales monthly.

You can also check out some of the reports from the restaurant industry. The State of Local Restaurants 2020 report from Womply says that US restaurants brought in $1,350 in revenue on an average day, which is almost $40,500 monthly. And the 2019 Restaurant Success Report said that the average revenue for a restaurant less than 1-year-old is usually around $111,860.70 per month.

The average revenue figure probably decreased in 2020 due to the ongoing pandemic, which has prevented restaurants from operating at full capacity. We expect the average to rise once again when things return to normal.
Conclusion
Running a successful restaurant requires a careful balance of crucial ingredients.

Restaurateurs need to know how to deliver incredible service, generate the right interest for their products, and encourage repeat customers to keep coming back for more.

Getting a better insight into your current and potential revenue will help you to determine where you need to make improvements to strengthen your chances of long-term success.