For a restaurant to maintain success, it needs to fill as many seats as possible, as often as possible. The easiest times to fill these seats are during peak hours when potential customers are out and about.
The real challenge for restaurant management though, is trying to fill your restaurant at times when a minimal number of people are looking to dine out. These can be set times throughout the day and sometimes even specific days of the week.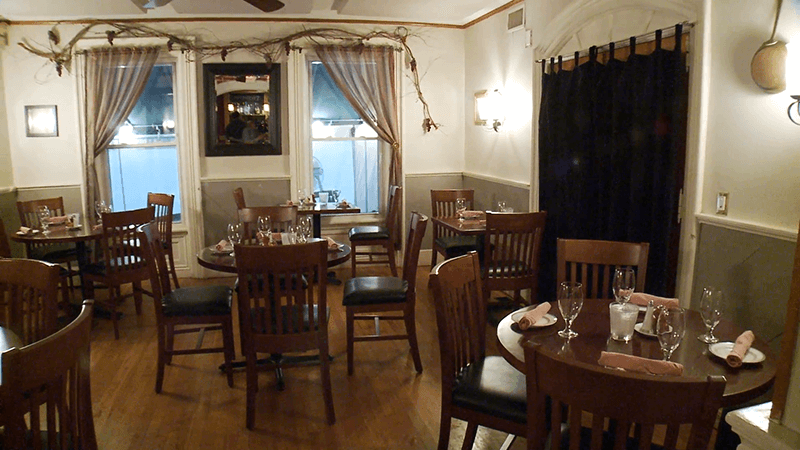 The most expensive seat in a restaurant, is the empty one.
Understanding external influences on peak hours
During peak hours, restaurants can make double or even triple the amount they would at any other time of the day. It's evident that the average consumer will be more likely to leave the house towards the latter part of the week, as the work week comes to an end.
One more thing to consider is that the school week and Primetime TV schedule play a huge role in consumer behaviors. Having children can inhibit your ability to go out every night just as a popular TV show can have your guests glued to their TV's during a certain time once a week.
How do you get guests through the door during slow hours?
There are numerous strategies that each require solid planning to guarantee success. By determining and establishing these strategies, the off-peak hours could potentially bring in as much revenue as the peak hours, but it could involve altering dining habits.
Cater special offers to your target customer
Initially, the restaurant should consider who their target customer is, and what that customer would need to change their habits. Are they looking for drink specials in the middle of the day? Will they be more inclined to visit if a favorite dish is discounted?
Taking these scenarios into consideration will help map out a schedule for specials and events that will entice customers into coming in at off-peak times. Some of the traditional options include food and drink discounts, events (i.e., wine tastings, live performances), themes (i.e., trivia night, comedy night), or even guest chefs and bartenders.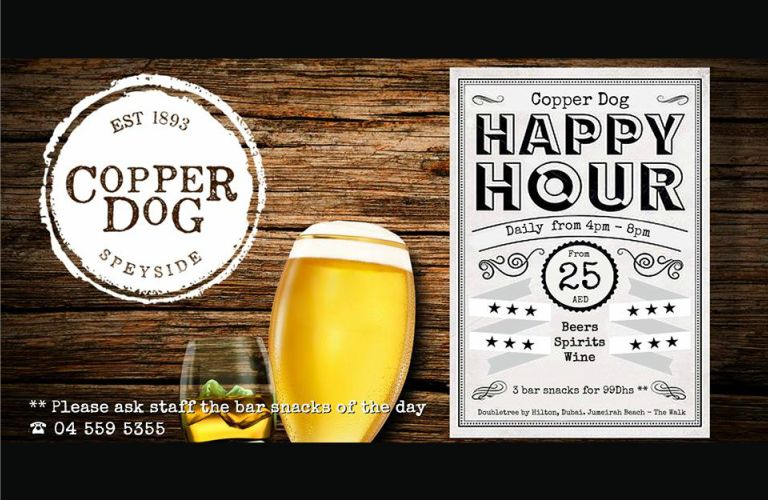 All of these provide the customer with a reason to come in at a time, or on a day, they may not ordinarily be interested in. With all these options, a major part of the strategy is marketing. It doesn't matter how great the special is, if the customers don't know about it then it won't make a difference.
Take advantage of online and offline channels
Nowadays, restaurants have websites and social media accounts to inform their customers of changes to their restaurant. Facebook and Twitter have become some of the best ways to market because they will be pushed out to any number of followers in an instant.
Within the physical restaurant, some have a whiteboard/chalkboard where the special items can be displayed, but a menu insert is possibly the best way to keep incoming customers informed. Preparing unique inserts for the specials will ensure that the customer has seen the information while flipping through the menu.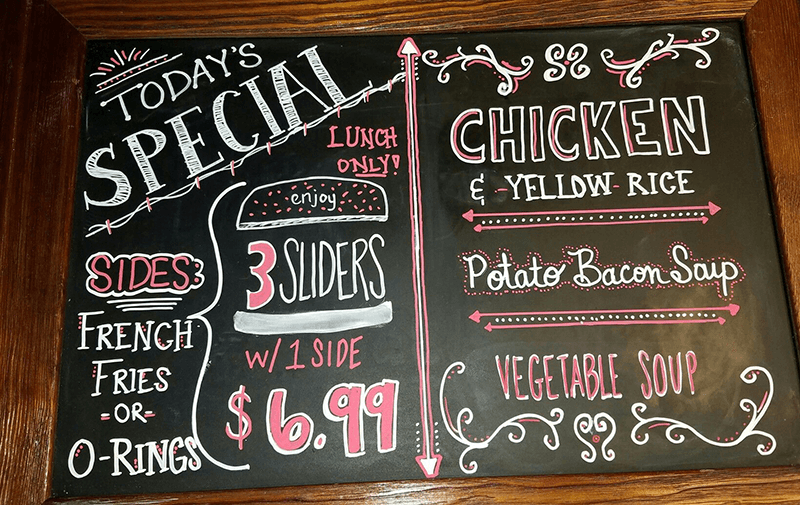 Stick to your restaurant's identity
When planning what to market, common mistakes include not keeping in line with the brand and compensating for weaknesses as opposed to building on their strengths. Every restaurant has its own "look and feel". From the moment a customer walks into the establishment, they perceive it through the decor, furniture, attire, and menu.
When planning marketing for off-peak options, those specials should be in sync with that vibe, and not only that, the marketing for those specials should be in accordance with that vibe as well. A classic French menu shouldn't be promoting a "Tiki Night", and a burger spot probably shouldn't be pushing a wine tasting, unless of course wine is a main draw to the restaurant.
With that in mind, if a restaurant does have amazing wine, a wine tasting night would be a great option that builds on the strengths of the establishment. Customers may discover new wines that they will now order with dinner.
Marketing, marketing, marketing
Marketing is key at a restaurant because the goal is to build upon the base of regular customers and their purchasing habits, not to get one-off customers just coming for the specials. If there are specials that a regular would bring friends and family to, there's a better chance that the friends and families will become regulars as well. As regulars, they may increase sales during the off-peak hours, but they may also add to the already busy peak hours.
Table Layouts
Maximizing peak hours also requires the restaurant to consider dining room strategies such as table layout and seating schedules. When planning a table layout, the number of 2-tops, 4-tops, etc., should match the overall style of the restaurant. A dinner spot that caters towards couples on dates should have a larger number of 2-tops, whereas a location that suits groups should have more 4-tops/6-tops/etc. If there are too many 4-tops, they could end up being used by groups of two, leaving two empty seats that won't generate any revenue.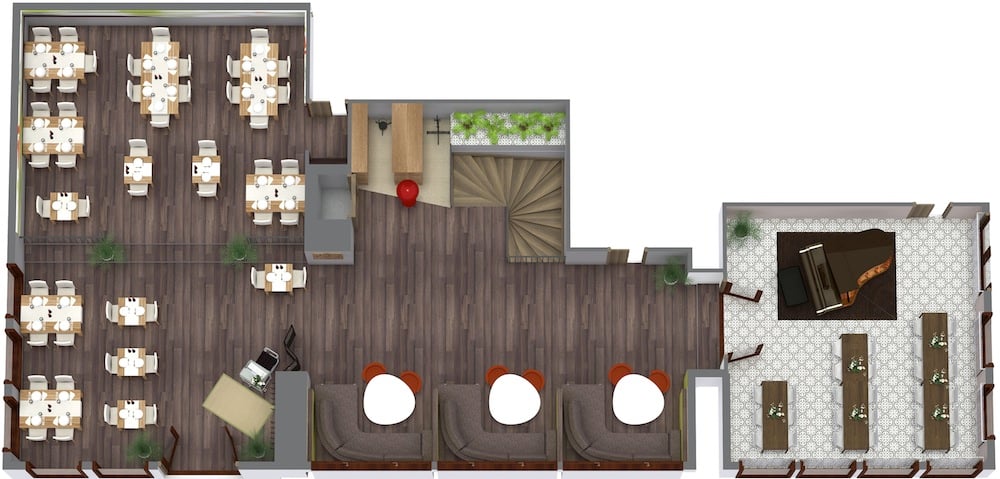 Discovering this collection of table sizes will greatly reduce the possibility of having empty seats on the floor. The next step is to plan the seating schedule to maximize the table layout and sections. As tables begin to get seated, the host should be spreading them out evenly across the waitstaff.
An inexperienced host may not rotate the sections and end up seating too many tables for one server to handle. This will not only cause the server to become overwhelmed, neglecting to satisfy all the tables' needs, but it will also have an affect on the ability for those tables to be reset.
The slower the service to the table, the longer they will be seated. The goal should be to get customers in and out as fast as possible while still having them enjoy the experience.
Is variable pricing the future of restaurants?
A major part of enjoying that experience is believing that the food matches the price point. Some restaurants have started to implement the same pricing methodology as airlines and hotels, offering discounted pricing for the entire menu on days that are slower.
Bob Bob Ricard, a high-end restaurant in London has separated dining times into "off-peak", "mid-peak", and "peak" hours. During the "off-peak" hours, the entire menu is 25% off, and the "mid-peak" hours offer 15% off. The idea behind this strategy is that customers don't eat at Bob Bob Ricard just because they are hungry, they do to celebrate special occasions.
By offering these discounts at slow times, they are giving the average customer the opportunity to experience the restaurant and its food at a price point that much more affordable.
After rolling out this model, they have seen the number of customers nearly double during the slow periods. Also, they have found that the average table isn't necessarily looking to spend less because the check amounts have not changed. In fact, the guests see this as an opportunity to "reward" themselves by ordering items they wouldn't ordinarily be able to, really getting more bang for their buck.
This concept is being watched closely by other high-end restaurants because it's something that most have been pondering for a while. Des Gunewardena, chairman and chief executive of D&D London, which owns nearly 40 restaurants worldwide, said, "We have talked about this a lot of times over the past 20 years, thinking why aren't we like airlines or hotels?.....We've never done it because we have worried our customers might think it is a bit gimmicky." Now that Bob Bob Ricard has taken the leap, some believe that it may cause a shift in the industry where this model becomes the norm.