Online reservations, ordering and digital menus are must have features of Wix for restaurants. Learn everything you need to know about activating these features on your Wix restaurant website.
Wix for restaurants is nothing new. You've been able to use their platform to build a restaurant website for many years.
If you want to run a modern restaurant business online then knowing how to use online reservations and ordering isn't just important - it's crucial
Unfortunately a lot of existing information about online reservations and ordering through Wix is outdated - or just plain incorrect.
Need an example? Look no further than this post on the Wix website that still pops up in search results but contains broken links, and suggests using the OpenTable plugin for reservations.
Spoiler alert! Wix doesn't have an OpenTable plug-in anymore! This is incorrect information.
In this guide, I'll explain what the current options are for Wix restaurant owners, how to implement the best options for online reservations and orders, and hopefully get your Wix restaurant website optimized and bringing you in real revenue!
So let's start with what are your options as a restaurant owner with Wix.
Options for Online Reservations with Wix
As noted above, current information online about reservations through Wix can be misleading.
In the Wix official help doc about using Wix for restaurants, they mention using the Wix Table Reservations app to take online bookings from your website.
From researching online you may be thinking this is only way to get reservations from Wix, but in fact you have many options to choose from.
Different ways to take reservations using Wix
You have three ways of setting up online reservations with Wix:
Use the

Wix Table Reservations app.

Use a reservations app from the Wix Marketplace.

Add an external reservation link from any reservation software into a button on your site.
Wix online reservation systems reviews
Wix Table Reservation App
The Wix Table Reservation app is the default reservation system in Wix.
When you set up a new Wix website, the onboarding flow will prompt you to use this feature to take online reservations from your new restaurant site.
Here you can set up the basic things like opening hours, number of tables and size of your restaurant etc.
So far, so good.
But users who have installed this app in their site have typically gone on to give the app a very low rating in the Wix app marketplace.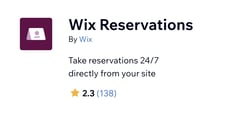 In fact, the average rating of the Wix Reservations app is 2.3 / 5.
Users of the Wix tend to find it lacks quite basic features to allow effective management of online reservations.
Here's a few example of negative reviews from people who've tried it recently.



Pros & Cons
Pros
Setup is part of the Wix onboarding flow
Branding continuity between your site and the reservation process
Supports a large range of languages
Free to use
Cons
Feature set is very limited
Users report issues with the stability and bugs
Reservations Apps in the Wix Marketplace
If you are new to Wix, or just haven't explored the platform in depth you may not know about the Wix App marketplace.
The marketplace is where 3rd party apps have built direct integrations with Wix, enabling much more powerful features and services that Wix itself can't provide.
This is the case with online reservations for restaurants.
Inside the Wix marketplace, you'll find other options for online reservations through your Wix website. In the image below, from the marketplace, I've highlighted options beyond the default Wix services.
Tip: to get to the marketplace, search for Wix marketplace, find the restaurants tab in the 'Events and Services' category, here you will be able to browse apps specifically designed for restaurants. Alternatively here's a link to go directly to the page.
Currently you have two to choose from: Eat App and Hostme.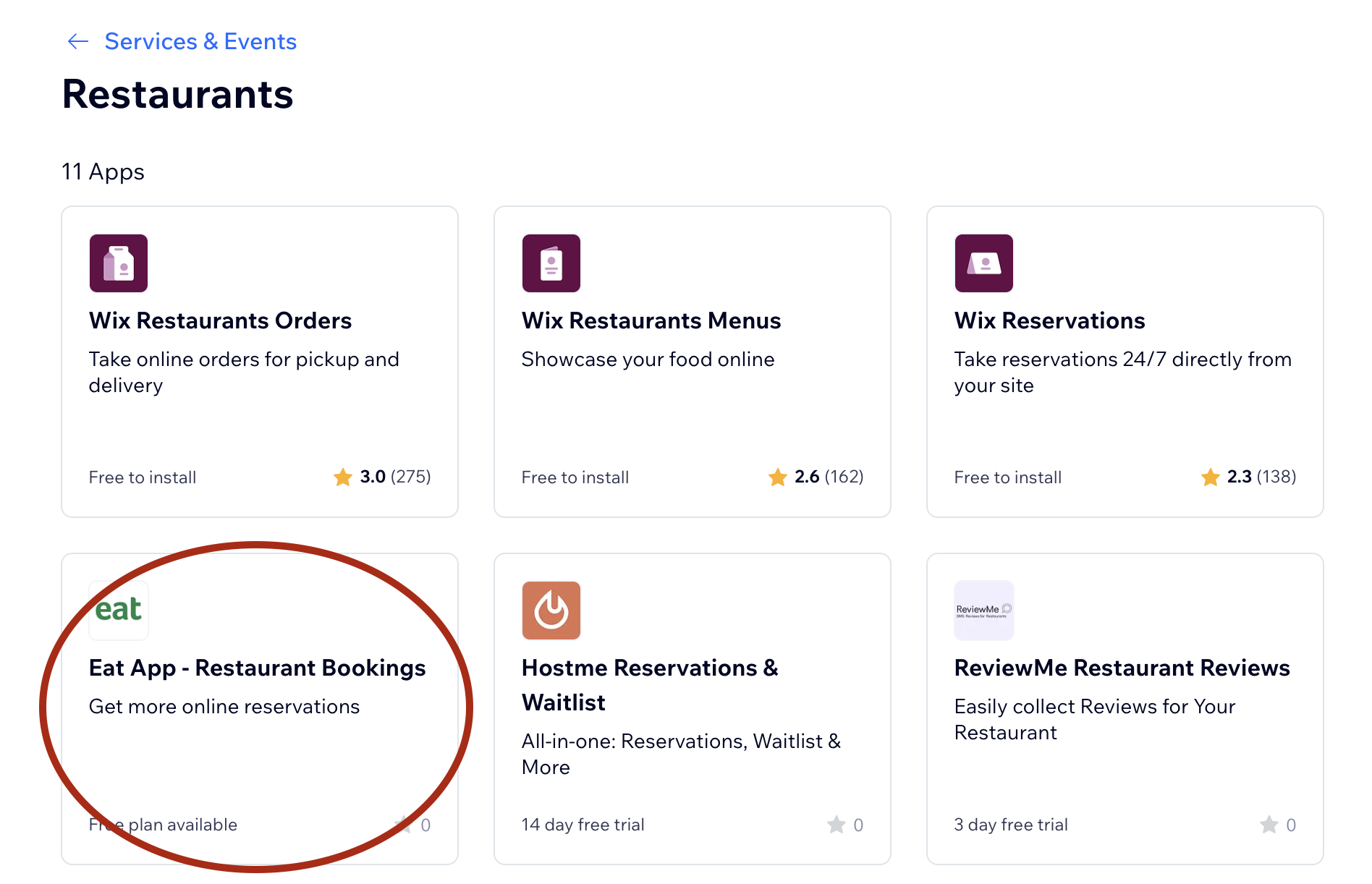 Obviously we are biased and think Eat App is the better option for most restaurants. But we also encourage everyone to check out all the options and find the one that makes the most sense for them.
In general, the benefit of using of 3rd party app from the marketplace is you will be using a system developed by specialists in the category who have spent years building features and options designed for restaurants.
Examples include: Capacity and reservation flow options, shift management, automatic table filling with table management, digital floor plans, SMS notification messaging and many many more.
These features are not available in the Wix default reservation app.
Pros & Cons
Pros
Branding continuity between your site and the reservation process

Professional reservation and table management features that help you grow revenue.
Get reservations from Google and Social Media - not just your website.
Full support
Low monthly cost (Eat App has a free tier for example.)
Cons
The set up process is longer
External reservations links
The last option is to install a reservation widget link from a reservation software system into a "Book Now" or a "Reservations" button on your finished website.
When you choose this option you loose the ability for guests to make an online reservation without leaving your website as they go to a booking page on a completely different site (provided by the booking software).
This can make the booking process less seamless for guests, you can loose some of your overall brand identity, and there is potential for drop off - meaning you will get less reservations.
Never the less it is always an option to consider.
Pros & Cons
Pros
Easy to install a link on your website
Professional reservation and table management features that help you grow revenue.
Cons
Can be very expensive to signup for reservation software
Guests have to go to a different website to make a reservation


The best way to set up Wix reservations
Overall the best way to set up reservations through a Wix website is Eat App.
Again, obviously we are biased here, but based on a combination of features, price and user experience we believe this is the best option for most restaurants.
That's why we built it!
Joseph Boston, product director at Eat App, says about Wix reservations. "There was obviously a need to help restaurants get a super powerful reservations experience through Wix. Many of our existing customers are constantly trying to find ways to drive more bookings though their website. Features like optimized booking flows and shift management help them do that."
Interested to try it for yourself? Here's how to get started?
Adding reservations on Wix through Eat App
To add Eat App's booking widget to your website, start by navigating to the Wix App Market. From here, head to Eat App's app page by searching "Eat App" in the search bar.

To start the integration process, click the "Add to site" button on the app page. This will open a new tab in your web browser asking for basic permissions from you.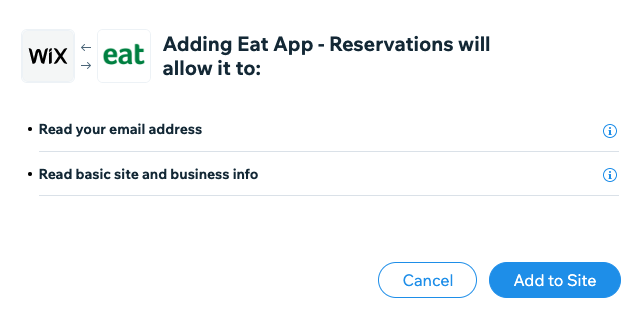 Once you've accepted the terms and click "Add to Site", you will be taken to Eat App's sign up page.
Create your Eat App account
Fill out your restaurant's details and click "Create Account" at the bottom.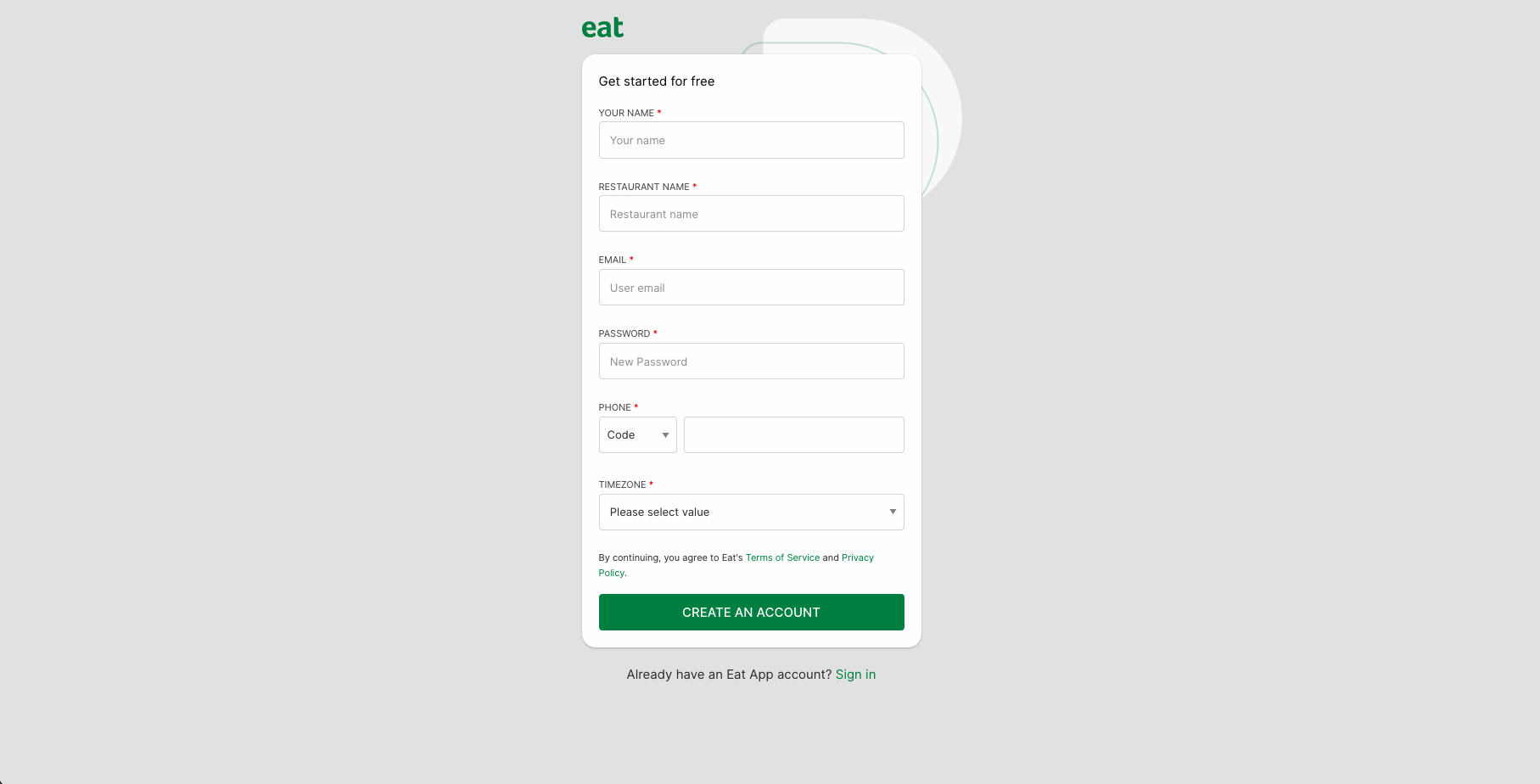 You will now be redirected into Eat App, from here you will be guided through setting up your restaurant's information to ensure your widget reflects the correct information to your customers.
This setup process will take you through adding in your tables and their respective capacities, setting up your restaurant shifts and finally customizing your widget colors to better suit your restaurant brand.
Don't worry if you accidentally enter any incorrect information or forget to make a certain change, all this information can also be edited later.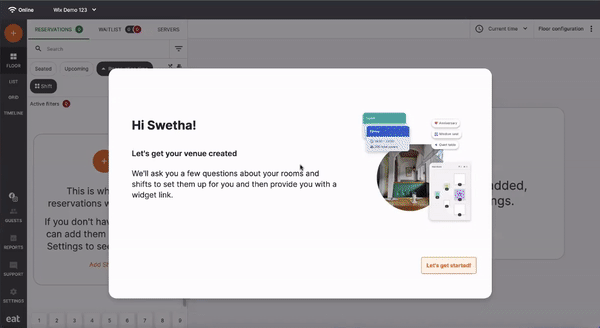 When finished click "Save and continue" to proceed. You will now be redirected back to your Wix website editor where you will see your restaurant booking widget. You can then place the widget wherever you would like on your website.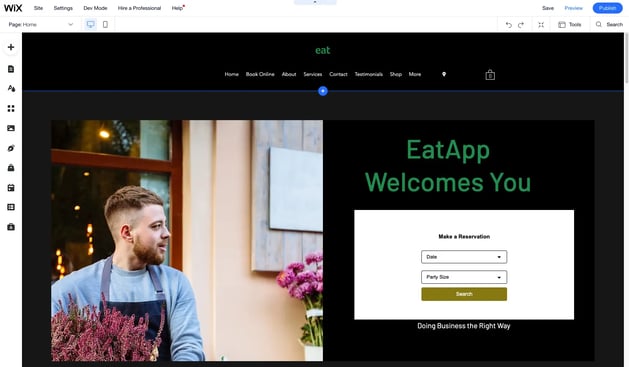 And that is all there is to it, you are now ready to start accepting reservations directly from your website. To see what your website looks like, click the "Preview" button on the top right corner of the website editor.
Got a question? Simply schedule a call with us here
How to customize your booking widget
Now that you have your booking widget installed on your restaurant website, you can easily customize what your booking widget looks like. Start by clicking the booking widget module while in edit mode and then click the "Settings" button on the top left corner of your booking widget.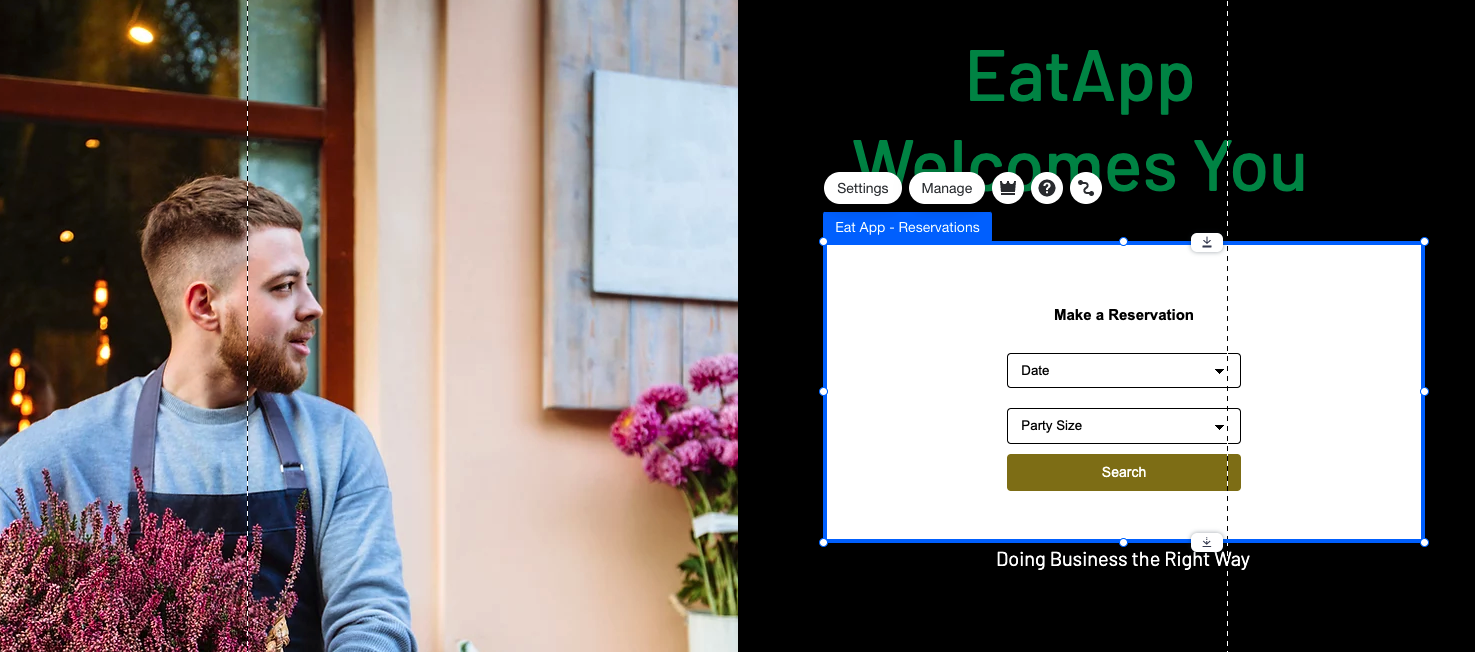 It's here that you will be able to make quick adjustments to your widget color scheme as well as the maximum and minimum party sizes you want displayed on your widget.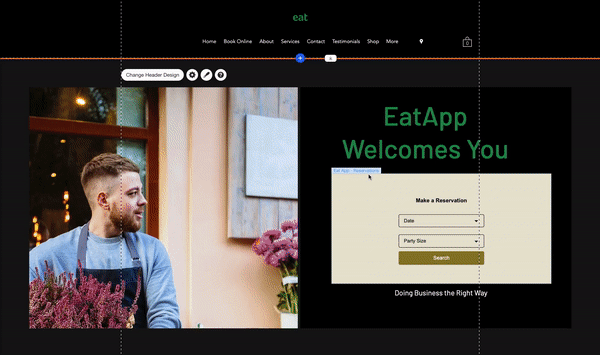 You can also jump into your restaurant within Eat App by clicking "See Dashboard" from the "Main" tab in settings. This will allow you to make further changes to your widget settings.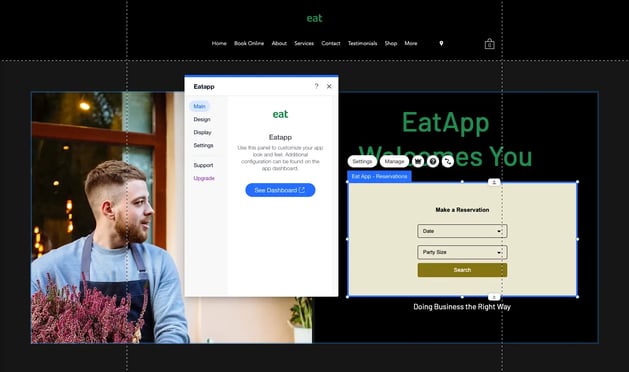 From here you can go on create a digital floor plan, set up shifts that match your operations, enable SMS notifications and start using many more reservation management features available in Eat App.
Online Ordering and Wix
Online ordering is also potentially on your radar when setting up your Wix restaurant website.
Like reservations, online ordering can be enabled through Wix in several ways.
Wix Restaurant Orders
The default Wix online ordering app contains the full online ordering toolkit most restaurants have come to expect, including
Online menus
Payments
Order tracking
Email notifications
Loyalty options for repeat orders
Looking at the reviews and usage, the Wix online orders app is substantially more popular compared to the reservations app and it's used by many restaurants on the Wix platform.
Whilst not perfect, scoring an average of 3.0 in the marketplace, the support is responsive and you can even schedule a call directly with a member of their team here.
DoorDash and Square online ordering
DoorDash and Square are some of largest online ordering players currently serving restaurants and both offer apps in the Wix marketplace.
Primarily aimed at customers who already use either of these services, both DoorDash and Square can be integrated seamlessly into your Wix website.
Head over the Wix marketplace to check out both apps
Wrapping it up
Wix is an excellent option for restaurant owners who want to run their online operations through the platform. They have great, fun templates more suited to restaurant brands compared to competitors.
Reservations and online orders can both be managed through Wix and their different options for you to explore.
For general advice about getting the most out of your Wix for restaurant website consider out these tips from Orly Stern Izhaki, General Manager of Wix Restaurants
Keep the design simple and easy to navigate: Use clear and concise language and ensure that the design is intuitive and easy to use.

Make menu items easily accessible: Clearly label and categorize menu items and provide photos of dishes where possible.

Offer multiple payment options: Provide a variety of payment options to accommodate different customer preferences, such as credit cards, debit cards, and online payment platforms.

Optimize your website for mobile devices: As an increasing number of customers use their mobile devices to search for and order food online, it's essential that a website is mobile-friendly and can be easily accessed from phones and tablets.

Be reachable: Even if a customer is ordering online, it's important they can reach someone if they need to. Provide either chat or phone services on your website to customer support.


read the full interview with Orly here.
For most restaurants we recommend using the in-built Wix app for online ordering and the Eat App marketplace app for reservations.