When it comes time start re-opening your restaurant after Covid-19 it's unlikely to be business as usual. There are hundreds of decisions and steps you need to take on the path to becoming full operational again.
Eat App can support your re-opening by helping you to stay flexible and organized when restrictions are in place. We can help you stay on top of guest communication in uncertain times, and provide new ways to generate and protect revenue as the economy starts to open up again.
Here are some of the ways you can use our table management system to help.

Manage Capacity Restrictions
One of the big changes that Covid-19 has brought to the restaurant industry is capacity guidelines from governments. Increasingly restaurants are being mandated by law to operate at reduced capacity to ensure public safety.
Guidelines can change rapidly which means you need to be responsive and flexible as the situation develops. For example, what if over night you are allowed to move from 30% capacity to 50% capacity. Are you prepared to increase capacity in a flash?
How Eat App supports capacity restrictions.
Eat App is a full featured capacity management tool that you can configure in minutes if your requirements change. We help you manage capacity and guest flow in two main ways.
Change your floor plan when the situation changes
At the heart of Eat App is a robust and easy to use floor plan editor. Use the floor plan editor to add or reduce the number of tables currently active and also to set the cover number for each table. Changes you make here are reflected immediately across the app and your booking widget.
Configure your shifts to automatically restrict covers
If you want a less manual solution to managing your capacity, this can be done by modifying your shifts. Once you set up a shift to restrict the amount of covers your restaurant can receive, Eat App works in the background to automatically optimize the allocation of reservations to never exceed the limits you've defined.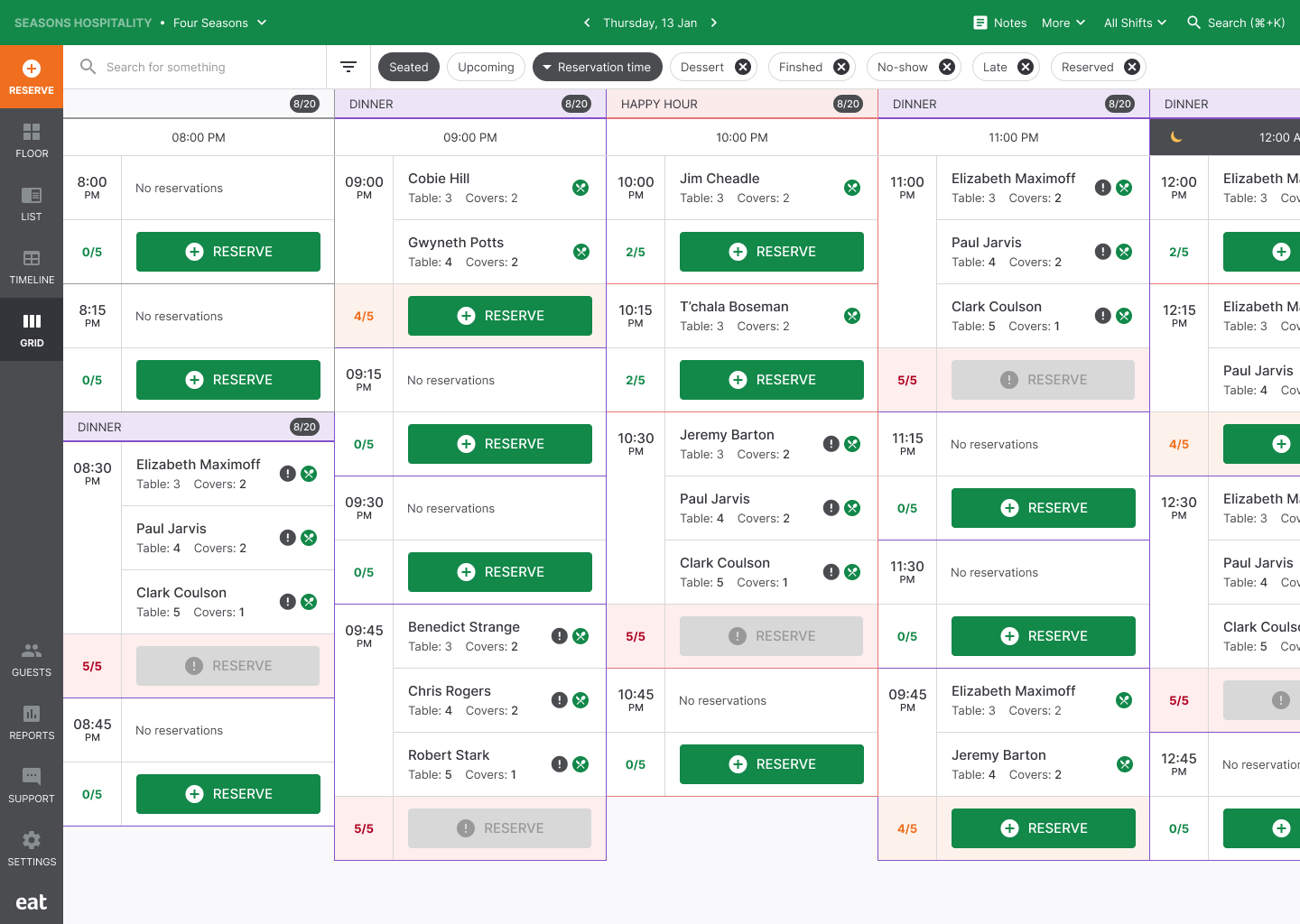 Managing capacity minute by minute with Grid
As well as offering customizable options to configure capacity restrictions we also have dedicated capacity management dashboard so you can make decisions about whether to seat guests based on capacity in an instant. It's called Grid.
Grid shows your reservations as hourly blocks which are further segmented into 15 minute time slots. It's a very simple way to see how many guests per hour you are expecting and then also make a judgement as to whether you can seat more guests based on your capacity requirements.
Restricting capacity with waitlists
If you are operating at reduced capacity then walk-ins start to pose a problem - especially if you normally expect high volumes of walk-in guests.
Eat App comes with a waitlist so you can start removing some of that walk-in pressure when operating at a limited capacity. The Eat App waitlist is integrated with your reservations and floor plan so you can know exactly when to add someone to the waitlist. The waitlist also comes with SMS reminders so your guests don't have to wait all in one place, important for health and safety, and can come back when their table is ready.
Contactless Dining
Many restaurants are now considering options when it comes to contactless dining.
Contactless dining revolves around moving menus online and giving guests a way to order food from their smartphones. With Eat App you can integrate contactless into your existing operations instead of having to set-up yet another system in your restaurant.
Connect contactless directly to reservations and manage it all from a single dashboard.
Prioritizing guests
Not all guests are created equal and as you start re-opening you may be thinking about the need to prioritize certain guests over others if you have limited capacity. Now is the time to cement the relationship with your best customers by offering them the best experience, and a spot, at one of your tables.
With Eat App you can easily stay on-top of your best guests so you can go that extra mile when you need to.
Phone integration
With Eat App's phone integration you see all relevant guest information before you pick up the phone. This gives you time to prepare and offer tables instantly to a guest you know you want to seat.
Custom tags and notes
Tag guests with custom attributes so you know who takes priority. Keep track of preferences and notes about your best customers so the personalized experience continues during Covid-19.
Prioritize with CRM
Use the Eat App CRM to prioritize and track your best guests and VIPs. Once they are tracked you can target them specifically with marketing and make sure your staff give them a superior level of service.
Keeping guests updated
The situation facing many restaurants is continually changing. In these circumstances communicating with guests is high on the priority list. Keeping customers abreast of opening hours, health and safety initiatives, menu changes and delivery options are now important action items for restaurants.
To support restaurants in this mission, Eat App provides you with a CRM system that maintains and grows your customer database. Combining customer lists with tagging and segmentation, Eat App can form the basis for effective customer messaging.
Segment and download your contacts
The Eat App CRM makes it easy to segment your guests by visits, last visited and tags to use for specific campaigns as you start re-opening. With Eat App it's easy to download all your contacts or targeted lists and use them for marketing and communications.
SMS messaging templates
Eat App gives you the ability to customize SMS messages as your situation develops. Easily update your message text for confirmations, cancellations and reminders.
Widget terms and conditions
Effective messaging at the point of booking is a key communication touch point with guests. Make your policies crystal clear when guests are booking by including terms and conditions and/or safety information at your restaurant.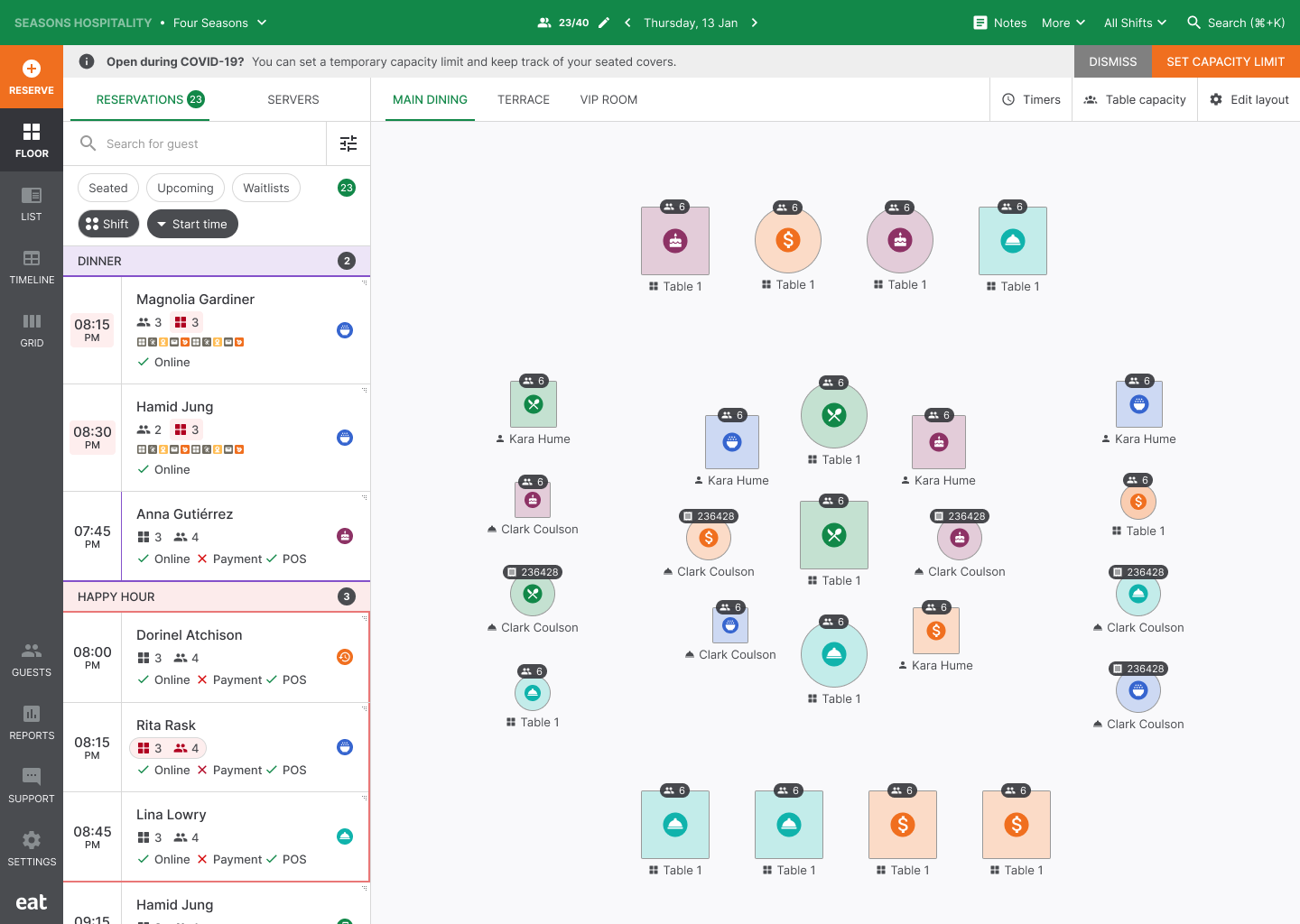 Switch to reservations only
One option restaurants are starting to consider is switching to a 'reservations only' model. In this system walk-ins are be prohibited, and guests will not be seated or allowed into your restaurant without placing a reservation before hand.
Switching to reservations only has a couple of benefits. Firstly, in an era of social distancing you prevent lots of people congregating at the front door and/or forming lines. From a safety perspective reservations only may in fact be one of the best policies you can enact.
Secondly, if you are reservations only then it's much easier for you to manage capacity and flow on a daily basis. You know exactly how many guests to expect and can plan accordingly. It gives you extra freedom to operate instead of scrambling to stay on top of waitlists and communicating with guests who try and walk-in. If you can predict flow you'll also be able to more accurately manage staffing levels and kitchen capacity.
How Eat App supports reservation only
Eat App can help you transition to a reservation only model in a number of ways. We provide you with a real-time booking engine for your restaurant that shows guests live table availability. Making it as easy as possible for guests to book online is a crucial part of becoming reservation only. With the Eat App booking widget you can customize floor plans and change availability depending on your unique situation. With Eat App you can also configure the system to accepts only online reservations and block walk-ins.
Also crucial to this strategy is communication with your guests to let them know this is your new policy. With Eat App you can set customized terms and conditions that are shown very clearly on your booking widget.
When it's clear your customers will know that they will be turned away if they just turn up at your restaurant. Eat App is also your restaurant CRM which means you'll have access to all your customer emails and phone numbers, so can easily download and send updates to your existing customers about new policies your putting in place.
Protect and increase revenue at all costs
In times like these, cashflow and revenue is more important than ever. Now is the time to make sure you are capturing as much revenue as possible and reducing any loss. As you begin to re-open, no shows for example start to become crippling rather than just an inconvenience.
Combat no shows with deposits
Eat App has an in built secure payments option that gives you the power to drastically reduce no-shows and protect your revenue. Applying financial terms to reservations is the single most effective way of reducing no-shows.
With Eat App you can use:
Reservation deposits - the guest is required to pay a deposit to confirm a reservation.
Cancellation fee - the guest is charged a cancellation fee if they fail to show up or cancel within a reasonable time.
Guarantee revenue with Pre-Pay
Another way you can re-think your offering to maximize revenue is shifting temporarily to a pre-pay model where guests pay for their entire meal upfront. Using Eat App's payment features you can send a payment request per reservation or request payment upfront for the full cost of the meal. Whilst not for everyone, pre-payment is something you can consider when looking at how to grow revenue in uncertain circumstances.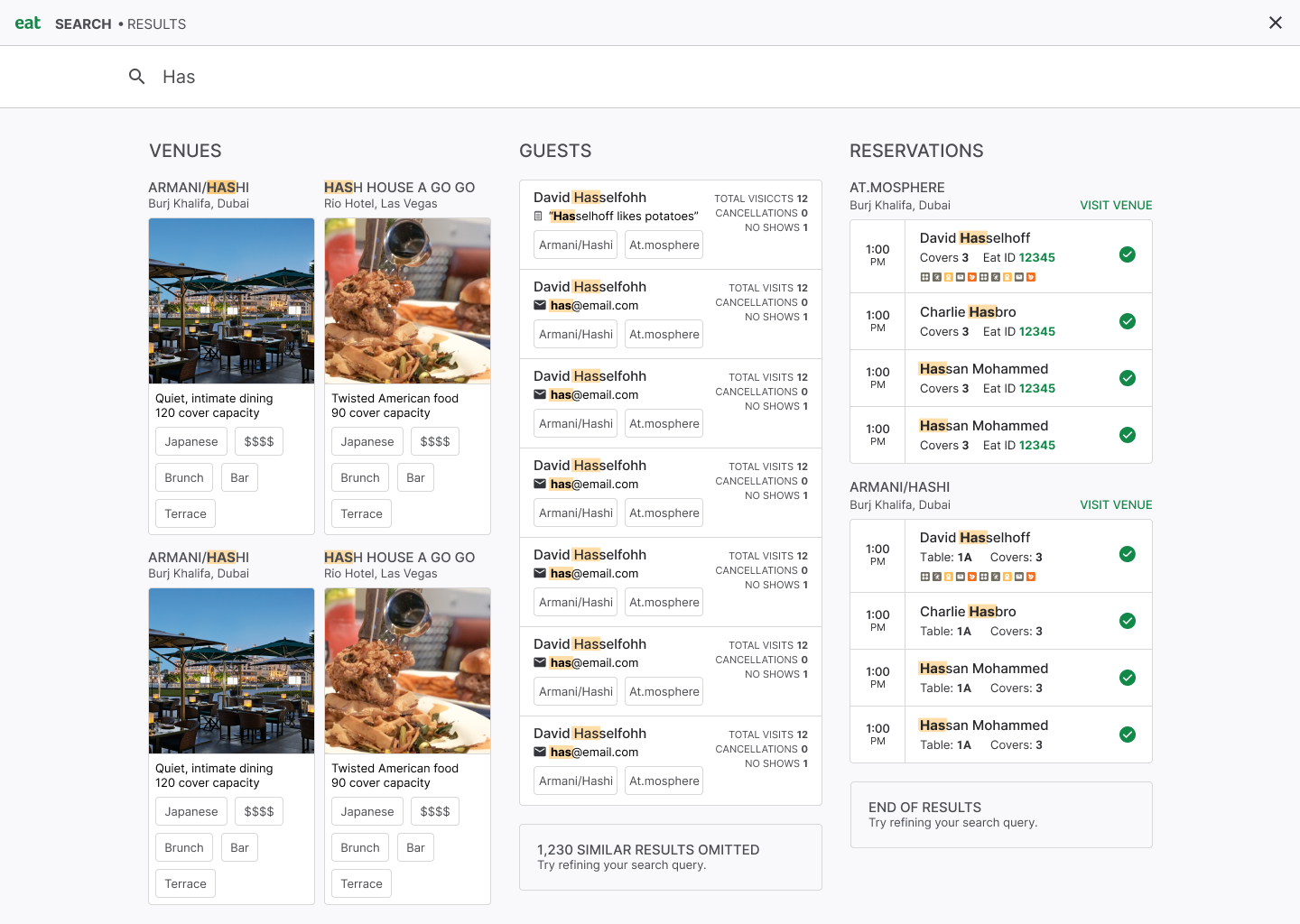 Cross promote restaurants in your group
During Covid-19 re-opening and potential ongoing restrictions, Eat App supports operators that run groups or restaurant chains. We do this through shared customer data and reservation tools accessible to all your staff across multiple restaurants. This feature is called OmniSearch.
In an environment where capacity is restricted you can keep the guest inside your group by offering them a confirmed reservation at another restaurant. With OmniSearch you have access to table availability across your group and can place reservations at a different restaurant in the group if the initial restaurant the guest was interested in is full. This helps you keep customers, and ultimately revenue, within your business.
Reduce your costs
And finally - one of the primary concerns you might be facing is of course reducing costs. Cost reductions are a business wide activity taking into account inventory, menu analysis and engineering, staffing and payroll and many others.
From our side Eat App is dedicated to helping restaurants reduce costs through access to our full suite of guest and reservation management tools at a low cost. We haven't reduced our prices as a result of the Covid-19 outbreak, our prices have always given you access to the most advanced features at the best price.