The front-of-house refers to anything that the customer sees and interacts with during their visit to your restaurant. This in turn means many moving parts during service, and you need these many parts to function like a well-oiled machine. As always, the best way to manage many moving parts is to look at the numbers.
The reality is that numbers mean everything when maximizing front-of-house productivity. Numbers never lie and are clear markers of success or failure.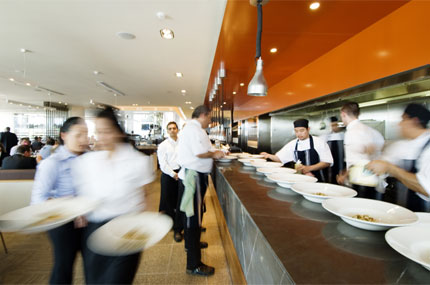 Many operate on the simple rule that food and labor costs should operate at around 60% of your total annual revenue. You can quickly estimate your labor costs by:
Splitting up your employees by department (in this case split all front-of-house employees into separate categories).
Use an electronic clock-in system. This allows you to see the total hours worked per employee.
Add all hours per category, then divide by 52 (weeks in a year) or 12 (months), depending on if you won't look at monthly or weekly costs.
This system can also be used for any and all back-of-house employees for a complete picture. Total labor cost and food cost are the base layers for properly managing and maximizing the front of the house. When food costs are calculated, you have an even better idea of what you are actually managing and where you can make savings.
3 Key Metrics for Restaurant Productivity
While it's important to always balance your labor and food costs, below are four quick ways you can identify certain factors that tie into front-of-house productivity.
1. Identify the average number of guests served per hour
This can be split up into differing times of day if you are a restaurant with multiple services. Yet this should still be done the same for each service. Key things to identify here-do you have more customers per employee in a certain area?
If you have two bartenders for an evening service and only five people show up, you need to re-evaluate things. If you have four servers on for an evening, and only ten guests on average per hour for a four-hour diner service, you're only doing around forty covers. This is not enough to keep things profitable.
If you really want to dig deep you can go into check records and find the average amount guests spend at your restaurant. This will give you an even clearer picture of your operating profit margins. With this average, you can also look at what months of the year bring the highest averages and staff accordingly.
2. Create a ratio for comps per transaction
This is an easy way to eliminate waste, work on improving service, and maximize revenue.
For this ratio, simply average the number of comps done by any and all front-of-house staff during service. Put this number up against the number of total plates of drinks made. Here you can split between drinks and plates if your bar and floor are two separate entities.
Let's say that for every 80 plates made, you have one comped meal due a mistake by staff. Your comps per transaction ratio are then 1:80, and this is can definitely be improved. Even if your numbers are quite good, push to eliminate comps through staff error as much as possible.
You'll find that cohesiveness and teamwork improve as this ratio improves too.
Keep in mind that certain comps can be acceptable and even enliven the overall guest experience. For example, if you have a couple celebrating an anniversary, a comped meal or a complimentary dessert item from your kitchen is a wonderful way to enhance the experience.
Some comps can create repeat guests, just be sure to use it in the most appropriate situations.
3. Drinks per bartender hour
This is calculated by taking the number of drinks produced by the bar and dividing them by total bartender hours. You can also target particular periods of service when making calculations.
This not only indicates the performance of your bartenders but gives you a very clear picture of how profitable your bar space is. This is a very quick and easy way to trim the fat in your bar area if need be.
Other considerations here:
Look at the average number of customers per bartender after a service. If this number is high and your drinks per bartender hour metric is low, you need to add another bartender. Especially if this number difference is consistent.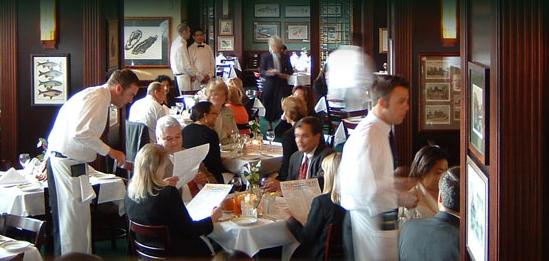 Are phone calls slowing down your front-of-house?
For restaurants that deal with reservations, managers and front-of-house staff often spend a lot of time on the phone taking and confirming reservations. This is totally normal as phone calls are still the most used method for placing reservations.
But modern restaurant reservation systems can significantly reduce unnecessary phone time through online reservations and SMS confirmations.
Consider the following. The average reservation confirmation call at your restaurant might be 30 seconds, and on average you might have 20 reservations a night. This means you spend over 1 hour a week making reservation calls. This time could be 90% eliminated with an SMS confirmation system.
A similar situation occurs with placing reservations. By encouraging behavior change in your customers where they book online through your website rather than calling, will further reduce time wasted on the phone.
The importance of your POS System
Find a point of service operating system that works seamlessly with your front-of-house staff. You want something that allows your hosts and hostesses to get a good picture of guest volume per table as well as time spent at each table.
Turnover is a very important factor when maximizing front-of-house profit.
A good point of service operating system will also allow your servers to communicate effectively with the back of the house. Typing in orders correctly and having an interface that allows this results in fewer errors and less waste. This applies to the entire floor.
Pay attention to support role employees
A great server usually has a great porter, and a great bartender usually has a great bar-back. You need to recognize the importance of people in support roles if you are to create an effective front-of-house team.
It's also an important balancing act when considering their hours. Cutting porter hours can be a good way to maximize revenue, yet it is important to know when. Instead of metrics in this instance, get to know your team and recognize who operates well with one another. You can also establish a rotation for hour cuts if entering a slow season.
The biggest revenue driver of all is attention to the customer. If your team can make this happen you may have customers for life.