If a potential customer went looking for your restaurant on the Internet, how easy would it be for them to find you?
Search engine optimization is an incredibly important part of restaurant marketing. It helps to channel customers to information about your business and will hopefully play a part in helping them to make a booking with you or walk through your doors.
The rapid increase in the use of smartphones to search for businesses means investing time in search optimization now offers even more of an opportunity to restaurants.
65 percent of smartphone users searching for restaurants do so with the intent of finding somewhere to eat within walking or driving distance.
Of those looking for restaurant information, 85 per cent go on to make a purchase – either booking online first, calling ahead or turning up as a walk in.
And most tellingly, 64 percent of searchers convert to customers in just one hour. These are just mobile metrics and many more search from their laptops at home, or at their desk looking for somewhere to eat at lunch, or for their next special event.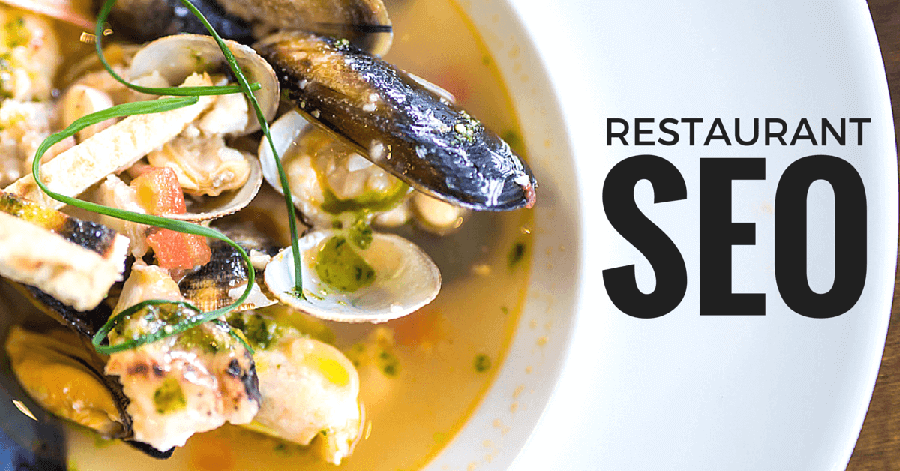 What is SEO?
Search engine optimization is the process of making your website more visible online. The most popular search engine is Google! When we look for something online we'll usually type a query or keywords into Google and see what it brings back for us.
Carrying out optimization for search engines makes it easier to identify your website as being relevant to searches. So it's important to make sure your website is set up correctly from a technical point of view and contains relevant content that answers possible customer searches.
There are a number of factors that help to decide how far up your restaurant appears on the search results page, known as the search rankings. Factors include how close a match the content on your site appears to be for what the searcher is looking for, how well people engage with the content on your website and how well your site appears to be 'trusted' by others.
Keyword research and creating pages
Creating relevant content on your pages that matches up with searches will help your site be more SEO friendly website. Use tools such as Google's Keyword Planner to help you find relevant keywords that your customers are likely to be using in searches. You can then look to incorporate these terms naturally within your content.
For example, to make it easy for customers to find your menu, ensure menus are included in page copy and made searchable rather than only downloadable as a PDF. You can use your keywords as a starting point to create relevant pages and content, but you need not necessarily created a page focused on each keyword.
Types of Restaurant Keyword
Brand search
First, think about the type of searches that could lead a customer to you. If your restaurant name is well known, customers may search for you using your brand name, so it's critical your restaurant name and contact details are consistent across your website.
Location search
Customers may also perform geographical searches to find a restaurant in a particular location e.g. town/district + restaurant.
With this in mind, you'll want to make it very clear where your restaurant premises are located. Along with a full and correct address, be sure to consider out-of-towners who may not be familiar with where particular distracts are located or local neighborhood names.
Cuisine search
When a customer has a hankering for a particular type of cuisine, they're likely to perform a search that combines it with the location they want to eat in. For example, Thai restaurant + location, fine dining + location, gourmet burgers + location.
Requirements/niche search
Sometimes, diners are going to be looking for something quite specific and will perform a more niche search term. If you cater really well for particular demographics, this is your chance to attract their attention. A few examples are:
Pre theatre menu + location
Family restaurant + location
Vegan restaurant + location
Gluten free menu + restaurant + location

Creating content
When it comes to deciding what goes on your website pages, you should be trying to create a positive experience for visitors, just as you would in your restaurant. You want copy; photographs, videos and other resources will enrich your visitor experience. A mobile friendly responsive website that loads quickly and easily is also a must.
As a minimum, you should consider a home or about us page that tells the story of your restaurant and where you can be found geographically, a menu page and information on how to book should also feature on your site.
Technical page elements
When you build your pages, you should signal to search engines what the content is about, so that they can direct searchers to the most appropriate page on your site. Tools in your arsenal to help you do this are:
Title tags – The title of the page that is presented in search results. For example, your brand name + restaurant + your location. This should be between 50 and 60 characters in length.
H1 – The header of the page gives an indication of what the content on that page is about. For example your brand name + restaurant + location/about.
URL – This is the address for your page, which will appear in your browser and is clicked on in search results to take users to the page. It should match up with your title tags.
Meta Description – This is the short summary text that appears a search result. It's usually between 150 and 160 characters a long and should include your brand name, location and your choice of keyword and perhaps a call to action too to encourage people to click through.
Alt tags – These are used to describe images so that search engines know what they are. When you upload images to your site, include your restaurant name and location.
5 easy ways restaurants can start link building
Trust is passed to your website when other sites link to it, signaling to search engines that others find your website useful or interesting. However, not all links are equal and those gained from quality sites such as newspapers are likely to pass more trust and thus give you more of a boost up the rankings. Furthermore, links from spammy sites could actually hurt your search position.
Many restaurants choose to work with specialist digital marketing partners to help build their site's link profile as part of developing an online presence, but there are simple things you can do as a business owner to encourage people to link to your site. Here are five way you can get started:
Supplier links
If your after dinner cheese board is made up of award-winning products from a local dairy, the business in question may want to mention on their website that they supply you and link to your website. It's a relevant link because their loyal customers are likely to want to know where else they can enjoy the product.
Sponsorship/charity links
If you sponsor a local team or support charities, news about team progress, events and donations can lead to press coverage and potential links.
Newspapers and local press
From new menu launches to refurbishments through to cookery classes, get creative and you could cook up some great press links along with positive PR. Being shortlisted for or winning restaurant and business awards can be doubly good for earning links as you're likely to gain links from those running the awards along with press coverage on and offline.
Influencer marketing/bloggers
As diners often search for reviews online, this can also help ensure there are plenty of reviews and other influencer content to inform their dining decision. You don't need to stick to the review format to gain coverage and varying your outreach is likely to result in more interesting content being produced.
Think about hosting nights to tell the story behind your produce or a cookery class to showcase your skills. Remember to familiarize yourself with the rules of influencer advertising before you get started.
Local directories
Is your restaurant featured in local directories such as tourism websites or newspaper directories? If you're not sure, you can check using tools such as Moz Local. Make sure your business gets a mention and link from relevant sites and keep your opening hours, address and telephone number up to date.
Optimize Google Business Page
Is your Google my Business page set up? This tool is completely free to use, great for your local SEO and will take you to the top of organic search results for your restaurant name.
To claim a listing for your business, follow Google's set up steps. You'll be asked to clarify information about your opening hours, how to contact you and how to book. You'll need to select what type of restaurant you are, so be mindful of your customer demographic and what they are likely to be searching for when you choose.
You can include a link to your website within your listing and also a link to your menu along with enriched media such as photographs of your food and videos of your chefs at work. Add a link to your website or reservation widget, so that guests an reserve a table with you in just a few clicks.
This can be particularly useful if you don't have a website for your restaurant. Some of the most recent Google updates mean that your busiest times and typical wait times are also displayed to help searchers to plan their visits.
As a bonus, Google is more likely to show your page to searchers if you a lot of people spend time looking at it, as this will be seen as an indicator the page is both useful and relevant.
Finally, as if all of that isn't enough to stir you into action, reviews for your restaurant will also sit directly under the restaurant information using the Google Reviews function. This helps the consumer to make a decision about whether they want to eat with you, so you'll want to monitor your ratings.
These features combined create one of the most powerful resources for your restaurant online.
Best part? It costs absolutely nothing to set up.
Once you start generating traffic to your Google my Business page and website, it's time to start converting that traffic into tangible customers. Plugging in a restaurant booking widget across these various online channels is a great place to start.
Check out our free guide to online booking widgets to learn more.