Valentine's Day isn't just a celebration of love -- it's also a multi-billion dollar industry. From gifts for that special someone to romantic dinners, the "Feast of Saint Valentine" is all about consumption -- after all, it is one of the busiest restaurant days of the year, second only to Mother's Day.
This guide will show you how your restaurant can take advantage of Valentine's Day to increase your profits and bring in new clientele.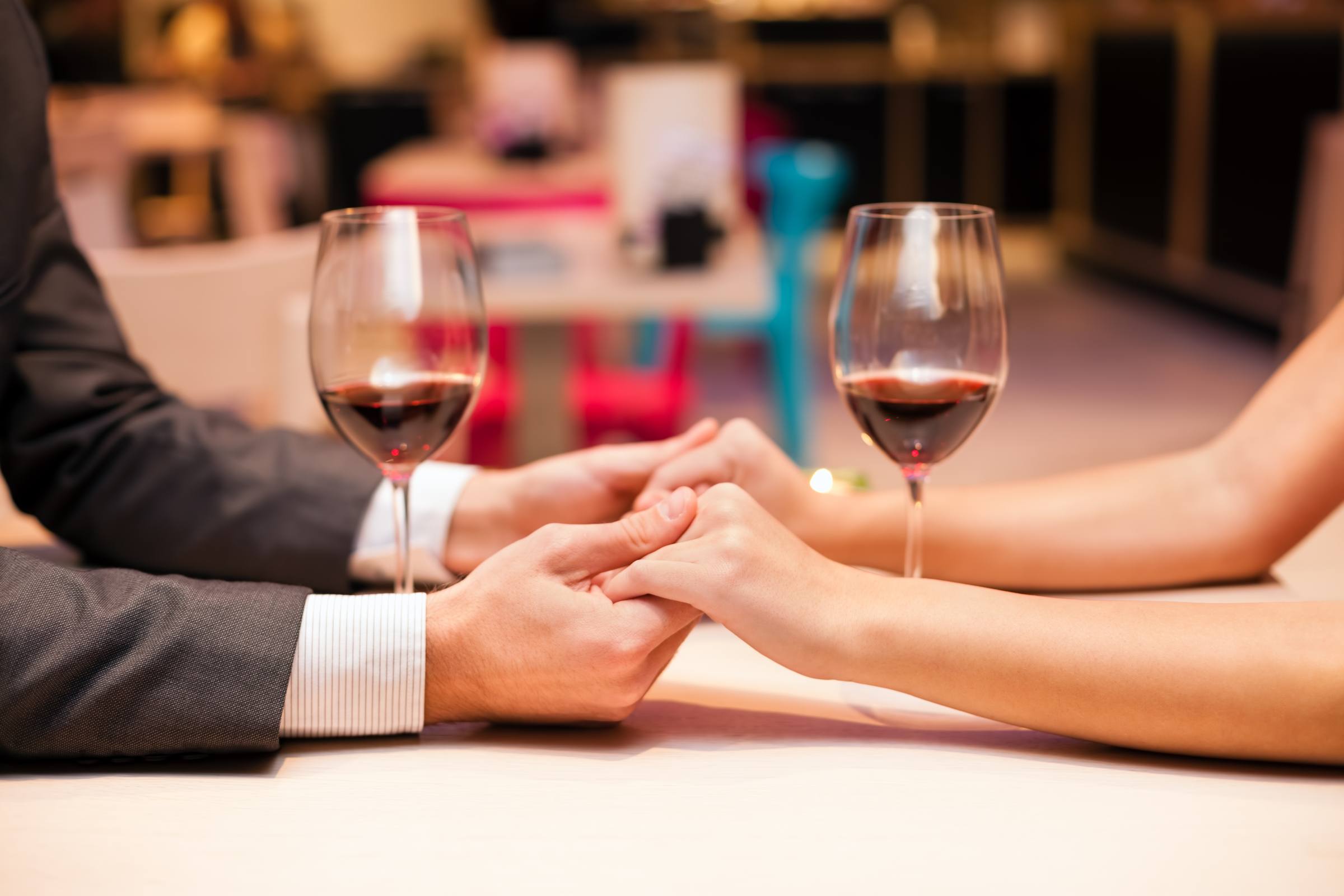 When should you start planning for Valentine's Day at your restaurant?
About a quarter of Americans eat out on this day, and they spend, on average, $286.56 per check. This means that if you make the most of Valentine's Day at your restaurant, the holiday could end up marking your most profitable evening of the year. But you need to have a plan in place in order to do this.
Everything from your menu to the promotions you plan on running to your decorations should be planned well in advance. Most restaurants should start thinking about Valentine's Day planning by early January at the latest.
Keep in mind that restaurants start filling up with Valentine's Day reservations by early February, so you will need to have a solid plan in place by mid-January so you can start marketing by late January.
Designing a Valentine's Day menu for your restaurant
If Valentine's Day is one of the biggest days of the year in the restaurant industry, then you should be creating one of your restaurant's best menus for this evening. Portland-based McMenamins Black Rabbit Restaurant decided to play up the romance last year with an aphrodisiac menu crafted just for the evening.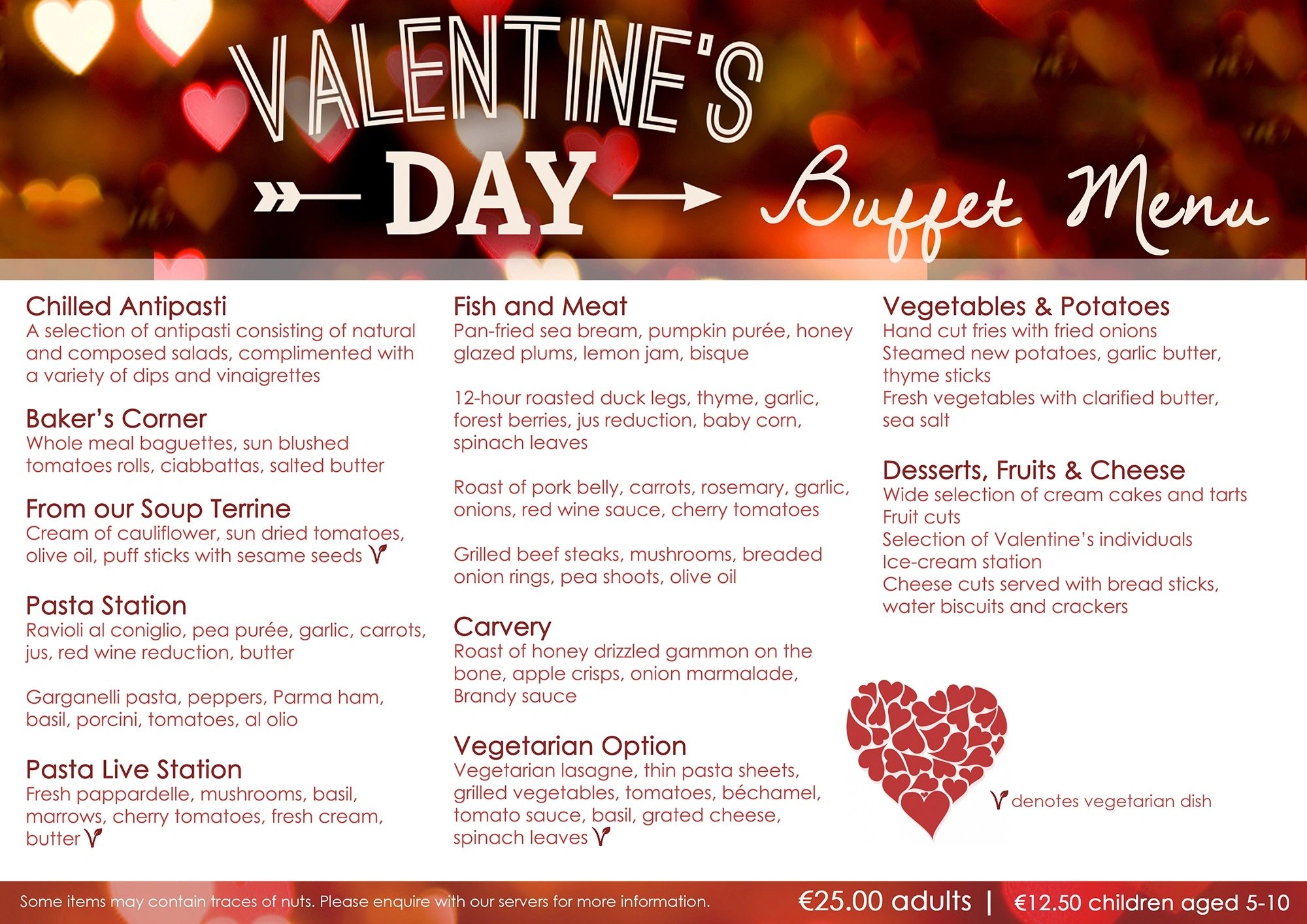 Valentine's Day cocktails are a great way to not only draw people in but also to keep check prices high and increase restaurant profits.
You could even use them to run a happy hour special, bringing in people who made reservations elsewhere for pre-dinner drinks. Think up some festive beverages that incorporate pink, red, and hearts.
If you're going to go all out, do it with your after-dinner menu. Named one of the 50 best
restaurants in Atlanta three years in a row, Atlas Restaurant understands the importance of dessert on a holiday like Valentine's Day, and last year, they created a bespoke dessert called "All You Need is Love" available only on February 14.
Consider adding some dessert cocktails to the menu as well. If designed properly, desserts can be one of your most profitable menu items.

Finally, a Valentine's Day prix fixe menu is a popular option because it helps your kitchen staff deal with the holiday rush efficiently.
At the same time, a special menu with a set price can be appealing to people planning ahead, and most people are looking to spring for a four-course meal on this special day.
Decorating your restaurant for Valentine's Day
The ambiance is the biggest deciding factor when it comes to choosing a restaurant for Valentine's Day, with 21% of diners making their decision based on who offers the most romantic atmosphere.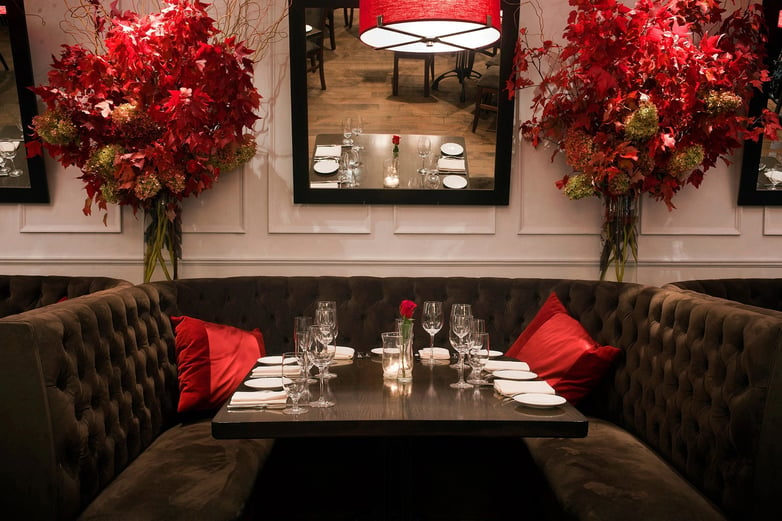 Avoid coming off as kitsch while still setting the mood by dimming the lights a bit
more than usual and bringing out some candles. Understated details like roses and napkins folded in the shape of a heart are also a nice touch.
Finally, consider hiring musicians -- a good live jazz band will do the heavy lifting for you when it comes to setting the mood.
How to promote your restaurant on Valentine's Day
February 14th is an incredibly competitive holiday for the restaurant business, and couples put a lot of thought into choosing where they dine on this special night.
This means that your menu offerings and ambiance are crucial, but Valentine's Day isn't a build it and they will come situation. Promoting your restaurant effectively is the key to making sure you milk this day for all it's worth.
Creative promotion ideas for restaurants on Valentine's Day
Apart from creating a stand-out Valentine's Day menu, running special Valentine's Day
promotions is a great way to entice customers to choose your restaurant over the competition.
Pre-dinner events: Hosting couples cooking classes or a free wine tasting is a great way to bring customers in during the day.
Introduce a new menu item: 11% of Valentine's Day diners pick a restaurant they haven't been to before, so introducing a unique new menu item can help you pull in those customers looking to try something new.
Valentine's Day gifts: Offer special Valentine's Day gift bags filled with local products or samples, couples packages, or a free glass of champagne to draw diners in.
Gift card deals: National Restaurant Association research shows that restaurant gift cards are the #1 most requested Valentine's Day gift for men. Running a gift card promotion can help you bring in extra profits from clients who choose to dine at home on February 14th.
To go meals: Want to target the couples who prefer a quiet night in on Valentine's Day? Last year, Atlanta favorite Alon's Bakery and Market designed a very successful six-course romantic dinner for two -- to go.
Singles and group events: If your establishment doesn't typically cater to couples, consider hosting a singles night or a "Galentine's Day" event.
Strategic marketing tips for restaurants on Valentine's Day
Marketing has the power to make or break your restaurant's Valentine's Day strategy, and pasting up flyers can only go so far. Here are some tips for spreading the word about your promotions.
Partner with local businesses. Consider teaming up with a local theater or hotel to cross-promote your events. You could even put together Valentine's Day date package deals (dinner and a movie, anyone?) with other establishments in your area.
Harness the power of social media. An effective social media strategy for your restaurant is particularly important leading up to Valentine's Day. Try running relevant social campaigns and paid Instagram ads, highlighting your Valentine's Day menu on Pinterest and Instagram, and offering exclusive Valentine's Day specials to your social media followers.
Keep your website and event calendar updated with any Valentine's Day promotions as well.
Hire live music. If your establishment is set up to offer live music, hiring a popular local band or musician can be a great way to market your restaurant on Valentine's Day. Not only are you creating a romantic ambiance, but the band is likely to promote the event to their fans, giving you some free marketing.
Surviving Valentine's Day as a restaurant owner
Valentine's Day might be profitable for restaurants, but it can also be extremely stressful. Advance planning is key to staying calm through the chaos, as is staffing your restaurant accordingly.
As long as you follow this guide to preparing your restaurant for Valentine's Day and start marketing your promotions early on, you should have no trouble filling up your tables while also staying sane.