Hospitality is a term often used in the food-service world, but also in the context of any business falling under the hospitality sector (like restaurants, cafes, hotels) and even the tourism industry. But what does it mean?
According to hotel expert, Dr. John Hogan, CHE CHA MHS, hospitality is often defined as "a place and a feeling where one can build their own self-esteem and pride, by providing positive memories and experiences to our guests," he says.
With over 35 years of experience in hotel operations, and the food & beverage industry, Dr. Hogan, however, went on to explain defining the term "hospitality" is not that straightforward. "Hospitality should have many adjectives, but many of us cannot precisely define it," he says.
Therefore, giving a concrete definition of hospitality is far more challenging. In this article, we will take an in-depth look into the meaning of "hospitality" from multiple perspectives including; the guest, operators, and technology.
But first, let's take a look at why hospitality is necessary within the food and beverage industry.
Key Takeaways
Hospitality is defined by Merriam-Webster's Dictionary as "generous and friendly treatment of visitors and guests or hospitable treatment."

Dictionary.com on the other hand describes hospitality as, "the friendly and generous reception and entertainment of guests, visitors, or strangers."

Expert, Dr. John Hogan, CHE CHA MHS says the definition is more complex than that, and defying the term in one single sentence is nearly impossible.

If we look at the definition of hospitality we need to view it from multiple points of view; the guest, operators, and the role technology plays.

From a guest's perspective, it's about great service, atmosphere, and delicious food. Whereas, operators view hospitality as a recipe that leads to repeat business.

The aim of technology is to help amplify the needs and expectations of both the operator and guest, offering a more personalized experience and seamless online booking system.
Why is hospitality important?
Hospitality plays a significant role in two major restaurant business areas: guest loyalty and restaurant revenue.
Providing great hospitality makes guests feel welcome, comfortable, and valued, leading to an experience that encourages them to return and recommend your business to others. This, in turn, can lead to long-term financial success for your establishment.
Furthermore, in such a competitive market, providing great hospitality can help differentiate your business and create a positive reputation that can attract more customers in the long run.
Now, what is the definition of hospitality, and what exactly does it mean?
The complete definition of hospitality
To better understand the overall definition of "hospitality" we took into consideration the point of view of the restaurant operator, and guest, as well as the role technology plays in defining the term.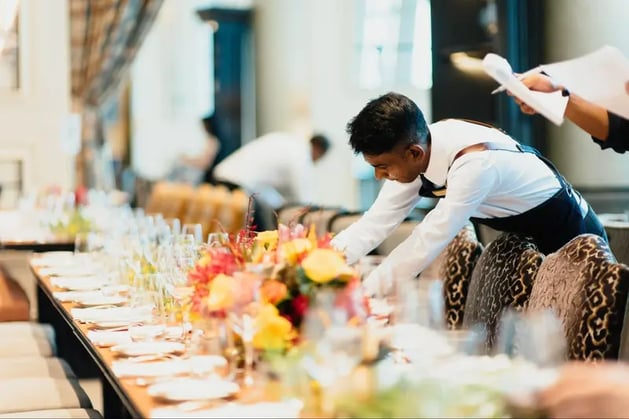 1. Hospitality from the guest's point of view (with examples)
If you'd review hospitality from the guest's perspective, the meaning, in a transactional sense, refers to the interaction between the host and the visitor (at a restaurant, this includes the full crew, not just the host stand employee).
Other key areas that guests expect to receive "hospitality" include:
Atmosphere
The atmosphere of your establishment plays a fundamental role in setting the tone for the guest experience. A well-designed space, in particular, can create a feeling of comfort and relaxation for guests, making them feel more at home when dining.
A great restaurant atmosphere can be achieved through various design elements, such as lighting, music, decor, and layout. Dim lighting and soft music can create a more intimate and romantic atmosphere, while bright lighting and upbeat music can create a more energetic and lively atmosphere.
One example of an establishment with a great atmosphere that guests highly rate is Nobu, a Japanese restaurant with locations worldwide. Nobu's contemporary design, with its intimate lighting, minimalist decor, and modern artwork, creates a cozy and luxurious ambiance highly praised by its guests in online reviews.
According to the chef, restaurateur, and newly minted hotelier, Nobu Matsuhisa, "Hospitality is of the utmost importance in Japan. There is the beautiful, sleek Aman Tokyo, which sits on the top six floors of the Otemachi Tower, and The Peninsula, with its views of the surrounding skyscrapers, where every piece of technology and bathroom fixture has been considered," he says.
Customer service
Excellent customer service involves anticipating guest needs, providing timely and efficient service, and being friendly and approachable overall.
In the words of Jason Langella, CMO at Hospitality Company of Central Florida, Inc., "If you don't appreciate your customers, someone else will."
Training your staff to be knowledgeable about your menu and accompanying services, to have excellent communication skills, and to handle guest complaints effectively is key to providing exceptional customer service.
The Cheesecake Factory has a comprehensive employee training program, including hospitality and customer service lessons. They encourage staff to go above and beyond for guests by accommodating special requests or offering personalized recommendations. The Cheesecake Factory consistently ranks highly in customer satisfaction surveys and has a loyal customer base.
>>> Download our free restaurant training manual template.
Guest expectations
Understanding and meeting customer expectations can encourage guests to return and recommend your business.
Guests usually want a combination of great food, a comfortable atmosphere, and personalized service, so you should do your best to ensure these expectations are met.
However, remember that you should always set realistic expectations with guests so they are not disappointed.
A restaurant that is rated highly by guests based on this factor is The French Laundry, located in Napa Valley, California. The restaurant has received numerous accolades for its exceptional food and service, and guests rave about the staff's ability to exceed their expectations with creative and innovative dishes and their general attentiveness.
"A recipe has no soul. You, as the cook, must bring soul to the recipe," says celebrity chef and owner of the French Laundry, Thomas Keller.
>>> Download our free guest experience workbook.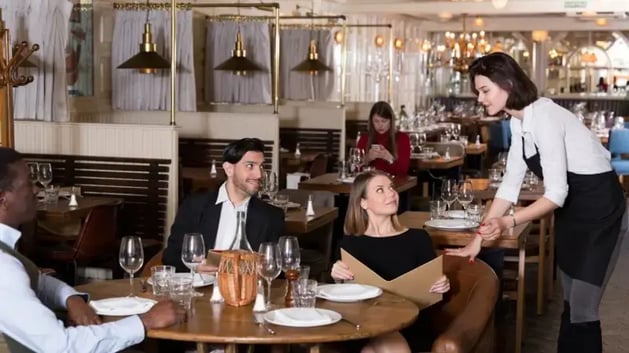 Attention to detail
Creating wonderful experiences for your guests often comes down to small details, such as the quality of the food and beverages, the cleanliness of the space, and the quality of the amenities. Paying attention to these details and ensuring they are up to standard can create a more enjoyable dining experience.
For example, Alinea, located in Chicago, is known for providing a highly curated dining experience that incorporates exquisite cuisine and innovative presentations, table settings, and decor. Every element of the dining experience is carefully considered and crafted, from the unique dishes served on custom-designed plates to the music. So their attention to detail is often mentioned in customer reviews as a strong suit.
"Alinea is not the type of restaurant where you go if you're in a hurry. Really, it's about enjoying that three-hour block of time and reflecting on the food, having great conversation with your dining companion," says American chef and owner of Alinea, Grant Achatz.
>>> Need help to understand your guest better? Sign up to Eat App today - it's free.
Flexibility
Being flexible and accommodating to your guests can help create a positive experience and increase guest satisfaction.
Being flexible means adapting to unexpected situations and changes in guest needs, such as fulfilling special requests, providing alternative options for guests with dietary restrictions, or adjusting seating arrangements on the fly.
One example of a restaurant that is praised for its flexibility is Gramercy Tavern in New York City. The restaurant offers a variety of menus to accommodate guests with different dietary restrictions, including vegetarian and gluten-free options. They also have a flexible seating policy, allowing guests to choose between dining in the main dining room, the bar, or the more casual tavern area.
2. Hospitality from an operator's point of view
The operator works in the hotel industry to serve the customer, not the other way around. When a guest feels welcomed and taken care of, an operator has succeeded. Delivering this experience is what encourages repeat business from guests.
This power balance indicates the following:

You have no duty as a guest to keep a restaurant or hotel in mind. The venue owes it to the visitor to remember them without any mistakes and to provide excellent service that they will never forget.

Despite human error and the fact that there are far more visitors than personnel, how does an operator remember every single one of them without making a mistake?
The answer is technology. To do this, restaurants and hotels utilize reservation, seating, and guest management software.
For wolfpeach owner, Gabriela, this is exactly why software like, Eat App is important for hospitality. "Yes, it's about the food and beverage, but it's also about human connection and that's why tools like, Eat App's guest notes are important," she adds.
Eat App's guest notes help operators to:
Let the staff know about the daily specials
Inform your staff that a large number will be attending a birthday party so that the tables may be prepared.
Let them know if a certain dish is out of stock.
3. Hospitality from a technology point of view
Restaurant reservation systems provide restaurant owners with more control by assisting them in solving problems related to hospitality.
Technology allows operators to:
To better distinguish new and returning visitors, create guest profiles.
Accelerate in-service duties
Deliver experiences consistently that surpass expectations.
Simplify the booking process by offering guests a convenient way to make reservations online.
The best maîtres, hosts, and servers have expertise that is multiplied by technology. It compiles the knowledge into a single location that is resistant to staff churn and doesn't rely on human memory.
So, how does this directly connect to what hospitality is? Well, consider it like this: Technology used in the hospitality industry focuses on improving the equation's service element.
Now, that you have a better understanding of what hospitality is, how can you incorporate this into your restaurant?
How to implement hospitality at your restaurant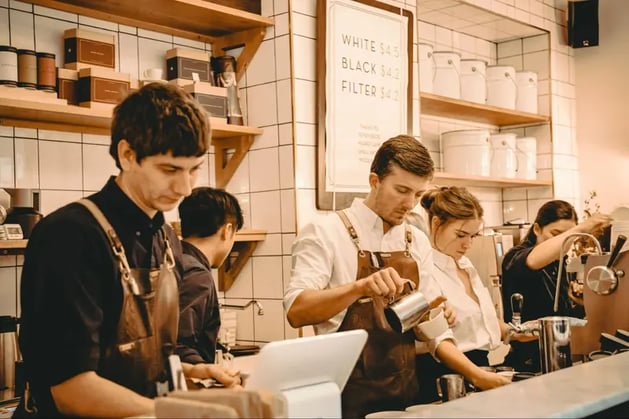 Develop a culture of hospitality
The first step to implementing hospitality in your business is to create a culture of hospitality. This means prioritizing guest satisfaction and making it a core value of your business.
Encourage your staff to go above and beyond to create a positive guest experience and ensure everyone understands the importance of providing outstanding hospitality.
Train your staff
Providing great hospitality starts with your staff. Make sure they are properly trained in:
Customer service.

Employees need to be skilled in greeting guests, being friendly and approachable, active listening, problem-solving, and going above and beyond to meet guest needs.
Menu knowledge.

Staff should have a thorough understanding of the menu, including ingredients, cooking techniques, and allergens.
Handling difficult situations.

Staff should be equipped with problem-solving skills to handle complaints and resolve issues quickly and efficiently while maintaining a positive guest experience.
Personal hygiene.

Employees should maintain high levels of personal grooming and hygiene, including dress code, hair and nail care, and personal cleanliness.
Technology.

Your staff may also need to be trained in using technology such as POS systems, reservation systems, and other software tools to enhance the guest experience. Luckily, with Eat App, the onboarding process is made quite simple.
Create an inviting atmosphere
The atmosphere of your business can have a significant impact on the guest experience. Make sure your space is clean, well-maintained, and designed to create a welcoming and comfortable environment for your guests. Use lighting, music, and decor to set the tone and create a memorable experience.
Personalize guest experiences
Personalizing the guest experience can help create amazing memories for your guests. Personalization can include things like remembering their names and preferences, providing personalized recommendations, and offering tailored services or amenities.
Some guests also love to hear about specific efforts in restaurant sustainability and how your establishment is committed to preserving the environment.
One way to personalize guest experiences is by using restaurant management software like Eat App, which can help you easily collect and analyze data on guest preferences and behavior to provide a more personalized experience.
Grow your hospitality brand online with Eat App
If you're looking to grow your hospitality brand, Eat App offers a powerful platform that can help you streamline your operations, enhance the customer journey, and increase loyalty.
One of the key features of Eat App is its ability to automatically collect guest data, which is stored in one system, allowing you to:
By using hospitality technology provided by Eat App, you can streamline your restaurant or hotel operations with zero reservation mistakes, increased seating, private guest feedback, and more repeat visits.
Additionally, the platform's hospitality CRM allows you to collect all your customer data in an easy-to-use, centralized system, giving you the ability to deliver personalized service and marketing campaigns while tracking all your loyal customers.
Conclusion
Hospitality is essential for restaurant owners as it directly affects customer satisfaction, guest loyalty, and revenue. Implementing great hospitality is a multifaceted process, and our aim with this article was to introduce you to its many layers and necessary steps for implementation.
By prioritizing hospitality, businesses can create better guest experiences and set themselves apart in a competitive industry. To make your life easier, sign up for Eat App to streamline and automate many of the processes needed to enhance your establishment's hospitality levels.