2019 is almost over, and as mobile marketing has developed over the last decade, it has continued to grow as a marketing channel, especially for small businesses, with easy-to-use and affordable business texting services enabling anyone to use the technology to full effect. With the right approach, SMS marketing works amazingly well at bringing more guests to your restaurant. This article will highlight some SMS marketing tips for restaurants, which are still very much in use today. So, let's dig in:
SMS Marketing Tips


1. Analyze your business and set sustainable goals for your campaign
You know your business. Analyze to determine what works best for your restaurant and your areas of opportunity. Decide where mobile SMS marketing can help your business. Ask yourself, "What would I want to gain out of this mobile campaign?" Here are a few potential answers:
I want to create customer loyalty.
I would like to generate more traffic towards my restaurant business.
I want my customers to access information about promotions easily.
I want my customers to keep coming back.
This step is the most critical and crucial part of your campaign. Without clear goals for how you want recipients to respond to your marketing, your efforts will be unfocused and directionless.
2. Develop and structure your campaign
Depending on your goals, you should be creative and choose SMS tactics that match your goals.
For example, your goal may be to get regular guests visiting more often. In this case, you could send exclusive discount coupons to your customers to your past diners.
If your aim is to increase awareness of your restaurant and see more new faces coming through the door, discounts for groups or the ability for customers to share discount links with their friends can help you target new customers through your regular diners.
In addition to directly driving sales through promotions, SMS marketing can also indirectly help your business by adding convenience for customers. For example, sending diners a reminder of their reservation helps reduce late or missed reservations, cutting down on the number of no-shows costing you lost profits.
After incorporating SMS messaging into their business, London-based Indian restaurant Beit HaMadras found their customers greatly appreciated the convenience of texting to confirm reservations and to advise food is ready for collection.
3. Reach your target audience or market by correctly implementing your campaign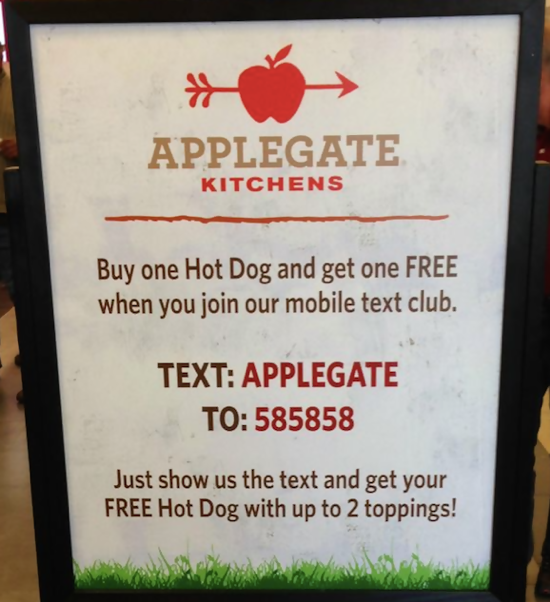 Include your SMS campaign details in your menu, marketing materials and signage. Many businesses still aren't using SMS marketing to stay in touch with customers, so you need to let guests know this option is available and what the benefits are. You should also encourage staff to talk to regulars about the benefits of opting into your SMS marketing.
To motivate your target audience to participate, you must offer them something of value, such as a complimentary drink or a discount on their next meal. Once you have created your mobile list, send your mobile message or offer to your prospective clients. Make sure to use a business SMS app that makes it easy to create and track discount codes.
4. Measure the effectiveness of your campaign
Measuring the results of your campaign is very important. Understanding where your campaign has room for improvement is vital for the long-term success of your SMS marketing efforts, even if your campaign is currently achieving its goals. Make sure your SMS marketing app enables you to track:
Open rates.
If recipients aren't even opening your text that's often a sign your opening sentence needs some work, you haven't grabbed the reader's attention with a clear reason to open the full text.
Response rates.
If recipients are not performing the action you wanted (such as redeeming a coupon) after reading your text, you might have sent an offer they view as low-value, or simply texted at an inconvenient time.
Delivery rates.
When your texts fail to arrive, it could be for a number of reasons that you need to know about, for example you might have incorrect contact information for your customer.
Coupon redemption.
Tracking discount redemption isn't just useful for optimizing your campaign effectiveness, it's also necessary for your discount codes to work in the first place!
If your platform does not allow you to see these results, you should consider another provider.
5. Let your messages be visible
When marketing their SMS options, many companies make the mistake of displaying their mobile subscription message at the bottom of their web page. Display your SMS campaign details prominently; customers can't sign up if they don't know it exists.
Increasing your visibility also extends to your messages themselves. Depending on the recipient's device, you may only have a short sentence to communicate the value of your text without your customer choosing to actually open the message. Using an SMS app that lets you send long messages makes it easier to format your texts with good spacing for better readability. Use this handy online tool to check the character length of your texts, and how they will appear on different phones.
6. Do not limit your SMS marketing to just texts
When it comes to SMS marketing, it is not just about sending messages. There is so much more you can do with SMS marketing. Here is a breakdown:
Coupons:
Send your loyal customers exclusive offers. The uniquely generated coupon codes that you send to your regular guests lead to more sales through increased visits, and show your customers you appreciate their support of your business by giving them exclusive discounts. This can also be a great way to give new customers an extra incentive to come back again:


Referrals:
A referral is just a discount you give to your customers to distribute on your behalf. This incentivizes your guests to introduce your restaurant to their friends, and is a great way to attract new customers.
Drip campaigns:
Automated messages can be sent depending on how long your customers have subscribed. In the context of coupons, for example, you can send a 5% discount coupon immediately after registering, a 10% coupon after two weeks, and a 30% discount coupon after one month of your consumer's subscription. This runs automatically as soon as a customer registers, so you don't need to continue sending individual messages. This is a great way to encourage new visitors to become regulars.
Survey:
When sending text messages with different keywords, your customers can do more than just voting with the use of SMS. Most services allow you to collect and review a wide variety of data from survey results. This can be very useful for spotting minor issues annoying your guests and getting suggestions to improve your dining experience.
Groups:
You can also divide customers into groups based on the keyword they respond to, how they voted in a poll, based on their area code and more. The segmentation of your customers allows you to send more specific promotions and coupons, which feels more personal and has a higher chance of getting a response.
Send photos and videos:
Using MMS, you can send pictures and videos to customers. This is especially useful if you want to send a brochure or a restaurant menu to a customer, and for including images of your food and dining area in marketing messages. For example, Taco John's uses images to break up their discount texts:


Location-based marketing:
Send different messages to customers based on their location. For example: if a customer is near your restaurant, you can send him a text message informing him about the special meal of the day or the discounts available at your restaurant. Pizza Hut used geofencing to send customers in a half-mile radius marketing texts, and found the tactic was 142% more effective than other marketing tactics.
SMS marketing is still a new and under-used strategy, and will likely continue to evolve for some time. These essential marketing tips for restaurants are a great way to get started and ensure the success of your mobile campaign, but be prepared to keep developing your methods over time in order to stay on top of the latest trends.