Today there are more ways than ever to market your restaurant. From the newest local marketing ideas and tactics to well-established offline strategies, restaurants now have access to an increasingly growing variety of techniques to promote themselves.
The unfortunate reality of restaurant marketing though is that it's often too costly to maintain, with some months feeling like you are spending more money on marketing strategies than your restaurant is actually making.
If you're a restaurant owner you've definitely tried a few of these marketing strategies in the past, and they may or may not have even worked for your restaurant.
This post aims to look at clever yet inexpensive restaurant marketing ideas that actually work, so you can start earning more at your restaurant by spending less.
1. Show off your food
Food pictures online are a trend that keeps on growing. With seemingly hundreds of food-related hashtags on Instagram alone, having great photos of your food is a no-brainer restaurant marketing idea, as they allow your restaurant to easily be part of the wider conversation online.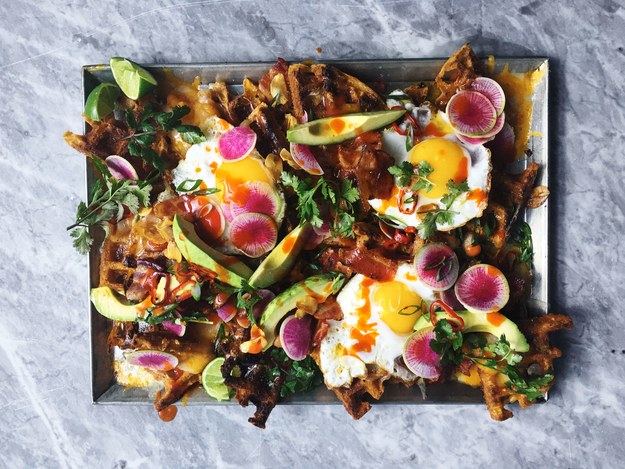 There are many styles of food photography. Popular social media food images are often shot from above with excellent lighting.
It's worth spending some time practicing this technique for the highest impact, or budget permitting hire a professional photographer. You can find more tips on taking mouthwatering food photos here.
Once you have your images, search for popular food hashtags on Instagram and start tagging your creations.
2. Partner with Reservation Services
Reservation platforms, like OpenTable, have exploded in number over the past few years giving restaurants many more options for bringing in diners. Depending on the market you operate in online reservations can often make up 50% of total bookings so these services are usually a vital marketing channel for restaurants.
Whichever country you operate in there is likely at least one reservation platform that can help you drive bookings. In the Arabian Gulf for instance restaurants can take advantage of our online reservation platform as well as use our restaurant management software.
3. Send Targeted Emails
Whilst one of the oldest online marketing strategies, email marketing is still one of the best ways of reaching customers.
For restaurants, email marketing is all about getting diners who've visited once or twice to become regular customers. To get the maximum impact, it's crucial you collect and manage your customer contact list so you can follow up with email campaigns designed to get customers back through the door.
Digital reservation systems will automatically add contacts from bookings made online but you should also ask walk-ins and phone bookings for their email address so you can reach as many people as possible.
4. Get Bloggers
On-board
You may have heard about harnessing the power of influencer marketing to promote your restaurant. The concept is simple - invite people with a large online following to review your restaurant as a way of getting the word out and also picking up some positive reviews.
Influencer marketing for restaurants is an excellent tool for generating buzz especially if the restaurant is just opened. Running a successful blogger campaign requires patience and respect when dealing with reviewers but if done correctly, is a cost-effective way of generating a lot of reach with potential customers.
Make sure to contact influencers that have followers likely to be interested, and able to pay for, the food in your restaurant.
5. Get up to speed with Google Business
Google is constantly changing its search platform, and organic search results are being pushed down the page in favor of rich 'Google friendly' content.
This means restaurants cannot rely on their website to bring in diners and must have a strategy to maximize their presence in Google search results. This is achieved through a variety of tactics listed below.
Set Up Your Google Business Account
The first step is to claim a Google Business account for your restaurant so whenever someone searches for the name of your restaurant a large info box appears directly in the search results.
A Google business account allows you to show opening hours, pictures, location, menu, and link to your website. You'll also be able to get reviews from diners directly on your profile. Google Business accounts can be set up here.
6. Use Google Posts for events.
Google Posts is a feature introduced as part of Google Business in 2017. It allows restaurants to share temporary events, which appear directly under their business profile when someone searches the business name.
Google Posts are important because they take up a large amount of space on the screen in search results, giving you high visibility as well as allowing you to promote events and special discounts directly from the search page. To get the most out of posts we recommend using a booking widget for your restaurant so diners can book directly from Google's search results.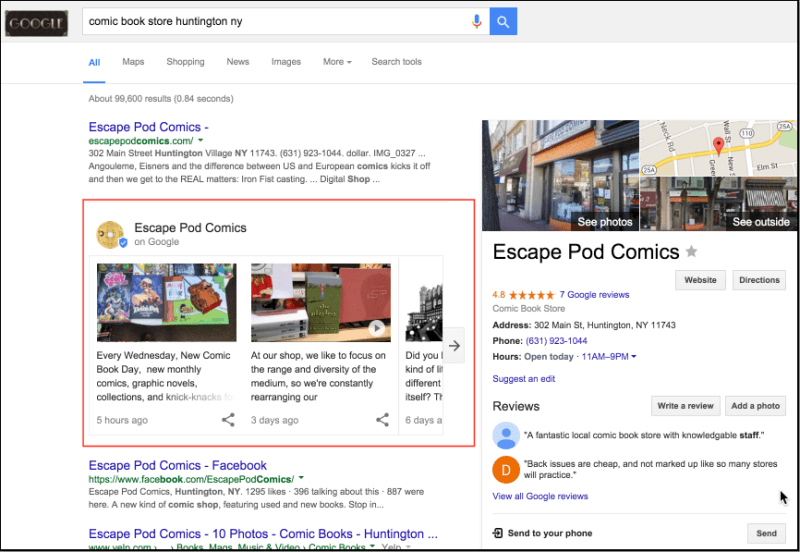 7. Keep Your NAPs in Order
NAPs stands for name, address, and phone number and it's how search engines, including Google, decide to show your restaurant when someone searches your business locally.
Getting the most out of NAPs means making sure your name, address and phone are consistent across the web. This means checking that your NAPs on your website matches with all your profiles on 3rd party platforms like Yelp, your social media profiles, and any other directories you are listed in online.
8. Advertise on Google Adwords
As the online ecosystem develops digital advertising is becoming more and more of a requirement for restaurants. A good, but often expensive option is Google Adwords as it allows you to get in front of people searching for dining options your restaurant provides.
Don't limit yourself to just people searching for your restaurant name or cuisine. You can also advertise to people looking for discounts on food, special events, or location.
9. Create exceptional loyalty programs
In marketing terms, it's usually much cheaper to get a repeat customer than it is to get a new one. That's why loyalty programs can be a great marketing tactic for restaurants.
Typically, loyalty programs involve giving away a free meal or drink in return for repeat business. You can manage the program yourself or use a 3rd party provider. You can read more about the options here
10. Partner Up With Online Delivery Services
Delivery services are a relatively new way to market your restaurant and bring in more revenue. Services such and Deliveroo and UberEATS allow you to sell your menu for home delivery without having to deal with any logistics. Delivery services cater to both the high and low end of the restaurant market so you should be able to find a suitable partner for your restaurant - especially if you operate in a big city.
11. Get Advanced with Facebook advertising
Facebook's advertising platform, which covers both Facebook and Instagram, is increasingly a must for restaurants. Facebook provides many tools and ad products that have huge marketing potential for restaurants. The key to success, however, is looking beyond the 'boost' button and trying out Facebook's more advanced features.
12. Advertise to your existing database with FB custom audiences
As mentioned above maintaining a customer database is an essential marketing activity for restaurants. As well as sending emails to diners, you can also use your email list in conjunction with Facebook ads to directly advertise to people who've already visited your restaurant.
The process is straightforward. Take your email list in CSV format and upload it into ads manager. (You can also use phone numbers.)
Once Facebook matches your list to Facebook profiles, you'll have an audience to send ads to on Facebook. Now you can send discounts, loyalty, or upcoming events info to people you know are likely already interested in your restaurant.
13. Turn your existing users into a look-a-like audience
The power of your email list and Facebook doesn't stop with just your previous customers. Based on your emails can also let Facebook find you other Facebook users that are similar to your existing customers.
Facebook calls this a look-a-like audience and it's an incredibly powerful way of reaching more people likely to become future diners.
14. Use Facebook Offer Ads
Offer ads are a little-known feature of Facebook ads designed to make it easy for businesses to offer discounts. This type of ad is designed to be redeemed in-store so when diners come to your restaurant it's easy for them to use the offer seamlessly.
15. Facebook Live Your Kitchen
Facebook Live is a video streaming feature. If you run a busy kitchen, streaming your chefs at work can be a great and unusual way of engaging people on Facebook.
16. Take Advantage of Birthdays
Birthdays are the day of the year most likely to bring people to restaurants. The best marketing strategy for birthdays involves keeping track of guest birthdays and then emailing people a few weeks before the date as a reminder.
Alternatively, if you can't collect birthdays from your guests, offering special desserts or menu items only for birthday reservations is a way of building up a reputation.
For more restaurant marketing tips check out an interesting article by App Institute.