Of all the different markets in the world, few are as highly reviewed and publicly scrutinized as the restaurant industry. People love to share their dining experiences with their friends, family, and social peers – and look to other people's experiences to determine where they're going to visit next.
The rise of the digital era has shifted consumer focus from traditional media like newspapers and magazines to social media and bespoke review sites like Tripadvisor and Yelp. That, along with the growing trend of experiential dining has led to a stark increase in the importance of online guest reviews and reputation management.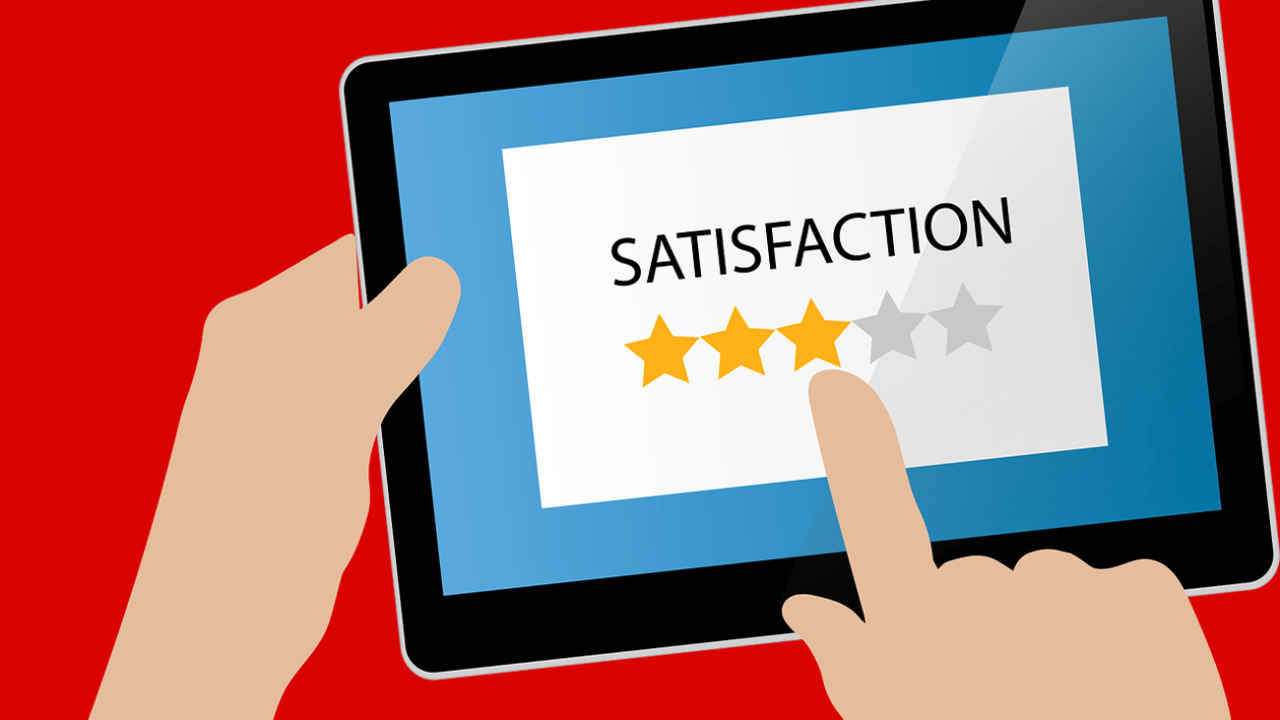 Why is Restaurant Reputation Management Important?
How your restaurant appears on social media, review sites and the way you conduct yourself online will determine a guest's first impression of you before they even visit. Potential customers will create an impression of your brand in their minds based on what they can see for themselves and what others have to say.

As per Bright Local's survey, 93% of consumers look at reviews before dining out, which is a clear indication of this growing trend. Reviews are a double-edged sword, they can either be the reason for jam-packed tables or for empty chairs on a Friday night. This is where the importance of reputation management comes in.

Restaurant reputation management refers to the process of tracking and managing online customer feedback and creating strategies to improve guest satisfaction, nurture strong customer relationships, and build a reputable brand.
Best Practices for Restaurant Reputation Management
1. Be Proactive and Touch Tables
Negative experiences are bound to happen. However, a quick check-up with the guests can help. Encourage your staff and manager to reach out to customers to get feedback while they're dining. This way, you can try to resolve any issues they might be having then and there and can potentially stop a bad review from being posted online.
2. Encourage diners to leave reviews
It's always good to give diners a little push to encourage them to leave a review. Consider reminding them to drop their feedback by sending a follow-up SMS/email right after they leave.

Eat App's easy survey system automates this process for you by sending a review request email to diners within 24 hours of their dining experience. The recorded feedback is only visible internally, so it gives you an opportunity to reach out to diners who may have had a bad experience before they review your restaurant badly on a public platform like Yelp.

Incentivizing them with discount coupons is another good way to get more customers to give their comments.

3. Maintain your online presence and monitor reviews
Nowadays, online reviews are everywhere. From review platforms to social media channels like Facebook and Instagram, and even a restaurant's own website. It's important to ensure that each of these platforms is consistently updated with the right information to avoid giving out misinformation leading to negative reviews like "The opening hours on the website are wrong. I went there at 8 pm and they were already closed".

These websites are usually also the customer's first encounter with your restaurant, so make sure you make a good impression with a well-maintained online presence.
Why responding to reviews is important
As a restaurant owner, you have little to no control over reviews that are posted online. Once they're posted, they're plastered over your brand for the whole world to see. However, a good response strategy can give you some control over the narrative.

By taking the time to personally respond to customers, you are nurturing a relationship with them that is likely to lead to a loyal customer that advocates for your brand. It helps build a human connection that is difficult to create in a business otherwise.

Many restaurants don't consider responding to reviews as an important part of their marketing strategy, and that's a big mistake.

Replying to reviews, both good and bad, helps build your brand's reputation and shows your potential customers that you care, and helps your restaurant stand out from the crowd.

This common-sense approach was confirmed by research: a study by Harvard Business Review found that hotels on TripAdvisor with management responses had their ratings increased by 0.12-stars. Given the fact that Tripadvisor rounds up the final star rating, a 0.12-star increase can be the difference between a 4 and a 4.5-star rating, and significantly bump up your position on the platform. The study also found that the review rate for hotels went up by 12% when they started giving management responses.

Responding to positive reviews will be the easiest part. When your happy customers are leaving positive reviews, you're building your reputation, brand authority, and levels of trust.

It's important that you engage with these customers – they're taking the time to appreciate your brand. You need to show them that it's a two-way street.

The more good reviews people see of your restaurant, the more trusted and valued your brand will become. This will allow you to thrive and grow, building a sustainable community that is actively interested and invested in the success of your establishment. With so many social media channels now ranking engagement and focusing on community building, this will also enable you to improve your social media ROI by creating more genuine conversations.
The benefits of review responses are not just limited to positive reviews; the HBR study also found that responding to positive reviews had the same effect as responding to negative ones. Below are some strategies to manage them.
Managing Negative Reviews
Let's face it, negative reviews are inevitable. There will always be days when something goes wrong - a shortage of ingredients or staff, overcooked food, maintenance issues, all leading to bad reviews.

It's not pleasant getting a negative review, and it can sometimes feel like a personal attack. There may be a temptation to answer immediately, lashing out and putting the blame on the customer, or to ignore the review entirely – but neither of these approaches is good for your business, and can damage your brand in the long term.

When a customer makes a complaint, they are giving you an opportunity to correct the issue and restore their positive impression of your venue. How you handle the situation may change their opinion and see them championing your brand where they might have otherwise ignored or negatively responded to it.

Before you deal with a negative review, you need to look carefully at what the customer is saying – try to understand their frustrations and discover if there are any learning opportunities.

Did the customer leave feedback because they want an issue to be directly addressed and resolved?
Are they the sort of person that leaves negative feedback on a regular basis?
Are they looking to gain popularity and using your restaurant as the driving force?
Are they genuinely frustrated and unhappy, but willing to interact with you to fix the problem?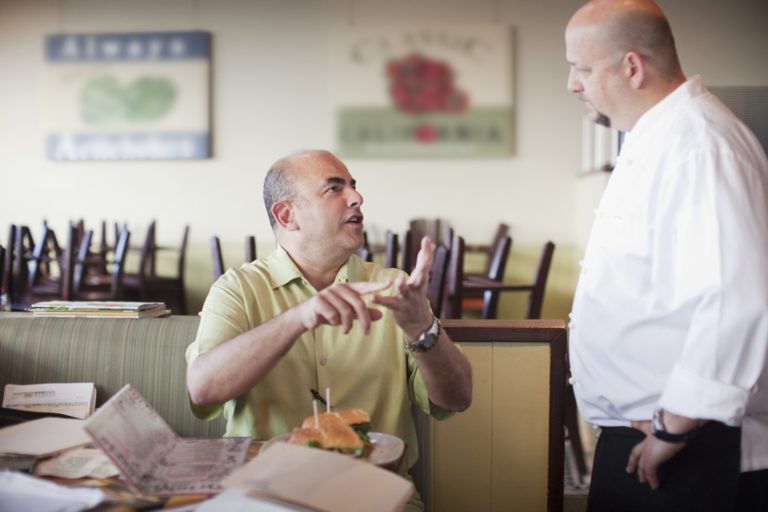 Knowing where your customer is coming from will help you determine what you need to do and aid you in providing an appropriate response that showcases your establishment in a positive fashion.
If the negative review comes from a genuine problem, make sure you research the incident and take the opportunity to identify the root cause; this will allow you to be more proactive with your procedures and strengthen your business – whether that's educating your team or retraining your staff, you're being given the opportunity to make your restaurant service better.

Sharing reviews with your staff is a useful learning tool – but it should not be used to penalize them or berate and undermine them. Your staff is your front line, they know more about your customers than anyone else – getting their feedback on the situation, what went wrong, and how you can improve will give you valuable insight and identify areas of weakness that might otherwise have been neglected.

If the review is not genuine and has been created solely to damage your reputation, it is important to act as soon as possible (don't forget, new reviews will be seen first, and potential customers aren't going to know that it's a malicious attack). If this review has appeared on a 3rd party website, you need to contact the site and give them the relevant information, so they can remove the content.

If the fake review is on your social media channels or own website, you have two options – you can either remove the review entirely, or you can respond to it with the details and factual truths. Both approaches have merits but can also have risks, especially if the review has been up for some time.

Ideally, you need to develop a review management process and a crisis management template that outlines your procedures and gives your staff and team the tools to deal with the incident on a case-by-case basis.

Once you've started managing your online reputation, it's important that you maintain it – it's not something you can do once and leave, your reputation is only as strong as the last engagement, and if customers aren't seeing you at your best, you're not going to see them.
How to respond to reviews
1. Respond in time. It's always best to reply to reviews soon, ideally within 24 hours. It shows your current and potential customers that you are responsive.
2. Be courteous. No matter how aggressive the review is, make sure to always respond with a kind demeanor and maintain a good image of your restaurant
3. Never be confrontational. Even if you think the customer is wrong, reply in a calm way and state your facts while also acknowledging their issues. Don't play the blame game. Remember, the response is available for everyone to see.
4. Don't reply with copy/paste text. Always personalize your response to the review. If people think they're getting an automated answer, they're going to assume you don't care.
5. Create a template. A guide with a list of points to include can help you streamline the process and make sure all the important aspects are being addressed in the response. However, make sure to always personalize it for each review to not make it sound automated.
Here's a quick template you can follow:
Start by thanking your diner, regardless of the nature of the review
Show diners you're listening by referring back to something in their review
Use keywords that you would like to show up for
Be positive and never respond with negativity
Be human. Show them you care and acknowledge your mistakes
Always invite them back, whether or not they were satisfied with their experience
The Fox at Peasemore, a restaurant in Newbury, England, sets a great example of doing review responses well.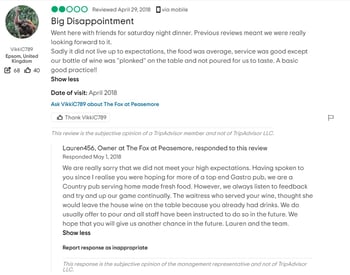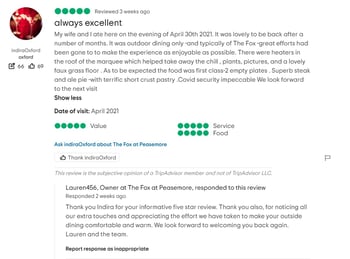 Here's another example of responding to a negative review by Metier Racing & Coffee. Notice how in both cases, the owners acknowledge the diner's complaint but also state the facts to counter them without sounding rude or confrontational. And they always invite the customers back for another experience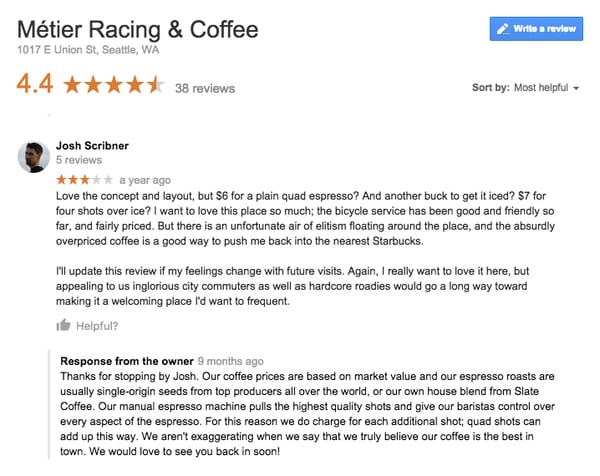 Tools That Can Help You With Restaurant Reputation Management
Keeping track of your online reputation is no easy task and can become quite overwhelming. Thanks to technology, there are now multiple advanced tools that can assist you with the process and make reputation management hassle-free.
An advanced table management platform that comes built-in with a post-dining survey system, Eat App is one of the handiest software to improve your restaurant's operational efficiency. Its simple review feature helps collect customer feedback with a fully automated system that sends your diners an email requesting to review their experience within 24 hours. As the process is quick and easy, it encourages more customers to leave a review and helps gather a plethora of customer insights for you to analyze.

Because the review cycle is fully automated and requires no manual input, it also allows restaurants to significantly scale their reach and gain as many reviews as possible.

The feedback collected within the system is only visible internally, which allows the restaurant management to analyze it and reach out to customers with a negative review to resolve the matter before it reaches a public platform. Apart from that, the system also comes with an advanced reporting feature that gives you in-depth insights into daily reviews and enables you to make necessary corrections based on the same.
ReviewPro is a cloud-based reputation management solution that proactively manages your restaurant's online reputation to enhance diner experiences and increase the volume of positive reviews across the web. It helps analyze positive and negative experiences to identify and categorize operational and service improvements that may be required.

ReviewPro also tracks what people are saying about your brand on social media and encourages you to proactively engage with customers through automatic alerts.
Rize's reputation management software enables you to easily monitor your clients' feedback, improve your online ratings and reviews and streamline your review response processes. Rize also gives you access to a personalized dashboard and custom review widget for effortless review generation and review monitoring.

It aggregates all your customer reviews in one place, sets up monitoring alerts, and launches a filtered system that automatically directs customers to your preferred networks to leave positive reviews and ratings.
Reputation Stacker is an online system that sends automated surveys to your customers via email or text message. It also comes with a review widget that can be embedded within your website, along with review reports.

Reputation Stacker also keeps track of reviews on different websites across the web and notifies you whenever a review has been posted for your restaurant anywhere on the web.