The best thing about the holidays, except the retail discounts, are the decorations and festive spirit. It's a time in the year when people get together to talk, laugh, and eat. That means your restaurant has an excellent opportunity gain long-term customers and boost revenue – with creative restaurant holiday promotions!
When done thoughtfully, holiday promotions have great potential to drive incremental revenue. While diners may see your "holiday discount on the regular menu" as a boring attempt to fill up tables, they're unlikely to ignore the opportunity to have a 3-course festive dinner, complete with a glass of wine on arrival, finger sandwiches, and all the seasonal trimmings.

The key is to take initiatives that maximize the holiday experience for both new and existing customers.

To capitalize on the holiday rush, get ahead of the game and plan early. Below are some restaurant holiday promotion ideas you can implement right away.
Creative Holiday Promotion Ideas You Can Run

Events
This is where you can pull out all the stops to deliver a memorable experience to prospect diners. Rather than sticking to the usual singles' night out or movie screening for couples, come up with something different to get eyeballs to your restaurant. Below are a few ideas:
Ugly sweater party: This is a fun fad your restaurant can easily get in on. Choose a day before Christmas to pre-sell seats to people who are motivated to show up in an ugly sweater. You can even make it a contest by rewarding the tackiest sweater wearers with holiday treats. Make sure your personnel joins in on the sweater spirit as well to make guests feel welcome.
Christmas tree dress-up: Everybody is interested in family-friendly events like dressing up a Christmas tree. Arrange an empty Fraser fir in your restaurant and let attendees decorate it from scratch with lights, scarves, ornaments, and mittens. To thank the guests for their festive spirit, offer a complimentary appetizer or drink.
New Year health recharge: This is a refreshing take on the classic New night event. Rather than selling tickets for a night that's going to be full of good food and music, help your guests kick off the year with meals designed to help them wean off the heavy festive indulgence and get into a healthier state.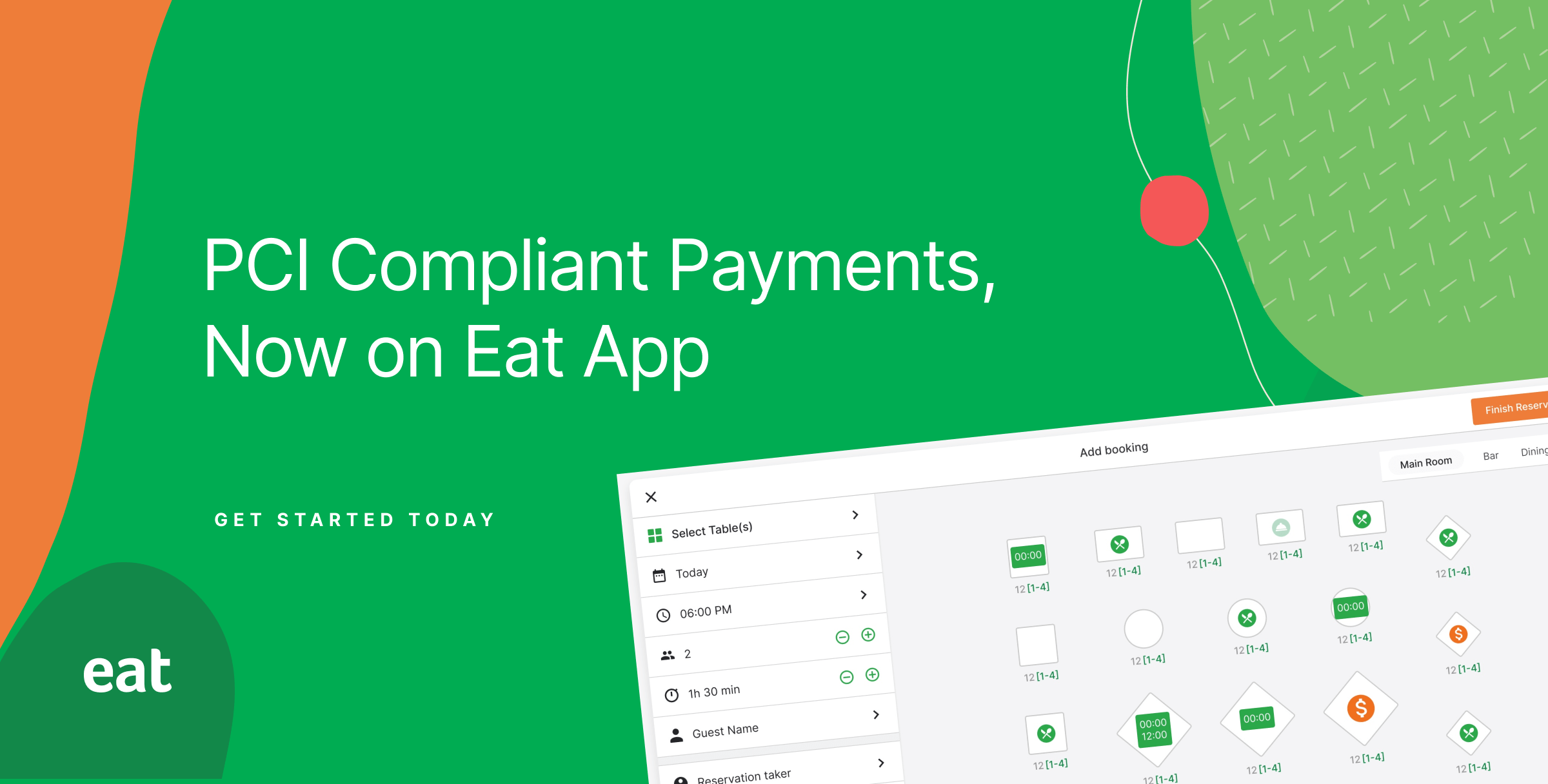 How to Maximize Your Holiday Events Revenue
While all of the above restaurant holiday promotions are going to generate revenue for your business, events are where you could really enjoy a profitable season. Aside from using Google Ads and social media to attract as many customers as possible, you can pre-sell events to secure guaranteed revenue.
Pre-selling events offer a variety of benefits, including:
Less no shows: Pre-selling means people will be paying for their table/spot in advance, so they're more likely to show up than if they made an unpaid reservation.
Better experiences: Pre-paid events can help you streamline restaurant operations. Because you'll know how many people are going to show up (based on the number of tickets sold), you can prep up the kitchen, staff, and other areas of your restaurant to deliver exceptional experiences.
Efficient marketing: Sales analysis can provide valuable insights into your guests' preferences and buying behavior. Having more customer data in advance, you can refine your future marketing strategy and better manage your promotional spend.
It's also easy to pre-sell events if you're using an integrated table management system like Eat App.
All you have to do is add a checkout function in the reservation process through your software. The benefit here is that the payment is integrated with the reservation/guest record so you don't have to manage multiple systems. You can even send payment reminders to your customers, and set up custom requirements for every shift so you are always maximizing revenue.

The advantages of easy bookings for pre-paid events are usually appreciated, not only by busy consumers but also those who desire high-quality service.
Local business partnership
During the festive season, there's often a tendency to shop locally. Your restaurant can take advantage of this preference by partnering up with local businesses. Try approaching a grocery store or a clothing retailer and suggest that consumers who shop for more than a certain amount can get a special coupon to redeem at your restaurant. In return, you can give diners whose bill exceeds a specific threshold a discount coupon for the partner store.
Holiday Tasting Menu
Arranging a tasting with tiny portions of different dishes can also enhance the seasonal experience of adventurous diners. You can go for a pre-set menu or let patrons customize their entire order item by item, charging higher prices for entrées that feature unique and prized ingredients (like saffron or truffles). In the execution of this menu, consider presenting each item with a complete description of the ingredients used in their preparation.
Loyalty appreciation
Holidays are a time to show your appreciation to people who've supported you through thick and thin. In other words, it's a time to tell your regular guests that you value their business.
You could do this by playing the music of their choice, inviting them to a holiday event via phone, or giving them a free dessert on Christmas eve. Small gestures of appreciation can make a big difference, especially when regulars share their special experiences on social networks.
Related: 5 Loyalty Program Ideas to Keep Customers Coming Back
Games/Contests
Another restaurant holiday promotion idea is to host a game or a contest. Keep the holiday spirit alive with "Spin the wheel" and other offline contests for a memorable evening. You can also host a competition on one of your social media channels to keep people interested.
Instagram moments of people enjoying your food and ambiance will also make for good social proof. Don't forget to use a unique hashtag as it makes it simple to track all the entries.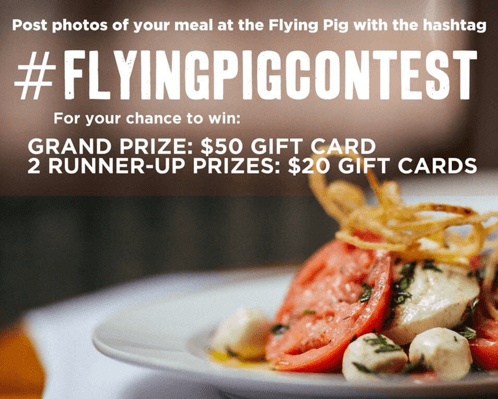 Discounted bundles
How do you attract price-conscious diners who're looking for the best deals around the holidays? Through discounted bundles! A bundle of swag from your restaurant (like a custom t-shirt or cookbook) and a discounted meal can go a long way in attracting the attention of frugal patrons.
If you go with this strategy, make sure to promote the bundle in your online marketing efforts so diners can book a table at the same time.
Limited-time offers
Scarcity marketing is another great way to boost restaurant revenue. And what better way to create scarcity than to run limited-time offers? Consider using menu engineering to identify your all-star holiday menu meals, and then create a limited purchase window or availability to invoke FOMO (fear of missing out).
Endorse the availability with table tents and menu inserts in your premises, as well as online via Instagram and Facebook. Another way to do this is to offer free deals with specific timelines, but the former approach is likely to work better.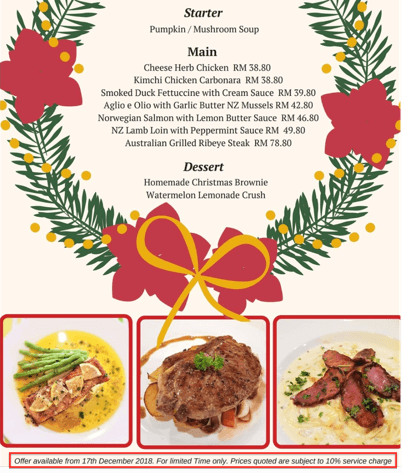 Cooking classes
Besides attempting to attract customers via direct holiday promotions, look into indirect methods of generating revenue. One example of this is cooking classes. If you host these and show people how to make popular holiday dishes, your restaurant will be front and center in their minds.

You can even give them a cookbook to take home. Don't be surprised if you find them raving about your restaurant on social media – people love sharing experiences like these with their family and friends.