Your restaurant patrons expect you to sweep them off their feet with a carefully tailored service. Fail to get every element right, and you could leave your clients with a sour taste in their mouths.
Deloitte's research reveals that 60 percent of guests agree that a positive experience will convince them to dine somewhere more often. 39 percent said that a good experience would convince them to spend more at the restaurant too.
In today's competitive restaurant industry, the only way to keep your clients coming back for more is to deliver the meaningful moments they expect.
So, what makes for a memorable restaurant customer experience?
There's more to it than just cooking fantastic food. Everything from the ambiance to the checkout process will make an impact on your audience. Your best bet is to follow these steps:
1. Figure out what delights your guests
No two restaurant guests are alike. Some care most about the selection of foods on your menus, while others just want to ensure that they have a comfortable place to sit while they eat. Great customer experience comes from the right combination of atmosphere, great food, polite staff, and simplicity. However, some factors have more weight than others.
To find out what really delights your customers, pay attention to what they say about your restaurant. Are you always getting complaints about the noise from the kitchen? Maybe you could add some music to the dining area and ask staff to keep it down. For insights, look at: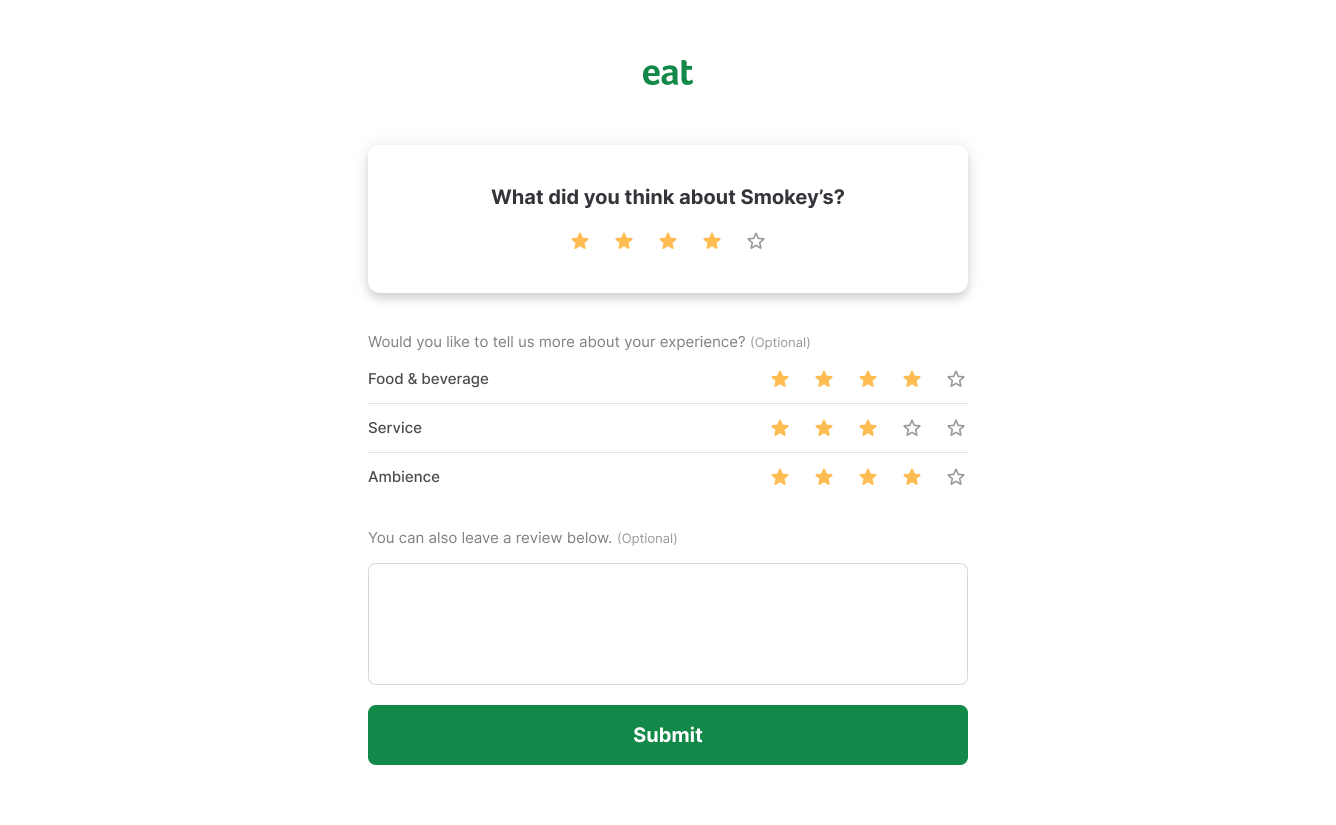 Your own post-dining surveys
Not running regular surveys of our guests? Now is the time to start. Post-dining guest surveys are the best way to get timely and direct feedback about what is delighting guests when they visit.
Traditionally, surveys involved adding paper questionnaires on the table or along with the check. These types of surveys generally get disappointing results and end up being expensive.
Instead, consider digital post-dining restaurant surveys which have a much higher completion rate and are much easier to track the results. With Eat App's post dining surveys, for example, surveys are sent to guests automatically by email after each visit and results are automatically collected and sent to you daily in a handy report.
Done this way you'll be getting a constant flow of customer feedback you can use to double down on the parts of your restaurant experience that are working.
Learn more about post dining surveys with Eat App.
Review sites
Today's digital world means that it's extremely easy for customers to make their voices heard. Check the reviews on your site and alternative websites like TripAdvisor to pinpoint problem areas.
Social media
Many customers will leave comments mentioning your restaurant or tagging its location on social media. The things they say could show you which elements you need to work on most.
Analytics
If you're using a restaurant management system, check its analytics to see whether you get an influx of guests when you offer special deals or whether your diners visit you on a specific day of the week.
The more information you gather, the easier it will be to see not only what delights your customers but also what could be chasing them away from your company. You may even figure out the best way to prevent your audience from switching to your competitors.
2. Consider preferences and guest requirements
Today's consumers don't want to feel like just another number on your revenue sheets. Every person who eats at your restaurant is unique, with their own preferences and unique requirements to consider. They don't want to have to repeat their needs every time they dine with you. Ensuring that you have a way to collect information so you can tailor the customer experience is crucial.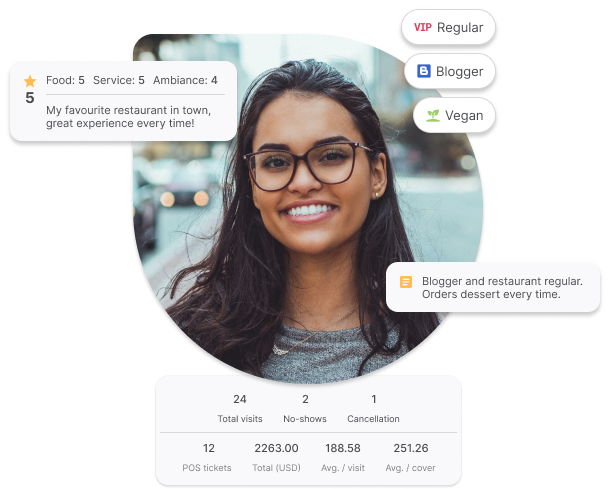 Start by making sure that you have the right technology on hand. It's much easier to create a memorable experience for your patrons if all your staff members know what they're allergic to, which foods they prefer, and what kind of special requirements they have.
Use your guest management system to collect this data on an ongoing basis so when your guests visit again you'll have all the details stored in one centralized system.
Your system should easily allow you to collect:
Preferences
Birthdays
Anniversaries
Dining history (number of visits)
Guest spend
Tags for guests
Shared notes for guests
See here for more about collecting guest data.
As you collect information, personalize each interaction that you have with your clients by:
Addressing your guests by name
Giving suggestions based on the food they've eaten before
Rewarding returning clients with discounts and exclusive details
Immediately asking about any allergies
Suggesting their favorite table
Each time you add a new form of personalization to the dining experience, make sure that you pay attention to the results and measure your customers' happiness.
3. Be Flexible
The restaurant industry is packed with competition, and your closest competitor could be as close to you as next door. With that in mind, it's worth remembering that your customers can easily go somewhere else if you fail to provide the kind of customer service they need. If you want to create truly satisfied customers, you need to be willing to adapt to their unique needs.
If someone comes to your restaurant and asks for a well-cooked version of your medium-rare dish, then you need to be willing to accommodate that. Deloitte says that today's consumers want to be "heard and empowered."
In other words, they want you to recognize their needs and do everything you can to accommodate their requests.
Consider doing a survey. As you get feedback from your customers, you'll better anticipate the kind of needs that your audience has so that you can be better prepared in the future. Make sure that your team members make notes on what consumers have asked them so you can check for trends in your system later on.
Just some of the ways you can ensure that you're prepared to be flexible from the start include:
Making sure you can accommodate basic menu changes like a request for a meat-free or vegan meal. Ensure that your team is ready to substitute different foods when this issue arises.
Accommodate requests for changes in the floor plan. You should have a digital version of the floor plan for your staff members, so you can keep them informed of where each individual is.
Provide creative freedom to staff members. If you don't already have something in place to accommodate a guest, allow your team members to use their creative problem-solving skills. Employees should feel comfortable making quick decisions about how they can support the customers.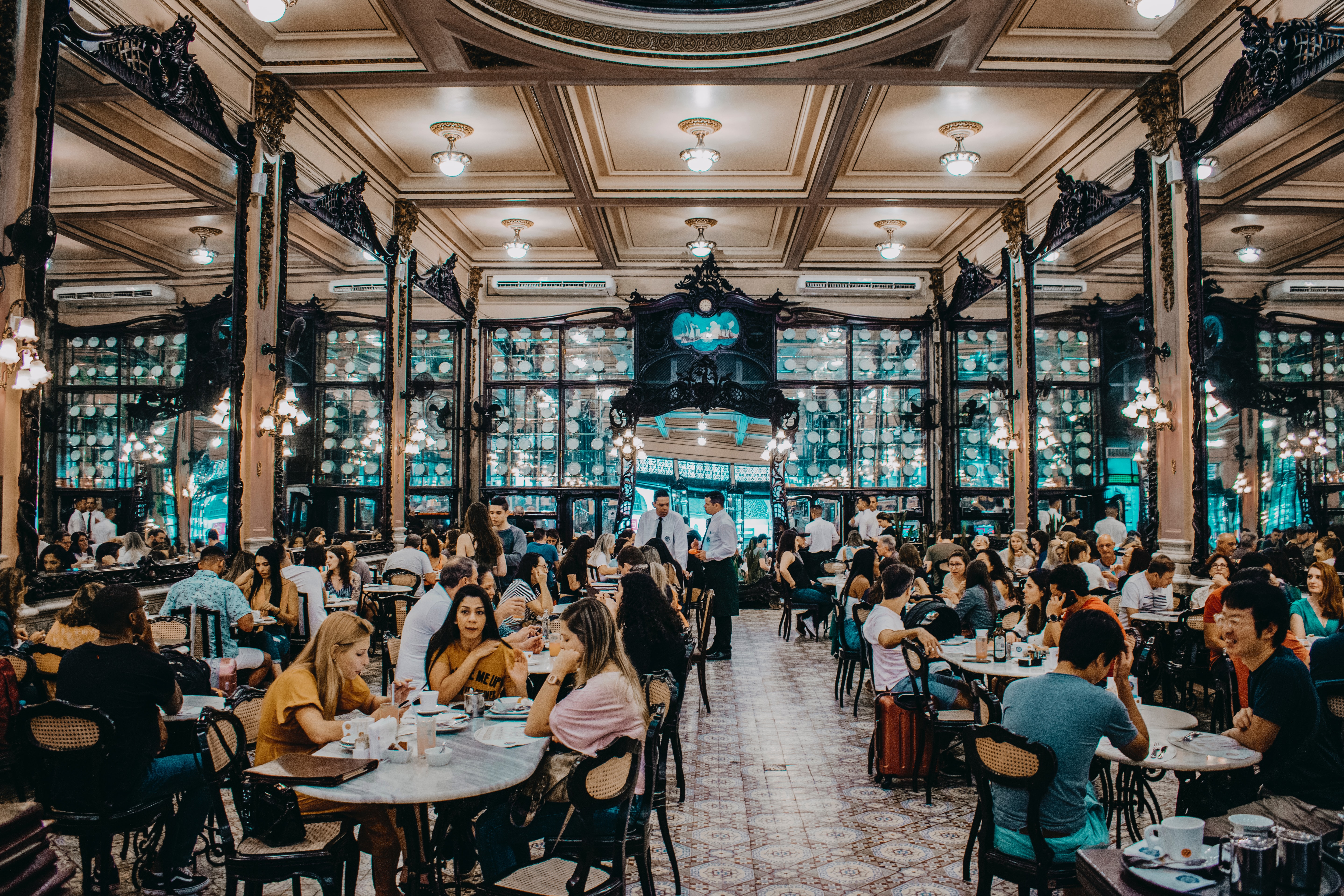 4. Deliver efficient and seamless service
The restaurant industry is one of the most competitive in the world, with countless new ventures opening all of the time. According to one study conducted by Ohio State University, more than 80 percent of restaurants never make it past their first year.
One big reason behind their failure? Not offering the kind of service their customers expect. Remember, every touchpoint you have with a patron has an impact on your brand reputation. From the point where your hosts seat your guests to the way you accept their payments, you need to be looking for the best ways to reduce friction.
Start by examining your competition. What kind of dining experiences do they give their customers? Are there any positive reviews online about things that customers really love? Can you take inspiration from the things that customers have complained about for your competition? For instance, if you notice that clients regularly mention that they prefer contactless dining, you can set up your restaurant system to allow this easily.
Other points to look at include:
Wait times. The most common gripe of guests is waiting a long time to be seated or for the food to arrive. In a busy restaurant, this is often the result of planning mistakes such as overbooking tables or not keeping track of kitchen capacity.

Use your table management system to avoid these common problems and keep your guests moving and happy.
Seating: Are the tables spread out properly, and is it easy for people to move between them? Are they too close to the bathrooms or the kitchens in some areas? How are the tables laid out? do they look and feel comfortable?
Ordering: How easy is it for a guest to submit an order? Do they need to come and find one of your servers, or can you ensure that someone's always ready to take an order? Do you have an app that your guests can download to send requests?
5. Get the Ambiance Right
Finally, customers want to feel comfortable and relaxed in a place where they're going to be eating and drinking with friends. It's crucial to get your restaurant's atmosphere right to convey a welcoming environment for every patron.
Think about lighting and whether it makes it easy for your customers to see where they're going, without being so bright that the food looks washed out and your space loses its romantic appeal. What kind of chairs do you have, and are they comfortable enough for your customers without making it difficult for them to lean forward and enjoy their food?
Even the music you play when your customers are eating needs to be perfect to ensure the right ambiance. The sound should be just loud enough to give some pleasant background noise without drowning out the conversation. Additionally, each song needs to be carefully chosen to suit the personality and theme of your restaurant.
Try to step into the shoes of your target audience and ask yourself what kind of details would deliver a memorable and entertaining experience. Something as simple as having a lit candle on the table could transform the atmosphere for your patrons. However, it all depends on the kind of customers that you're serving and the kind of experience you're trying to create.
Create the Perfect Dining Experience
Developing the perfect dining experience for your target audience is easier said than done. There are countless things to consider, from the ambiance to how you can make the experience as simple as possible for things like booking, paying, and making special requests.
The good news? The more you deliver the meaningful interactions that your customers crave, the more your business will thrive. More than perhaps any other industry, the restaurant sector thrives on experiences that make your customers feel satisfied every time they interact with you.
Creating the ultimate customer experience will strengthen your relationships with your customers and open the door for more referrals and positive word of mouth. Remember – people like to talk about the restaurants they love. That means more revenue and opportunities for you.