Breweries today face unique challenges in managing their operations efficiently. With the growing demand for craft beer and the complexity of production, the manual brewing process can be overwhelming and time-consuming. That's where specialized brewery management software solutions come to the rescue.
These innovative technologies offer a comprehensive approach to streamlining brewery operations, from inventory management to production scheduling and sales tracking. According to industry statistics, breweries that leverage software solutions experience a significant increase in productivity and profitability.
In this article, we will explore the benefits of brewery software and highlight the top solutions available.
Key Takeaways
Brewery software addresses the challenges breweries face in managing operations manually, such as inventory control, production scheduling, and sales tracking.

Leading brewery software solutions like Ohanafy, Ekos, Kegshoe, Beer30, and Vicinity offer features such as inventory management, batch tracking, and sales analytics.

Innovative technologies like guest experience platforms (e.g., Eat App), post systems, and marketing

automation tools

enhance brewery operations and customer interactions.

The integration of these technologies enables breweries to optimize hospitality management, brewery production, streamline transactions, and make data-driven marketing decisions.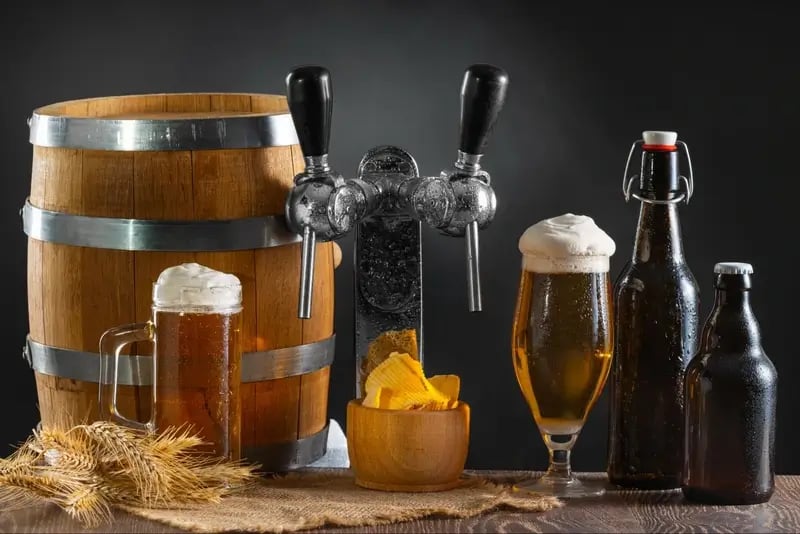 Why do breweries need specialized software solutions?
Managing brewery operations manually can be a daunting task for breweries. The complexities are immense, from inventory management and production scheduling to sales tracking and compliance.
Manual processes are prone to errors, inefficiencies, and delays, hindering overall productivity and growth. However, specialized brewery software offers a game-changing solution. It:
Streamlines operations,
Improves inventory accuracy,
Optimizes production workflows,
Enhances sales forecasting,
Ensures compliance.
With brewery software, breweries can overcome these challenges, boost efficiency, and achieve greater success.
Top 5 brewery software solutions
In this section, we will explore the leading business management software for breweries available in the market. These cutting-edge tools empower breweries with advanced features and functionalities to streamline operations and drive growth.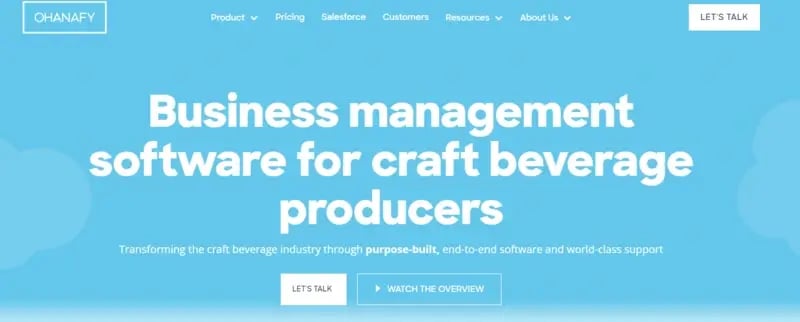 1. Ohanafy
Ohanafy is a robust brewery management software built to cater to the unique needs of breweries, offering comprehensive management capabilities. With its user-friendly interface, Ohanafy simplifies inventory control, production planning, and sales management.

Its main features include:
Real-time inventory tracking
Batch management
Quality control
Sales analytics
A craft brewery can efficiently manage inventory and raw materials, monitor production processes, and gain valuable insights into sales performance.
Pros
Intuitive interface. It allows easy navigation, thus saving time and minimizing potential errors.
Customizable reporting options. Brewery owners can generate tailored reports and identify areas of improvement right away.
Seamless integration with existing systems. It allows a smooth flow of information, reducing manual data entry and human errors.
Customer support. Users have noted that Ohanafy's support is always ready to help out with any questions or bugs they've come across while using the software.
Cons
Pricing. Their price isn't disclosed publicly, so brewery owners must take extra steps to determine if the software fits their budget.
Pricing

---

2. Ekos
Ekos is a comprehensive brewery software solution designed to streamline operations and increase efficiency. It offers a range of features tailored specifically for breweries, including inventory management, production tracking, and sales integration.
With Ekos, breweries can easily manage raw materials, track batches, and monitor their entire production process in real time.

Pros
Sales performance reports. Allowing breweries to make data-driven decisions for business growth with detailed reports.
User-friendly interface and customizable reporting options. Any brewery owner can get the hang of the software quickly and personalize it based on their needs and preferences.
Seamless integration with accounting systems. Improving the overall brewery operations and cutting down on manual work.
Implementation services. Ekos's onboarding team will help you set everything up and support you later on with a post-deployment session.
Cons
Pricing. The price of the software isn't publicly available, so owners can't easily decide if the software fits their budget.
Pricing
---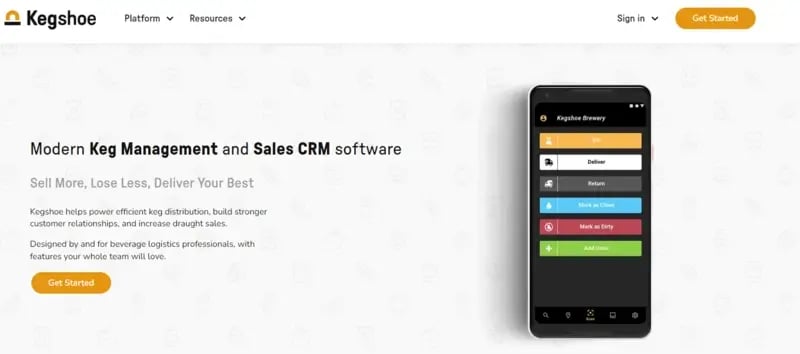 3. Kegshoe
Kegshoe is a specialized brewery management software designed specifically as a solution that focuses on keg tracking and management. This tool helps beverage makers save time and efficiently track their kegs throughout the supply chain, from filling to distribution and return. Overall, Kegshoe is an essential tool for breweries seeking improved keg management and enhanced operational efficiency.
Kegshoe's main features include:
Keg scanning
Inventory control
Maintenance tracking
Analytics
Breweries can easily monitor keg locations, track their condition, and plan maintenance schedules for multiple locations.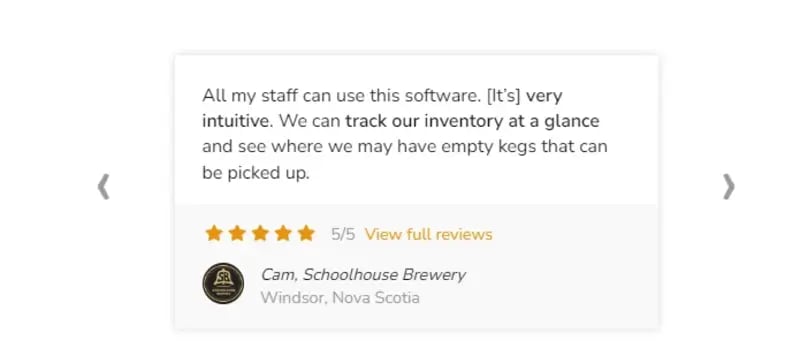 Pros
User-friendly interface. Users have noted that the software is easy to set up and use, making it very useful for any brewery owner with 0 experience.
Customer support. The customer support team is very efficient in resolving any issues customers may have.
Mobile friendly. Users can easily check everything on their phones, which makes it super handy for owners of craft breweries who are constantly working.
Robust scanning capabilities and detailed analytics. Users have found these features very useful for better keg management.
Cons
Pricing not available. Even though users say the software is affordable, you need to reach out to them for the price.
Limited customization options. Some users may find this frustrating because some alternatives offer it.
Pricing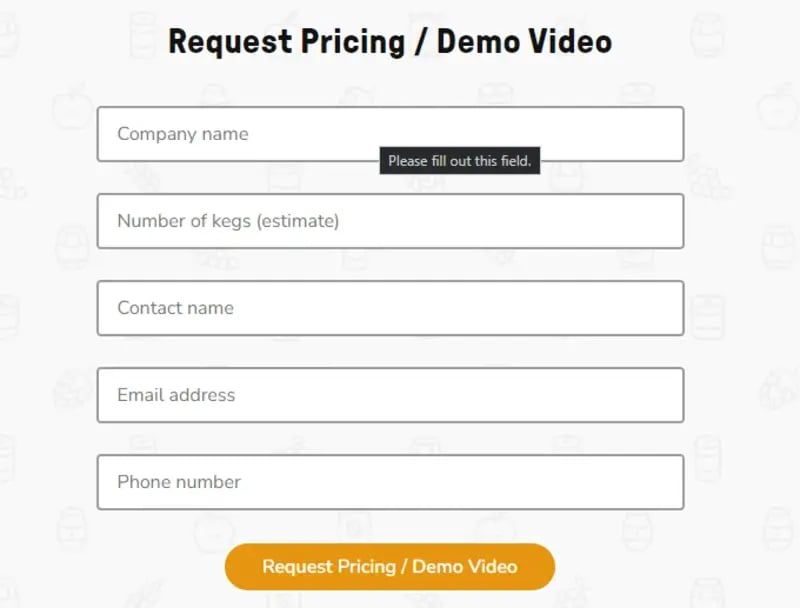 ---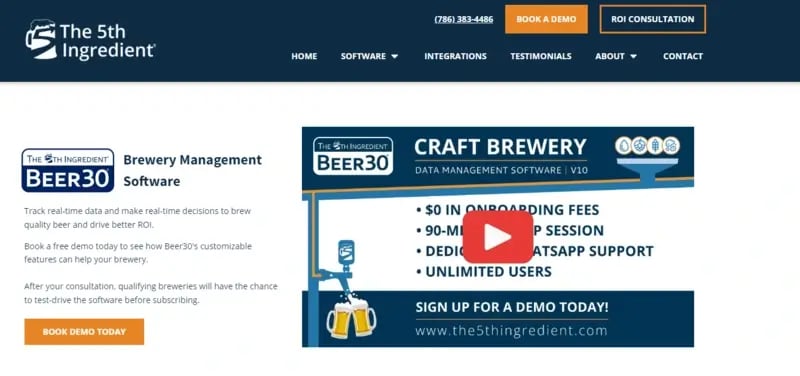 4. Beer30
Beer30 is a comprehensive brewery software solution that caters to the diverse needs of breweries, offering a wide range of features to streamline operations. This software provides functionalities for inventory management, production planning, sales tracking, and reporting. Breweries can efficiently manage their raw materials, track production progress, and gain insights into sales performance.
Pros
Full production suite. Users have access to various features such as the brew-to-package process, charts and reports, and recipe management.
Inventory tracking. In one place, brewery owners can track the cost of goods sold, lot traceability, and purchase orders.
In-depth forecasting feature. Breweries can use Beer30 to access sales forecast calculators, demand planning, and inventory forecasting.
Customer support. Beer30's support team is available 24/7 for their customers.
Cons
The initial setup process. Some beginners and non-tech-savvy brewery owners may find the software a bit complex initially.
Pricing not available. To find out the prices of Beer30 you need to schedule a demo or reach out to their team.
Pricing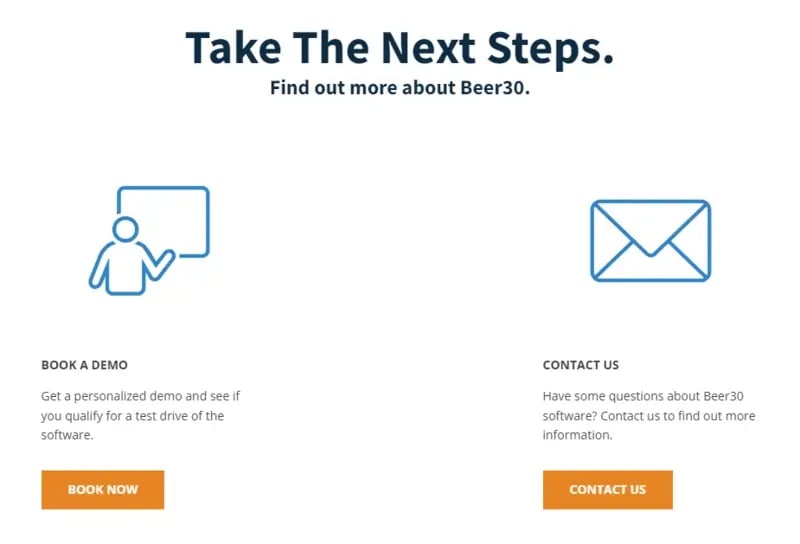 ---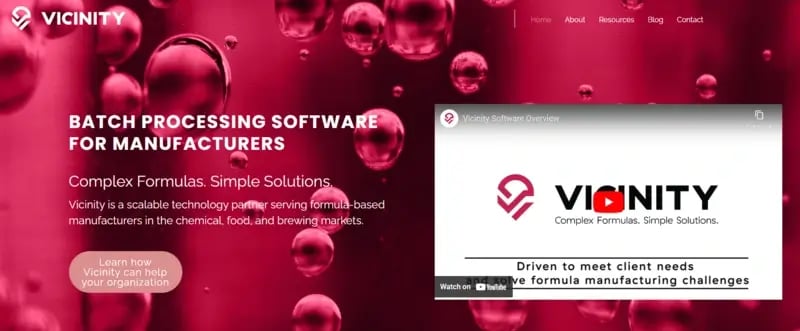 5. Vicinity
Vicinity is a robust brewery software solution designed to streamline operations and optimize production processes. This software offers a comprehensive suite of features specifically tailored for breweries, including:
Inventory management
Recipe formulation
Batch tracking
Quality control
Vicinity allows breweries to effectively manage their raw materials, create and modify recipes, track batches throughout the production cycle, and ensure quality standards are met.

Pros
Custom reports. Vicinity has custom reports features, useful for brewery owners that want to make data-driven decisions for their business.
Customer support. Vicinity's team is always ready to help out with any technical or non-technical issues their customers may face.
Integrations. Vicinity has integration with the most popular tools brewery owners use, such as

Quickbooks

.
Keg and lot tracking. Users have noted that the keg and lot tracking feature is super useful and easy to use.
The software's standout features include its scalability, flexibility, and integration capabilities with other systems.
Cons
No data exporting. Users have noted that the data exporting feature would be great alongside the custom reports.
Pricing not available. The price of the Vicinity software isn't publicly available, so breweries need to reach out to them to get this information.
Pricing
Other innovative technology for breweries
Guest experience platform
In addition to specialized brewery software solutions, other innovative technologies can greatly streamline the operations of breweries if you are offering beer tastings, taprooms, brewpubs, or any other event for your customers. One such technology is a guest experience platform like Eat App, which offers useful features like:
Table management. Eat App provides robust table management capabilities, allowing breweries to efficiently manage their seating arrangements. Breweries can easily organize and optimize table layouts, assign tables to guests, and track table availability in real time. This helps ensure smooth operations and maximize seating capacity, leading to better customer satisfaction and increased revenue potential.
Reservation systems. Eat App's reservation system enables breweries to accept and manage customer reservations seamlessly. Breweries can set up customizable reservation policies, such as party size limits and time slots, to accommodate their capacity and operational needs. Breweries can better plan and allocate resources by allowing customers to book tables in advance, minimizing wait times and enhancing the overall guest experience.
Guest management functionalities. Eat App offers comprehensive guest management features, allowing breweries to gather valuable customer information and preferences. Breweries can create guest profiles, track visit history, and capture relevant data like birthdays or special requests. This information enables breweries to personalize their service, provide targeted

marketing strategies,

and build stronger customer relationships, fostering loyalty and repeat business.
While breweries primarily focus on beer production, the presence of taprooms and the opportunity for customers to visit, sit down, and enjoy beer on-site have become integral parts of the brewery experience. Eat App helps breweries manage their seating arrangements efficiently, streamline reservations, and provide a seamless guest experience.
Pos system
Another valuable technology is integrating pos systems, encompassing payment processing, order management, and real-time sales tracking, enabling breweries to streamline their transactions and gain valuable insights into their sales performance.
Marketing automation tools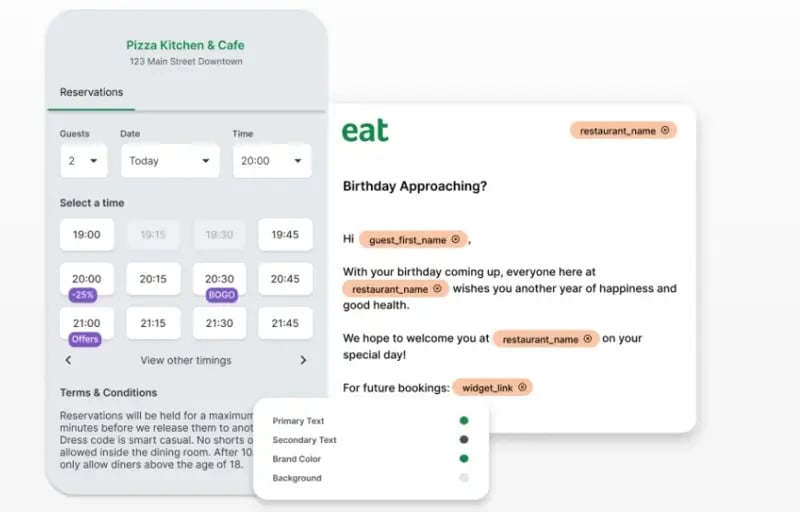 Additionally, marketing automation tools play a crucial role in breweries by enabling targeted marketing, customer segmentation, and data-driven decision-making. Platforms like Eat App can also be utilized to gather customer data and send personalized messages, further enhancing the social media marketing efforts or others of breweries.

Conclusion
In conclusion, specialized brewery software solutions have become essential tools for breweries to overcome the challenges of manual operations and optimize their efficiency.
With features like inventory management, production planning, and sales tracking, these software solutions empower breweries to streamline their processes, improve inventory accuracy, and make data-driven decisions.
Moreover, innovative technologies like Eat App's guest experience platform provide additional benefits by facilitating table management, reservation systems, and personalized customer interactions to enhance the hospitality side of the brewery business.
The integration of post systems and marketing automation tools further contributes to the success of breweries by enabling seamless transactions, real-time sales tracking, targeted marketing, and customer segmentation.
By embracing these software solutions and innovative technologies, breweries can boost their productivity, profitability, and overall growth in the dynamic and competitive industry.