Guest retention is vital for restaurants. Simply put, for every returning customer, there's a new one you don't need to look for.
Regulars need a good reason to come back, though.
Ultimately, it's about offering them a dining experience they will love to repeat. Outstanding food and service quality are an essential part of that, but they may not always be enough.
After all – and especially in areas with lots of restaurants - diners are spoiled for choice, so why should they give up the opportunity to try new venues and return to yours instead?
The answer is going the extra mile with personalized attention, and here we'll explain how to use customer data to provide that.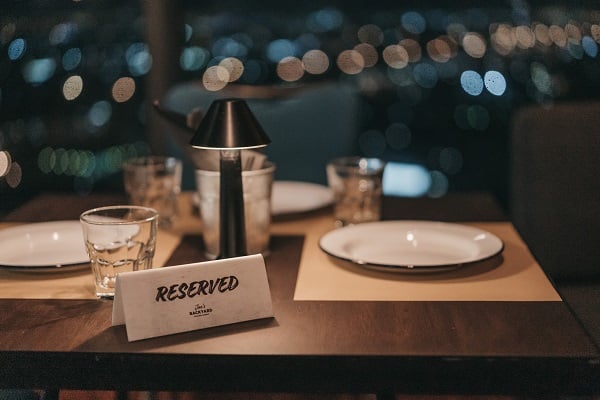 Photo by Hitesh Dewasi on Unsplash
What is restaurant customer data anyway?
Typically, restaurant reservations include details such as name, day and time, party size, phone number and/or email.
That's essential for managing the booking, but won't tell you anything about how to personalize that guest's experience. In fact, there is much more data you can collect. We can call it qualitative and quantitative.
Qualitative data: servers' notes
Eyes and ears of experienced FOH staff are trained to capture a lot of useful details during service, even with first-time customers. For example: personal information, complaints, food preferences and restrictions, whether they're from the area or not, what occasion brings them there, whether they were particularly rude or polite, etc.
Once you train your servers to take note of these details, you will end up with something like the example below. Here are real-life notes (we changed a few details but left caps, typos, and exclamation marks) that the servers of one of our customers added to guests profiles.
Related content: Create a Restaurant Training Manual Step-by-Step (with examples)

Guest A: TO BOOK HIM EVERY TIME table 22 ONLY!!!!!!!!! dont like othere tables .

Guest B: 15th Aug dinner time- they waited 30min for they table - please make sure to get them a nice table next time

Guest C: He is allergic to seafood, he is from Greeze– He likes to eat the same thing every day for lunch. ROAST POTATOES and VEAL STEAK medium/rare. drinking a glass of white wine - When he orders the steak, he likes it MEDIUM

Guest D: Meat lover, chardonnay or malbec

Guest E: Complaint, He had VEAL STAEK but said the meat was too hard. Please make sure next time that it is checked.
With these details, you can know what your guests expect before they arrive. Imagine welcoming them as follows.
Guest A: "we kept table 22 just for you;"
Guest B: "last time you waited 30 minutes to be seated, to make it up to you we kept our best table;"
Guest C: "You like your veal steak medium, right?"
Guest D: "we have a Malbec from a new winemaker I think you're going to love;
Guest E: "Here's your veal steak, we made sure it's cooked just right this time."
With this type of attention, guests will feel they are in a place - as the song goes – where everybody knows their name.
Quantitative data: customer's history
In addition to notes, there's a lot of quantitative data that guests will generate from their first visit and as they come back to your restaurant:
Number of visits
Time since last reservation
Total of cancellations and no shows
Total amount spent
Total covers
Average spend per reservation
Average spend per cover
Ordered food items
Ratings
Once you organize this data into rows and columns, you can identify high spenders, repeat no-showers, or regulars who haven't reserved for a long time, and send them personalized communications.
For example: comp VIPs a bottle of wine, offer a discount to regulars who dine alone if they bring a guest, or make dormant customers come back. Or again, recover from a bad review, send special menu updates based on a food preference, deny reservations to guests with a lot of no-shows or late cancellations.
This type of approach is much more effective than sending the same email to everyone.
How to collect all this information
One thing that should be clear by now is that using customer data to offer this type of experience requires a lot of attention to details.
That means you will have to use a system that makes it quick and easy to capture, organize, and find them. These three aspects are all equally important. There's no point in collecting all this information if you're not going to use it.
There are three ways you can do it.
Paper guest book. This is the least practicable solution. Writing by hand might be as quick as typing, but then – assuming that everyone's handwriting is readable – finding and organizing information would be a nightmare.
Spreadsheets. Capturing information would be easier, although still quite time-consuming. The problem with spreadsheets, though, is that organizing data can become quite messy, especially with long guest lists. Besides, like with paper guestbooks, data can be easily misplaced and assigned to the wrong customers.
If you're serious about increasing customer retention at your restaurant you're much better off using a management software that includes a guest CRM,
Related content: Benefits of POS Integration for Restaurants
There are three reasons for that.
It's way more practical. Servers won't need to queue at the computer to enter information, they can do it directly from their iPads and even mobile apps.
It's faster. Data from each reservation is added directly to each customer's record. You can automatically tag guests based on specific conditions (for example when they spend more than a certain amount) without having to check line by line. After that, you can filter these tags to identify VIPs, blacklisted guests, etc. and send personalized emails automatically.
You can add sales data. Your CRM alone knows everything about your guests, but not what they ordered and how much they spent. By contrast, your POS system has all the sales data but no identity attached to it. When you integrate one with the other, the possibilities of offering a personalized experience multiply.
Would you like to know more about how to use data to make guests come back? Download our free guide.