A fully-booked restaurant with people queuing up in the waiting line is what every restaurateur dreams of. It means that business is booming and customers are attracted to your restaurant. People are waiting in line to dine at your restaurant. But with a poorly managed waitlist, what comes next can turn into a nightmare.

Crowds will start building up, your host and servers will be struggling to give accurate wait times and serve customers efficiently, and customers will be angry. How do you then make sure that you are able to capitalize on these potential guests waiting in line and not lose them as customers, possibly for good?

That's where a waitlist management system comes in.

A waitlist management system transforms your pen and paper waitlist into a streamlined digital system that helps restaurants organize and optimize their waitlists, saving both time and effort, and enabling a better experience for diners.

With the growing need to better manage restaurant waitlists, various systems are available to choose from. From advanced systems with in-depth reporting systems and virtual waitlists to simplified waitlist solutions, there is something to fit every restaurant's needs.
Considerations for Choosing a Restaurant Waitlist Management System
Choosing the right system for your restaurant is important. Here are a few key considerations to keep in mind to make sure you're getting the most out of your investment.
Features
Waitlist management systems range from simple to advanced, what's best for your restaurant depends on your requirements. Do you need a system that helps improve your wait times? Or one that just helps you better organize your waitlist?

Assess the available features of waitlist management systems in the market and determine the ones that best suit your restaurant's needs.
Price
Along with the features, the cost of a waitlist management system should also be well-suited for your restaurant. While price shouldn't be the only factor that should determine your choice, it's an important one. Make sure that you choose a system that fits into your budget. Also, be wary of any hidden charges or fees that might blow up your spending.
Compatibility

Just like any new software, the waitlist management system should have the capability to easily integrate with your existing technologies like your POS system, table management system, etc. to make your operations streamlined and efficient.
Now, let's look at the top 6 Restaurant Waitlist Management systems available in the market right now:
Eat App
Yelp Waitlist
Waitlist ME
Next ME
Opentable Waitlist
Host ME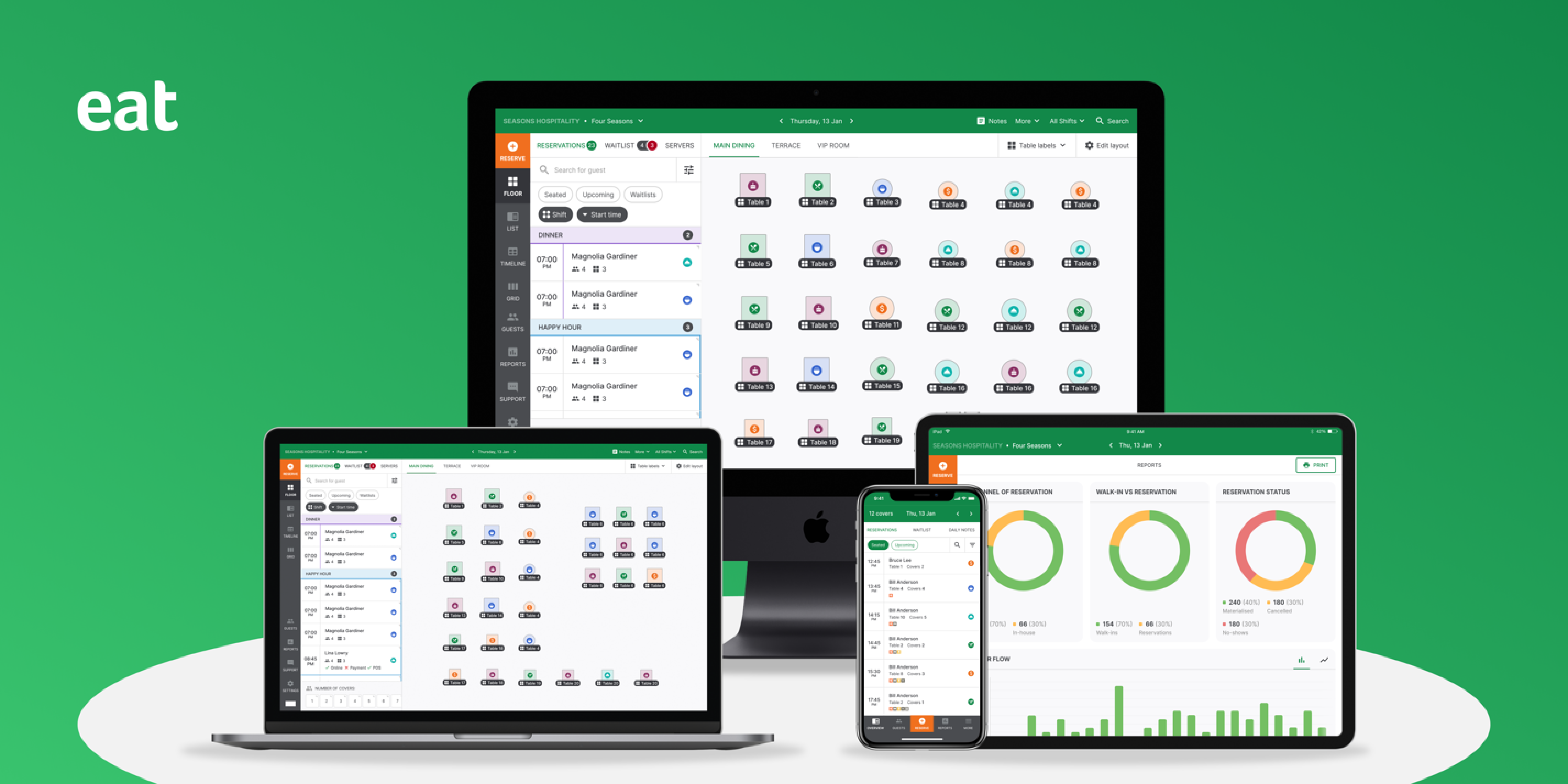 Eat App is a cloud-based system that provides an all-in-one solution for all your restaurant management needs. It comes with advanced features like reservation management, shift management, CRM, and reporting along with an integrated waitlist management system.
Eat App's reservation system provides a centralized dashboard to manage your reservations, walk-ins, and waitlist customers all in one place. It allows restaurant staff to quickly and easily add guests to the waitlist directly through the reservation dashboard without eating up extra time during rush hours. Eat App's advanced reporting capabilities also provide deep insights and help your staff give guests accurate wait times based on historical data.
It also comes with a virtual waitlist feature that allows guests to add themselves to a restaurant's waitlist directly through the booking widget if there are no available tables. Once they're added to the waitlist, guests get live updates about their table through SMS. This makes the process more streamlined, and saves both the guest and the restaurant's time, and avoids any overcrowding at the restaurant.
Price
Eat App's table management system with a fully integrated waitlist is priced at $209/month.

Compatibility
Eat App's waitlist management system comes integrated with its built-in advanced restaurant management features like CRM, reservations, etc. It can also be easily integrated with your existing POS and phone devices.

Want to try Eat App for your restaurant? Sign-up for the free 14-day trial now!
Yelp Waitlists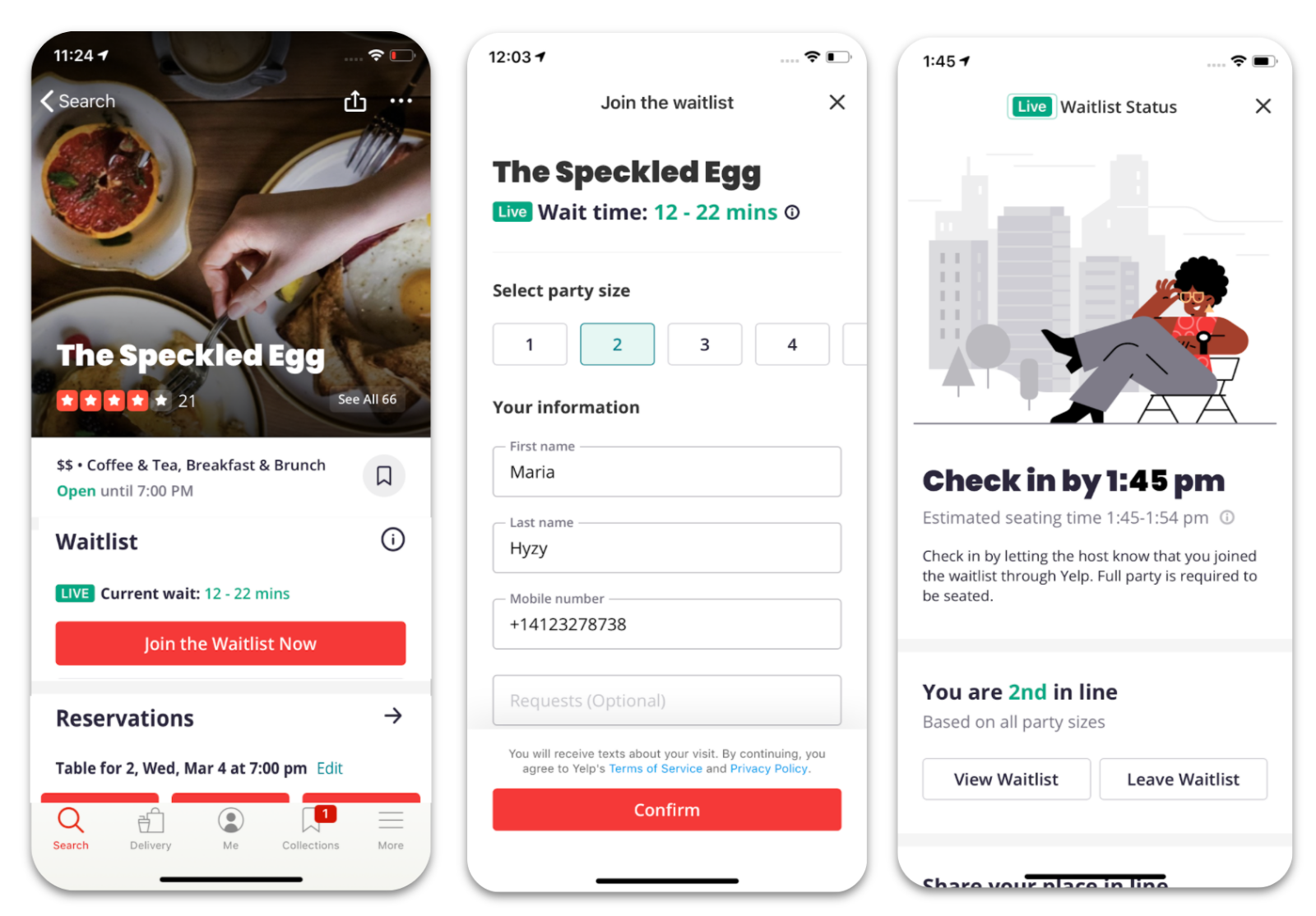 Popularly known for its review website, Yelp also offers management tools like table management and reservation system and an integrated waitlist system for restaurants. Yelp's waitlist system (powered by Nowait) allows guests to view live wait times at a restaurant on Yelp's app or website and join the waitlist through their Yelp profile. The guests can then track their place in the line through an SMS.

Yelp's waitlist management system also provides daily insights and accurate wait-time estimates based on history. Restaurants could also choose to add a kiosk powered by Yelp at their restaurant through which guests can directly add themselves to the waitlist without a host being present. However, the kiosk comes at an additional cost.

Price
Yelp's table management system which comes with the waitlist system starts at $249/month

Compatibility
Yelp also comes with built-in restaurant management tools and can be integrated into your existing POS. However, POS integration is not a part of the standard package.
Wailtist ME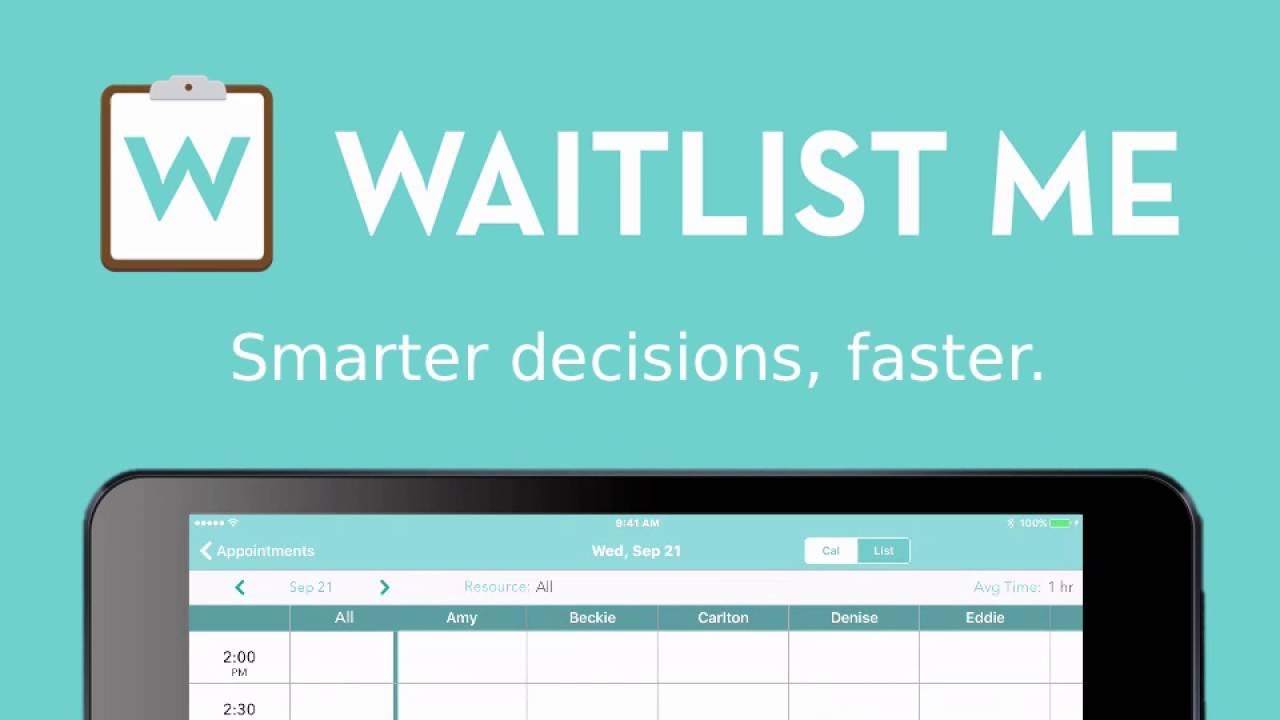 Waitlist Me is a dedicated waitlist management system that provides an easy and effective way to manage reservations. Restaurants can easily add guests to their waitlist and provide them with accurate wait times based on insights. Similar to other systems, guests also get notified when their table is ready through an SMS. They can also view the current wait times at a restaurant and add themselves directly to the waitlist through a widget
Compared to the other systems, Waitlist Me does not include advanced restaurant management capabilities like table management, reservations management, CRM, etc.
Price
Waitlist Me's monthly subscription starts at $23.99 and goes upto%79.99 for the more advanced package.
Compatibility
Waitlist Me is a standalone system and does not integrate with any other digital technologies.
4. OpenTable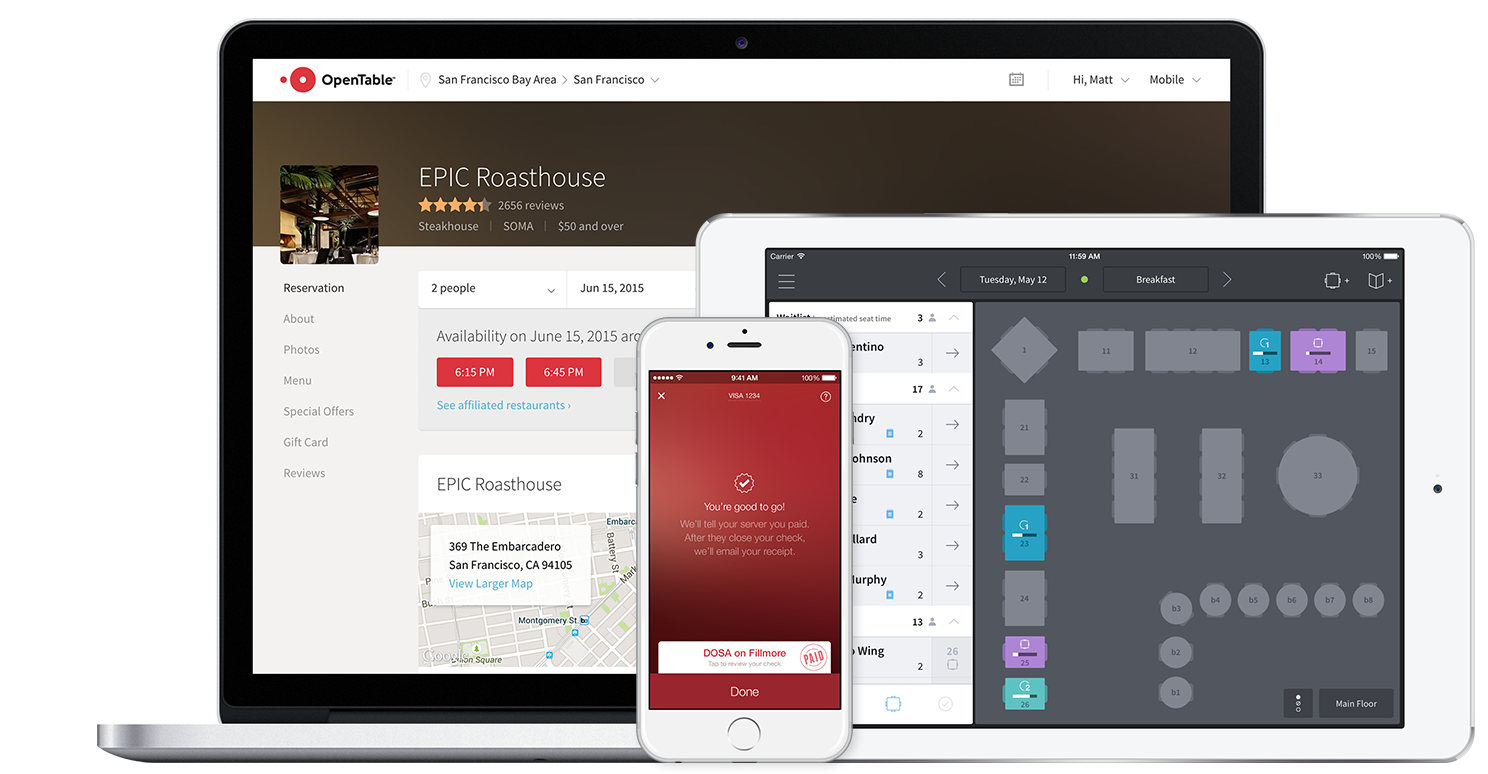 OpenTable is a restaurant management solution that comes with an integrated waitlist system. The online waitlist allows people to join the queue from anywhere and notifies them when their table is ready through an SMS. They can also track their place in line in real-time through the OpenTable app.

OpenTable also provides estimated wait quotes to guests based on their party size the tables in a restaurant's dining room.

Price
OpenTable's waitlist system is part of its Core package and is priced at $249/month

Compatibility
OpenTable comes with many restaurant management tools like table and reservation management, email marketing, CRM, etc., and offers integration options with other technologies like POS systems.

NextME
NextME is a simple waitlist management system to help restaurants serve more guests. Their easy-to-use interface allows staff to quickly add guests to the waiting list.

It also comes with a Virtual Waiting Room feature which acts as a digital storefront for guests waiting in line. Restaurants can personalize their virtual waiting room on Next ME according to their branding and add offers, social media accounts, etc. to help engage diners while they wait.

NextME also provides daily, weekly and monthly reports that help streamline your customer service and provide accurate wait times to your customers.

Price
NextME's basic waitlist management system is available for free for restaurants. However, the more advanced features like the virtual waiting room are including in the standard and pro package priced at $50/month and $125/month respectively.

Compatibility
NextME provides API integration with different loyalty apps and POS systems to help provide a more seamless experience.

Hostme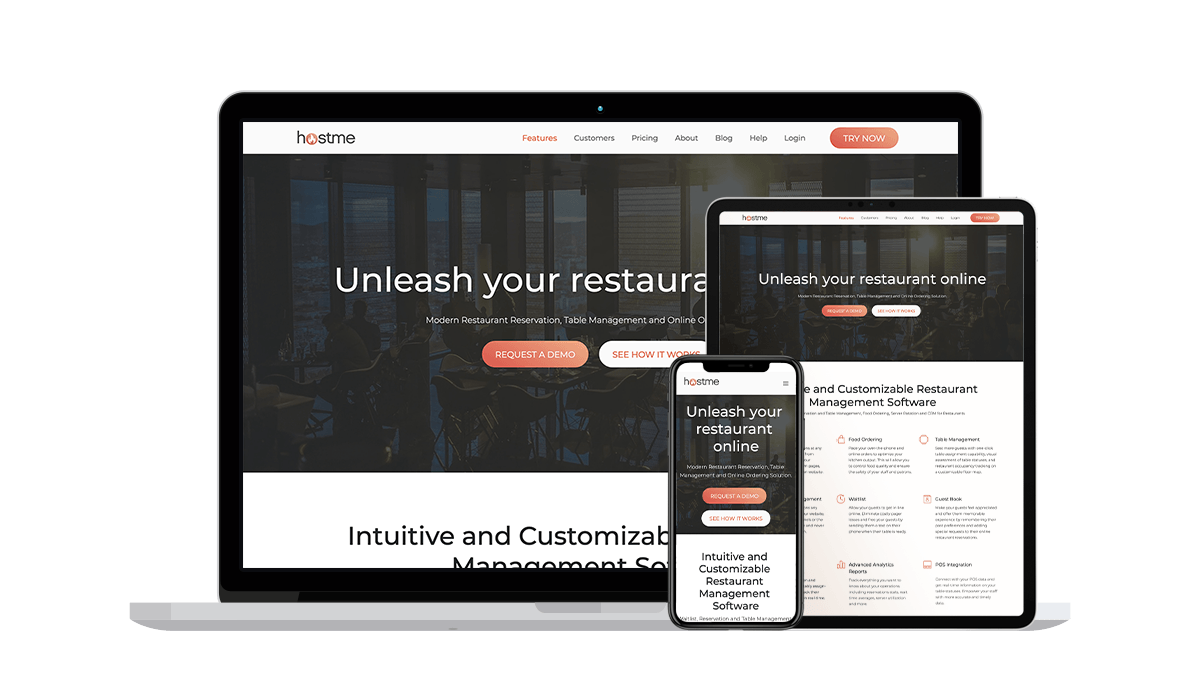 Hostme is an intuitive restaurant management software that offers table management, CRM, and waitlist solutions. It provides restaurant staff with a centralized system to manage their reservations and waitlists.

Diners can join the waitlist virtually through the Hostme widget before they visit the restaurant. They can also be updated when their table is ready through an SMS and choose to skip a turn and let the next person on the waitlist go first in case they're running late.

Hostme also gives customers loyalty points if they experience long wait times at a restaurant.

Price
Hostme's basic waitlist management system is part of its Piccolo package prices at $39/month. However, for the advanced table management, the packages start from $99/month.

Compatibility
Hostme comes with various restaurant management features and can be integrated with different digital restaurant solutions like POS systems.

The Takeaway
While there are many different waitlist management systems to choose from, the correct system for your restaurant is the one that suits your requirements and budget. Whether you're looking for a simple pen and paper substitute or an advanced waitlist management solution, there is something for every restaurant.

With the right system in place, restaurants can capitalize on the buzz and make sure that they are able to serve as many customers as possible without impacting the overall guest experience.