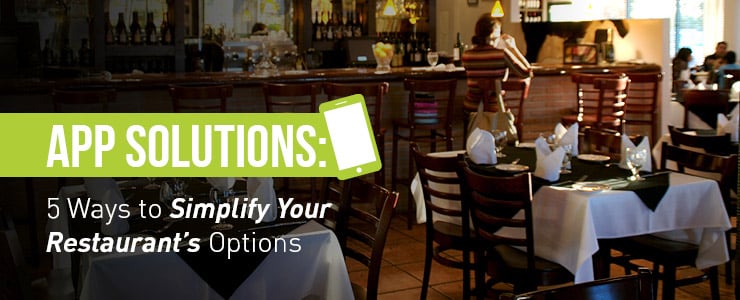 Even the most experienced restaurant owners know their management techniques could use some improvement. But if you're a restaurant owner, you might not know the changes you want to make.
Incorporating apps and software platforms into your restaurant's workflow is a fantastic way to upgrade both your restaurant's operations and your customers' satisfaction.
When it comes to technology, restaurants have a large number of opportunities to improve their service. Well-designed and thoughtfully developed apps are available to meet your restaurants' and your customers' needs.
Use a point-of-sale system

Try restaurant CRMs

Streamline your front-of-house service

Utilize table management software

Look for app opportunities
So let's get started on seeing all the different ways that an app can help to upgrade your restaurant's workflow!

1. Use a point-of-sale system
There are multiple techniques for keeping track of your restaurant's metrics and payment processing, but a point-of-sale system is one of the most effective.
Using point-of-sale systems is a key way to improve your entire restaurant's efficiency. Soon you'll find that both the front-of-house employees and your chefs will be grateful that you've upgraded your restaurant's ordering process.
Unsure about the purpose and function of a point-of-sale system? You might be wondering:
What is a point-of-sale system? Restaurant point-of-sale, or POS for short, is software that assists your restaurant in a number of tasks such as payment processing, the tracking of restaurant and customer metrics, and taking orders from customers. They can quicken training time, improve communication, and decrease the time it takes to relay information throughout your restaurant.

How do you use point-of-sale systems? Point-of-sale systems can be used by a restaurant for a multitude of purposes. Whether it's to provide better customer interactions and communications or to track and secure their sales, management, and customer data more effectively, the right POS system should be easy to use and simple to upgrade.
A restaurant point-of-sale system can revolutionize your restaurant's operations, or it can be incorporated smoothly without any disruption. The great thing about POS systems is that they can adapt to any kind of restaurant or management style with no issues involved.

2. Try restaurant CRMs
Say you wanted to implement a new marketing strategy to your restaurant, or maybe you wanted to keep better track of your customers. In that situation, you might use a restaurant CRM.
If used correctly, CRMs can start to build a database for your restaurant, making it easier to collect information and improve your business' service. This helps your restaurant in both the long and short term.
If you're new to the world of restaurant CRMs you might be asking:
What is a restaurant CRM? While other industries also use customer-relationship management software, in the restaurant industry CRMs take on a special purpose. Although restaurant CRMs can do plenty of similar tasks to regular CRMs such as keep a customer database and track developments in customer trends, they can perform special restaurant-based tasks such as managing booking or saving customer preferences.

What can you do with a restaurant CRM? Even restaurants that use point-of-sale systems could still make use of a restaurant CRM. For instance, a bar with a bar POS system could still use a CRM to gather information like customer preferences and order history, or it could take the data collected from its customer database and use it to help with your restaurant's marketing strategies.

What are some restaurant CRM features? A restaurant CRM's comprehensive features such as booking management and customizable databases make bringing order to your restaurant's workflow a simple task. Customer preference tracking and downloadable customer information can help you clean up your marketing strategy with no time wasted.

3. Streamline your front-of-house service
When changing up your restaurant's operations, one of the places you should always check is your front-of-house.
Specific apps can make your front-of-house logistics a breeze. Pay attention to the right elements in your front-of-house operations, and use applications to do some of the heavy lifting.
If you're looking to give streamlining your front-of-house services a shot, keep in mind that you can always:
Examine your front-of-house workflow. Take a look at how your hosts are communicating with the kitchen, as well as how your management is communicating with the servers and hosts. These lines must be kept open and servers must be properly trained in order to do so.

Look for areas of improvement. Is there anywhere in your front-of-house workflow that could be improved? For example, even a coffee shop that's started to use a coffee shop POS could improve their front-of-house service. Maybe more training for the POS system is needed, or maybe better time management is needed. Remember that even though a point-of-sale system is a big help, you'll still need to understand how your front-of-house is operating.

Use a booking management app. If you're a restaurant that struggles with the booking process, a booking management app can be a tremendous help for your hosts. It will also reduce the risk of clerical errors that could lead to a backed up waitlist. Your customers will also enjoy the improved service and the well-managed seating process.
So don't hold back your front-of-house workflow. Try out these tips and see how much better your waitlist and booking management services become.

4.Utilize table management software
Give your waiting staff some help. Eliminate confusion with your service staff and your management with a brilliant table management system.
Even a restaurant that has their table management down could make use of table management software. It provides unique benefits that you can't find with a manual system.
But if you're unsure about whether or not to use table management software, you might be asking:
What is a table management software? Similar to but more comprehensive than a booking management app, table management software looks over the entire seating and dining experience to make sure that diners and staff are conveniently and effectively organized. Not only do most table management software platforms offer the ability to maintain your restaurant's waitlist, they can also assign servers to tables and keep track of their performance.

Do you need a table management software solution? Chances are, if your serving staff is having trouble keeping up with your current table management system, table management software could be a tremendous help to your restaurant's day-to-day operations. Even if they aren't having trouble, plenty of restaurants could use the extra efficiency boost that comes along with having their restaurant's booking and table management taken care of.
Table management is an essential task in any properly run restaurant. If you're looking for a more comprehensive system that can manage your restaurant's table layout and more, Lavu's POS system is a great starting point.

5. Look for app opportunities
Several instances of app integrations already exist in the restaurant industry. It is up to you to start taking advantage of them.
There are multiple points of entry for apps to assist you in operations. Start using any number of preexisting restaurant apps to improve your services and logistics.
You can always search for apps and software platforms to use. For example, you could:
Take a look at your payment processing. Is your payment processing secure and straightforward? Are you looking to expand your payment options for your customer's convenience? If so, there is software out there that could be of potential assistance to you. Double the Donation's guide to payment processing is a great resource for restaurants looking to expand their payment options.

Use an online menu-maker. There are so many restaurants out there with shoddy menus that don't maintain brand coherence. Don't be one of them. Align your brand with your menus and use one of the many online-menu makers out there to accomplish this task. Your restaurant's look will be smoother and customers will get a better idea of what kind of atmosphere you're conveying.

Search for apps with multiple functions. As it stands, there are restaurant software platforms that offer apps which can take care of multiple tasks to meet your restaurant management needs. Lavu's mobile app and Eat's mobile app are two great examples of restaurant management apps that can serve several different functions within your restaurant's broader workflow.
Use these ideas if you're looking to expand your selection of restaurant management apps that could either improve your service or switch up your workflow.
---
Any business should stay up to date on the latest trends. But restaurant owners and managers, especially, should always be looking for ways to upgrade their service and management methods.
So keep these suggestions in mind the next time you're looking to change up the way your restaurant operates. You'll start to see improvements in no time!
---
Author: Saleem Khatri
Saleem Khatri is the Chief Executive Officer of Lavu. Saleem has a "founders mentality", with a track record of working with high-growth software companies. He is a rare breed of someone who is both a hands-on leader and a strategic visionary and brings with him a myriad of inspiration, technical acumen, and a passion for our products, services, and customers. Prior to Lavu, Saleem successfully launched software and hardware products at start-ups via Y Combinator and managed a $79 billion investment portfolio on behalf of the United States Department of the Treasury. Saleem earned his MBA from the Harvard Business School and his undergraduate degree from the University of Michigan -- Ann Arbor.