The food and beverage industry is one of the hardest industries to succeed in right now. With over a million restaurants in America alone, and more opening year after year, competition is at its all-time high, making it harder than ever for restaurants to succeed in an already saturated market.
If you are a restaurant owner/operator, you shouldn't let that discourage you though.
Increasing sales and reservations at your restaurant may seem difficult at first, but with one simple change to how tackle the problem, you will be well on your way to being the talk of the town.
What's the secret?
The best way to improve your restaurant is by observing what your competition is doing and trying to do the same. By taking note of the strategies that are working for your competitors, you can level the playing field and start to attract more diners.
To help, we've put together 7 of the most impactful strategies so you can stop wondering how to beat restaurant competition and start doing it.
---
Partner with a reservation app
When comparing your restaurant to a few of your competitors, one of the main things you might notice them doing to increase reservations is to partner with restaurant reservation apps.
Reservation platforms like Eat and OpenTable have seen a massive increase in popularity over the years, providing restaurants with opportunities to attract new diners that they never had before.

By partnering with apps like this, your competition is taking advantage of how dependent their guests are on technology in their day to day lives. These days' restaurant reservation apps are so deeply connected with how people discover, reserve, and subsequently visit restaurants.
This provides an immense competitive advantage in today's food and beverage landscape for those restaurants that get on board.
Using online booking widgets
If you ever taken a look at what your competition is doing online you might notice that they have a much more streamlined booking process than you do.
This is most likely a result of them using an online booking widget to manage their restaurant reservations. Booking widgets provide restaurants with an easy to use solution for receiving online reservations. Often times, a well-designed booking widget will allow guests to book a table in two steps or less.
If you are still using a booking widget from the past or requiring your guests to send an email to request a booking from your restaurant management, you are definitely missing out on a large number of reservations that your competition has found a way to capture.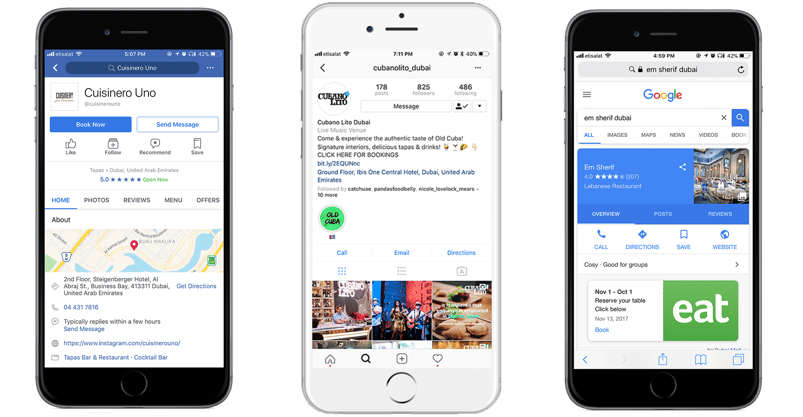 Booking widgets go beyond just a streamlined reservation process. Features built into them such as automatic SMS reminders, email confirmations, and seamless integration with your reservation software help to reduce no-shows and overbookings.
Not to mention the fact that you can add booking widgets to your website, Google profile, Facebook page, and even Instagram profile to start generating online reservations.
Want to learn more about online booking widgets or get one for your own restaurant? Click below to download our complete guide.
Online Advertising
When searching for places to eat online, odds are you've seen a few of your competitors using ads to help increase restaurant reservations and brand awareness. Online advertising is a great way to not only reach your pre-existing customers, but also to break into a newer audience.
With Google and Facebook making their advertising platforms easier to use by the day, you have no excuse to not be utilizing this powerful acquisition tool.
Online advertising gives you the opportunity to get your restaurant in front of people searching for nearby dining options, similar cuisines, discounts, and even special events.
Offers with online reservations
The one thing you can guarantee your customers want when they dine out is to save money. To capitalize on this, some restaurants offer their guests with special offers when they make their restaurant reservation online.
This may seem like a simple strategy, but it is one of the most impactful ones. If your restaurant is typically empty during the afternoon on weekdays while your competitors are on a wait, maybe it's time to start thinking about how to entice your customers to visit during slow hours.
Completing Google My Business profile
When customers are looking for places to eat, often times the first thing they do is use Google Search to help make a decision. If you happen to show up in a Google search alongside one of your competitors, and your Google my Business profile is incomplete, you can say goodbye to any hopes of converting that person into a guest.
By completing your Google profile, you are giving potential guests access to your restaurant's location, operating hours, contact information, reviews, and images, which is all they need to help make a decision.
With Google's recent update allowing restaurants to add a reservation link right into their Google profile, this is a great strategy to generate some extra bookings right through Google Search.
Using Social media to your advantage
When trying to increase restaurant reservations, one of the first things you should turn to is social media.
Websites such as Facebook, Twitter, and Instagram are some of the most powerful tools at your restaurant's disposal, and with billions of active users across these platforms it would be a wasted opportunity to not capitalize on it.
If you are having trouble figuring out how to keep your social media pages active, check out some of your competitor's pages.
See what is working for them and what isn't. Maybe they are posted pictures daily to promote their special events and menu items, or maybe they only post once a week and the rest of the time they are live streaming their restaurant.
One thing is for sure though, you should be using your social media to continuously remind potential guests that they can make reservations online at your restaurant.
Organizing Events
One of the best ways to keep your restaurant exciting while competing with other local restaurants is by hosting weekly events or theme nights. Incorporate a mixture of one off events such as live gigs with recurring events such as ladies nights and brunches to keep your guests wanting to come back.
By creating an atmosphere that guests want to visit, you can almost guarantee the reservations will start pouring in.