The restaurant industry has always been a slow adopter when it comes to technology. Restaurant owners have never been a fan of change. Many of them fear that giving in to technology will sacrifice the human touch that restaurants are known and loved for.
However, tech is becoming more important than ever to run a successful restaurant.
Pre-covid, digitalization had already started taking over the industry. But the sudden onset of the pandemic has accelerated this revolution significantly.
Now, guests' preferences have changed - how they want to book a table, how they want to place an order, how they want to pay has all evolved in the last few years, and restaurants have to make sure they keep up with their customers' changing needs.
Right now, the restaurant industry is in the midst of a tech revolution, and it's becoming increasingly clear that the restaurants that will survive it are the ones that buckle up and adapt to this change and start investing in technology, not only to serve their guests better but also to make their operations more efficient and streamlined.
But, as a restaurant that has been doing things the pen and paper way for decades, it's not a simple shift. Tech has a history of being complicated and difficult to understand, and the idea of introducing new systems at a restaurant and training the entire staff to use them can seem like a daunting task.
To add to that, with all the different software and systems that are now available for restaurants, it can also get confusing to understand which one is best suited for yours.
This is why we have compiled a list of 9 essential technology in the restaurant industry to help you keep up with the technology trends.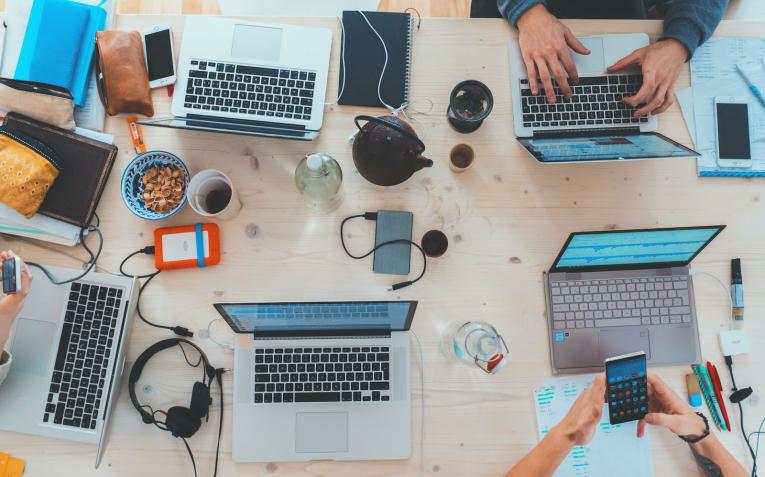 The 8 Most Important Restaurant Industry Technology Trends
1. Online Reservation System
Pen & paper has been the norm for making restaurant reservations for decades, however, it's now becoming obsolete. People no longer like to call for making reservations. In this study, 80% of the people reported online reservations as an important factor when choosing a restaurant. Just like for everything else, they want a quick and simple way of making reservations.
Online reservation systems, like Eat App, help your restaurant reach more customers by enabling online bookings from different platforms. They also give people an easy way to book at your restaurant.
By not using an online reservation system, you are missing out on potential customers who prefer making bookings online.
Apart from ease of booking, an online reservation system also provides restaurants a place to manage all their reservations, reducing any errors or double bookings and making the whole process smooth and streamlined.
Some reservation systems, like Eat App, also enable restaurants to take bookings directly through their social media channels like Facebook and Instagram through their official integrations. These social reserve buttons have been a game-changer for restaurants as they allow restaurants to turn their social followers into customers, helping them reach more customers and increase revenue at no added cost.
Learn more about getting bookings from your social media channels
2. Online Ordering System
Online ordering and delivery have truly been the restaurant industry's saving grace during the pandemic. When the doors were shut, restaurants were able to sustain themselves only because of online orders.
Even after the lockdowns are over, online ordering is on an all-time high, By 2024, online food delivery services projected to be a $32 billion industry.
Online ordering has gained a lot of popularity because it allows restaurants to reach customers who cannot visit their location (or just don't want to).
It's important to have a proper online ordering system in place so that your restaurant can fully capitalize on the boom, reach more customers and increase revenue.
While third-party platforms like Zomato, UberEats, etc. are usually the go-to delivery solutions, restaurants have now started investing in in-house direct delivery systems as they don't prefer relying on third-party platforms that own their guest data and also charge a high commission fee. A direct delivery system allows restaurants to own and control the entire guest journey.
What's best for your restaurant depends on your goals and vision. If your restaurant is highly dependent on online ordering, having an in-house system in place can prove very beneficial in the long run.
3. Table Management System
With customers' evolving preferences and increasing competition in the industry, managing a restaurant efficiently it's getting harder for restaurant managers. That's where technology like a table management system can be helpful.
A table management system is an all-in-one restaurant management solution that assists restaurant staff with their day-to-day tasks while streamlining operations and increasing efficiency.
A good table management system helps restaurants in every aspect - from reservation and floor management to collecting guest data, managing guest journeys, tracking performance, and so much more.
Choosing the right table management system for your restaurant can help lighten the burden from your shoulders and help you increase your restaurant's overall efficiency and revenue.
Some table management systems, like Eat App, provide an all-in-one solution under one software and come with integrated CRM, marketing, and reporting features that help you unlock a plethora of guest data, provide a better guest experience, retain more customers, and increase revenue.
Interested in trying Eat App's table management system for your restaurant? Sign-up for our free 14-day trial today!
4. Point-of-Sales (POS) System
A POS system acts as a digital cash register for all of the transactions that take place at a restaurant. A good POS system can help streamline your operations significantly by providing your staff with a simple and quick way to take orders from guests.
However, POS systems are no longer limited to just registering transactions. Newer POS systems have become very advanced and come with useful features that record a plethora of data like average spend, order history, etc. that helps restaurants better understand their customers.
Many POS systems also come with the ability to integrate with other software at your restaurant, like a table management system, which allows you to take your restaurant's guest experience to the next level with deep customer insights.
Try to pick a POS system that can be connected with other systems at your restaurant so that you can take full advantage of the data that is collected through all of them.
Learn more about Eat App's POS integration feature
5. CRM System
Running a restaurant is all about your guests - if they're happy, they will return to your restaurant and bring in more revenue. If they're unhappy, they'll pick one of the 100s of other restaurants over yours.
Given that a 5% increase in regular guests can increase your revenue by up to 90%, you want to make sure that your customers are coming back over and over again. Maintaining strong relationships with customers that build loyalty and turn them into regulars (and advocates) has now become the backbone of a successful restaurant.
A good CRM system helps you build those relationships by collecting guest' data and enabling restaurant staff to provide a personalized guest experience based on a guest's behavioral history.
Eat App's CRM system, for instance, allows restaurant staff to build a strong customer database, track preferences and birthdays and start delivering personalized experiences for your guests.
Let's say a customer returns to your restaurant who mentioned that he/she has a peanut allergy. If using a CRM system, the staff serving the guest will find this information in their guest profile and let them know which dishes have peanuts in regards to their allergy, making the guest feel important.
6. Waitlist Management System
A waitlist system allows restaurants to better cater to their guests and provide a more organized and efficient way of managing a waitlist. Advanced waitlist systems help restaurants serve more customers by providing guests with accurate estimated wait times (based on historical data) and live updates about their tables.
Some modern waitlist systems also come equipped with a virtual waitlist feature that allows guests to add themselves to a restaurant's waitlist digitally without going to the location, similar to making a reservation.
These systems help improve the overall experience which allows restaurants to not lose customers, even during rush hours.
Learn more about Eat App's virtual waitlist feature
7. Contactless Payment System
As with everything else, digitalization is transforming the way people make payments at a restaurant. Contactless payment systems that allow customers to pay their bills digitally without any physical contact became popular during the pandemic, but are now predicted to be one of the fastest-growing trends in the industry. With 38% of diners already reporting it as an important feature of a restaurant, contactless payments are here to stay.
Contactless payment systems make paying easier for both the customer and restaurant staff, reducing touchpoints and creating a more simple and streamlined payment process.
Various contactless payment solutions like Zomato, and Glyde already exist to help you hop on this trend.
8. Contactless Menu
Like contactless payment, QR code menus have also risen to the top of the list of important restaurant features during the pandemic.
These online menus remove the need for a physical menu and replace it with a digital one that can be accessed by scanning a QR code through any phone camera.
Pre-pandemic, contactless menus were a rare occurrence. However, now they have turned into a necessity, and physical menus are slowly becoming obsolete. Customers expect every restaurant they walk into to have contactless menus.
These menus are also beneficial for restaurants as they reduce the cost of printing and updating physical menus, are also good for the environment, and are more hygienic
Restaurants can set up a contactless menu using one of the many systems that are now available to use. Some table management systems, like Eat App, also come with built-in contactless menus to make your life easier.
Find out more about Eat App's contactless dining features