In the past, making a reservation at your favorite restaurant meant having to call a reservation hotline, spend time spelling out your name, provide your contact info, and list out any special requests or food allergies.
We have come a long way since then.
While the phone remains an invaluable reservation channel for many restaurants, with the power of the internet we are now able to book tables online in a fraction of the time and without having to speak to a single person.
All that thanks to the online form, or reservation widget.
Online forms are almost as old as the world wide web, and restaurants have used them from early on for bookings. Here is what Pizza Hut's 'Electronic Storefront' looked like in 1996 (read more about it here):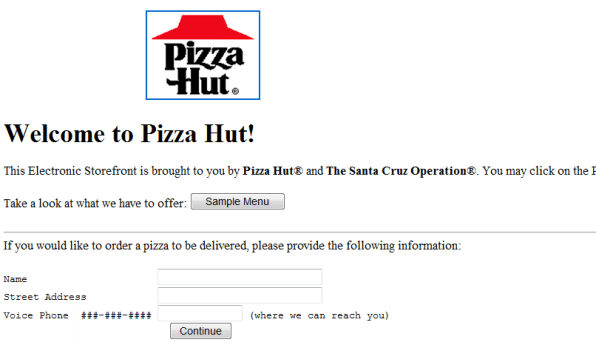 Over time, online forms improved their look and added new functionalities, helping restaurants generate more sales and making the booking process smoother.
The problem though is that even after twenty-five years, some restaurants are still making it just as cumbersome to reserve a table online as it was in the past.
If you're one of those restaurants and are looking for a widget provider to streamline your bookings, you're in the right place. In this post, we're going to explain the six things that a booking widget should be able to do to grow your business.
Collect more than just booking details. Graphic design aside, many booking forms we see on restaurants' websites today are not that different from Pizza Hut's 1996 version. They simply collect basic information such as name, email, phone number, preferred date and time, and party size. But the widget you choose should do much more than that, like ask guests if they prefer outdoor seats or window seats (if you have them), display terms and conditions for late arrivals, or safety measures, and have a text box for special requests.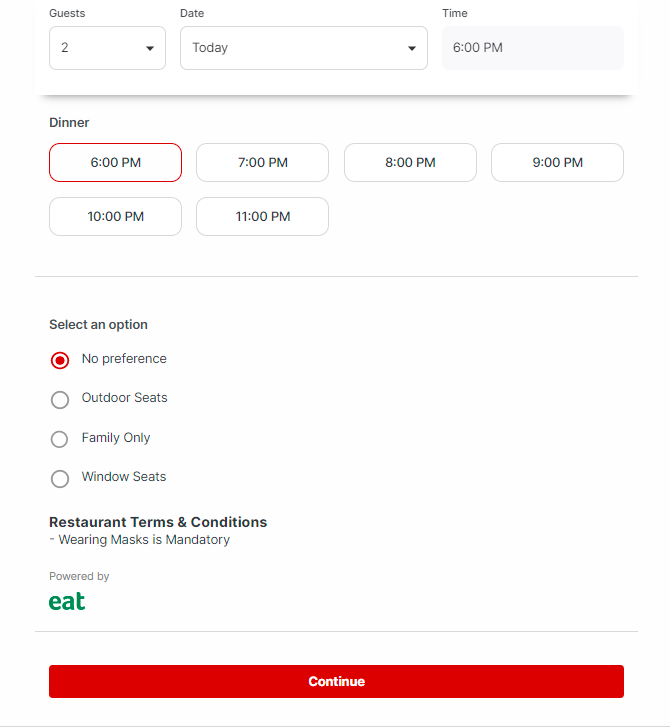 Show live table availability. If the widget is connected to a table management system, the time slots that your guests see when they book through it will reflect the actual availability at that very moment. Without this feature, guests won't receive confirmation immediately – as you would have to check availability manually first – and may decide to book somewhere else in the meantime. Besides, this manual extra step may lead to mistakes and accidental overbooking. Phone booking would actually be more efficient in comparison.
Related content: 9 Questions to Ask When Buying a Restaurant Reservation System
Include all your off-premise options. With the Covid-19 pandemic, many restaurants started to offer as many dining options as they could, such as takeaway, delivery, pick up, and pre-order. A restaurant booking widget should be able to include all of them. Giving customers the option to reserve online to eat at your restaurant, but asking them to call if they want to order takeaway, only adds unnecessary friction and detracts from the guest experience.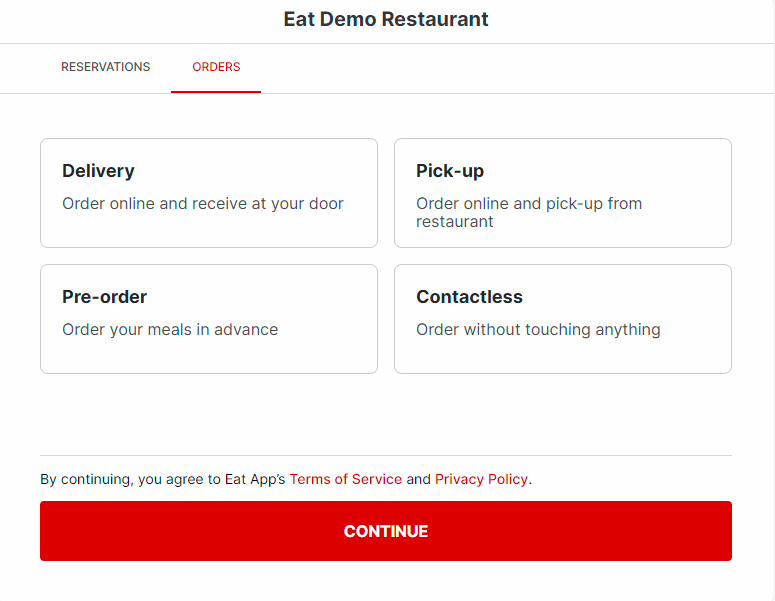 Help you fight no-shows. The booking widget you choose should also allow you to request prepayments or deposits (if you plan to do so) and send email or SMS reminders to guests. This will not only automate parts of the booking process that otherwise you would have to do manually but will also help reduce no-shows.
Related content: How to use intentional overbooking to fight no shows
Fit in all direct online channels. Your restaurant's website is only one of the many online reservation channels. Today it's also possible to book a table directly from Facebook, Instagram, and Google My Business. However, restaurants can only use this option through reservation management providers that have a partnership with those platforms. So, in your quest for the best widget, make sure the provider is one of them. Also, the widget should be easy to add, even for the least tech-savvy of restaurant managers, with a link or a short piece of code.
Read how you can make the best of your Google My Business listing and use the Google Reservation option thanks to Eat App's partnership with Google.
Convert more. Here's a hard truth: the reservations you receive online come from guests that completed the booking. There are probably many more who started the process but gave up halfway. (In e-commerce this is called 'shopping cart abandonment.) There are many reasons why that happens and, unfortunately, you don't have control over most of them. What you can do though, is choose a provider that constantly strives to improve user experience and optimizes its widget to minimize abandonment.
The difference between dumb and smart widgets
A restaurant widget can be a basic form that collects simple pieces of information or a smart tool that streamlines reservations, keeping all your dining options and channels under one roof.
What separates one from the other is the connection to a 'brain', meaning a table and reservation management system.
This type of setup will open up a whole new range of possibilities, allowing you to own your guests' data and grow your business with targeted market campaigns.