The online space is by no means an easy place to be for restaurants… better yet, for anybody. If you're a restaurant marketer or operator, chances are you've already taken all the necessary steps to set up your social media profiles, made sure you have interesting content to post regularly, and most importantly have an inventory of high-quality photos to represent your restaurant online.
The problem is now you can't get anyone to engage with your profiles.
This is a common problem faced by businesses and people alike, but despite the constant uphill battle required to get big on social media, it's definitely the most important place for restaurants to be right now. With over 2 billion active users on Facebook and 800 million on Instagram, it's just a matter of catering to the right demographics and drawing them in.
Sometimes, it takes a lot more than just routine content to attract a following. What's the secret then?
Hashtags.
On the internet, hashtags are your best bet at getting your restaurant in front of the right people. This post aims to answer any questions you might have about hashtags and act as a primer on how to choose the best hashtags for your restaurant.
Bonus: Read on to learn how to download our free excel hashtag, research planner.
---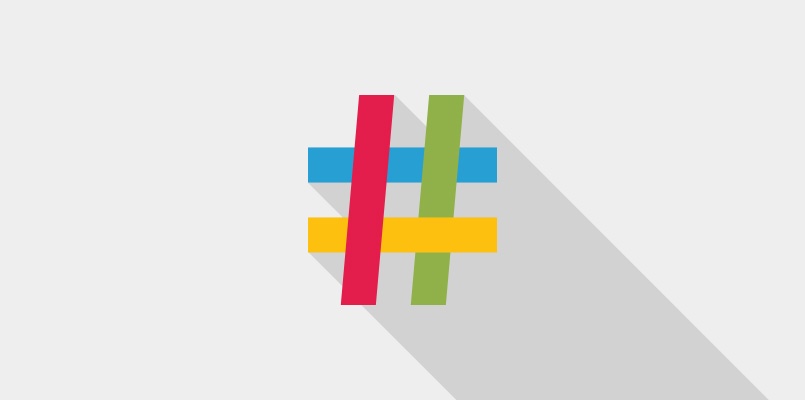 Hashtags have been around for a while, they are by no means a new invention (remember the dedicated "pound" button on old Nokia phones?). These days though, hashtags have a slightly different purpose. As in the past, they are still used as a form of communication, except now they are on an entirely different platform.
If you are unfamiliar with their use, you are not alone. Hashtags are one of the most difficult social media terms to wrap our heads around. So to end the confusion once and for all, we will answer some of the most commonly asked questions about hashtags.
What are Hashtags?
Every post on social media typically features two things: a short caption, and hashtags. Hashtags help categorize your posts, which in turn help users find your content online. More than one hashtag can be used per post in order to increase the likelihood of your post being discovered.
Why should I Hashtags?
Using the right hashtags can expose your restaurant to a large and highly targeted audience. By putting yourself out there, you make your restaurant more discoverable to potential customers.
Posts that use at least one hashtag get an average of 13% more engagement than those that don't.
How many hashtags should I use? Is there a limit?
There isn't a specific number of hashtags you should be used per post, but there are limits as to how many you can use on each social media channel.
Instagram: You are allowed to use up to 30 hashtags per photo
Twitter: You are allowed to add as many hashtags as you want, but with the 140 character limit, it's advisable to keep them to 2-3 hashtags per post
Facebook: Hashtags are slowly gaining traction on Facebook. What works best is picking one or two hashtags related to trending topics, such as sporting events, politics, or holidays.
How do I add hashtags to Instagram without them showing?
There is no direct method of hiding hashtags in Instagram. What there is though is a clever Instagram cheat that can help you achieve just that. The hack requires you to post your hashtags in the comment section of your Instagram post NOT in the caption box. It also requires you to type out your hashtags in your phone notes app.
The trick for this to work comes in how you format your hashtags. Instead of having them all typed out in a single block of text; precede them with 5-6 dots, each dot on its own line. Make sure to use line breaks. See the example below.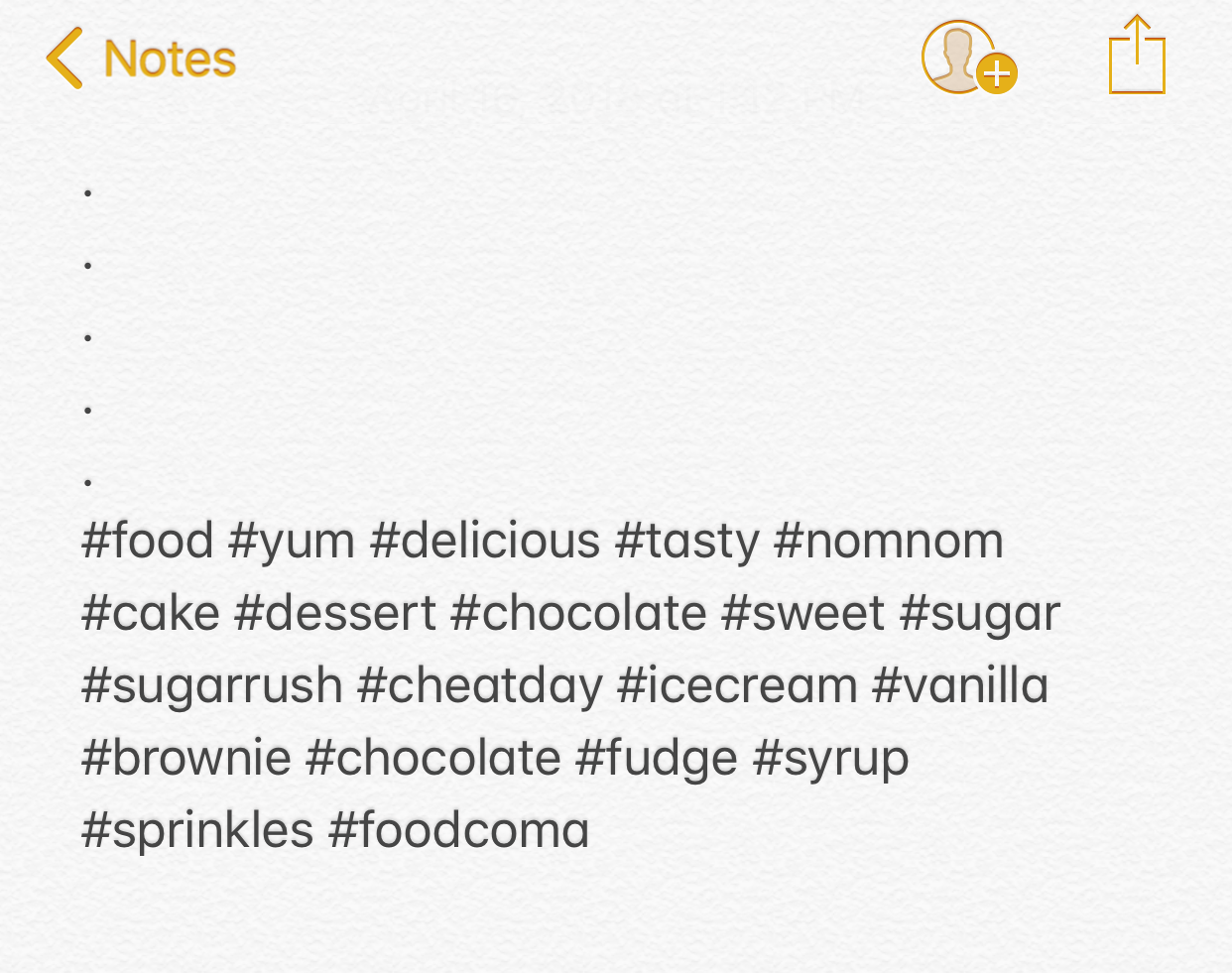 The reason this works is that Instagram collapses comments that take up too much space to keep the comments section of each photo tidy. See the photo below.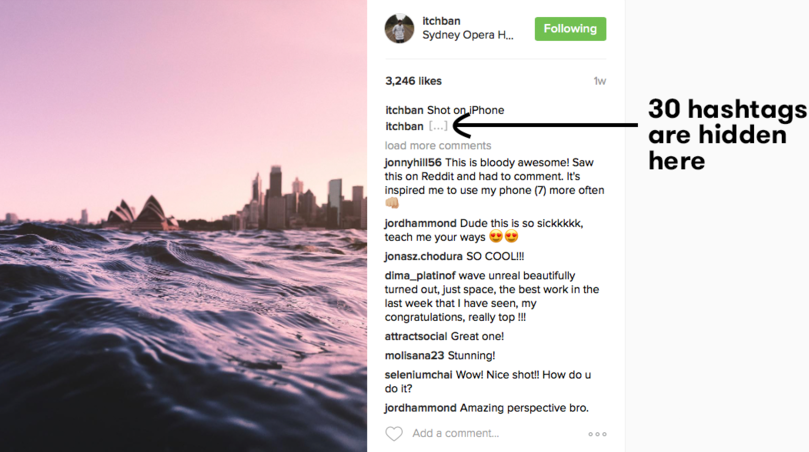 How to choose the right hashtags for your restaurant?
There are a few methods you can use to discover new hashtags for your restaurant.
Researching the hashtags your competitors use: By looking at the hashtags restaurants, and other companies in your area are using, you can quickly get an idea of popular local hashtags.
Follow in the footsteps of social media influencers: Take note of the hashtags that social media influencers in your space are using. These are people that have spent years capturing the same market you are interested in and hence following their lead only makes sense.
Research your audience: Look into the hashtags your followers are using to better understand what interests them.
Be mindful of the current trends: Every now and then an event or cause will gain massive popularity and this is the perfect time to make posts around that topic to ride the wave of popularity.
Using Instagram search to expand your list
After coming up with a shortlist of hashtags, you will probably want to expand it to include a broader selection. By inputting a hashtag in the search, Instagram will display a list of similar top-performing hashtags.
Example: Searching #food gives you suggestions of other food-related hashtags to use.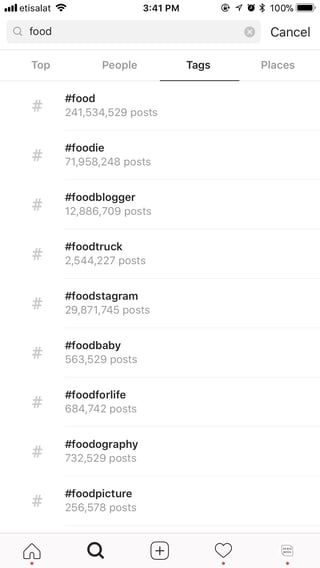 Which hashtags to use?
When it comes to using the hashtags you have compiled, they should typically fall into three categories that you use equally for each post.
Example: Assume you run the Instagram account for a Chinese restaurant in Dubai.
Large region-specific hashtags: These are the popular hashtags in your area, oftentimes having millions of posts per tag. They are usually variations on the country or city name. Example: #dubai #mydubai #dxb
Smaller region-specific hashtags related to your industry: These are hashtags that cater to more specific search terms, oftentimes having thousands of posts per tag. Example: #dubaifood #dubairestaurants #chinesefooddubai
Generic hashtags: These are popular hashtags globally, that have tens of millions of posts per tag. This helps reach a larger audience. Example: #food #yum #photooftheday #instagood #tbt
Tips: If you run a smaller Instagram page, it is recommended to try to use as many small region-specific hashtags as possible to increase the likelihood of being discovered by the people that matter.
Managing your hashtags
Keep an excel document with all the hashtags you find, along with how many posts each hashtag contains and the category it falls under. By creating your own hashtag database, you are making it easier in the future to quickly pick and choose hashtags based on your post.
We've put together a sample hashtag database with 20 of the top-performing hashtags on Instagram to get you started. Fill the form below to receive your FREE copy.