Instagram may not have taken over the world, but it certainly feels like it's winning the social media war in the restaurant industry.
The photo-sharing app lends itself perfectly to the capturing of high quality, real-time imagery of food and snacks, ambiance and the attractive dress code of servers. A great restaurant marketing technique.
Restaurant visits are made exciting to imagine for potential guests by showcasing the narratives of local artisans and patrons in the Instagram feed. These realities have compelled many entrepreneurs to weave Instagram marketing for restaurants into their promotional strategy.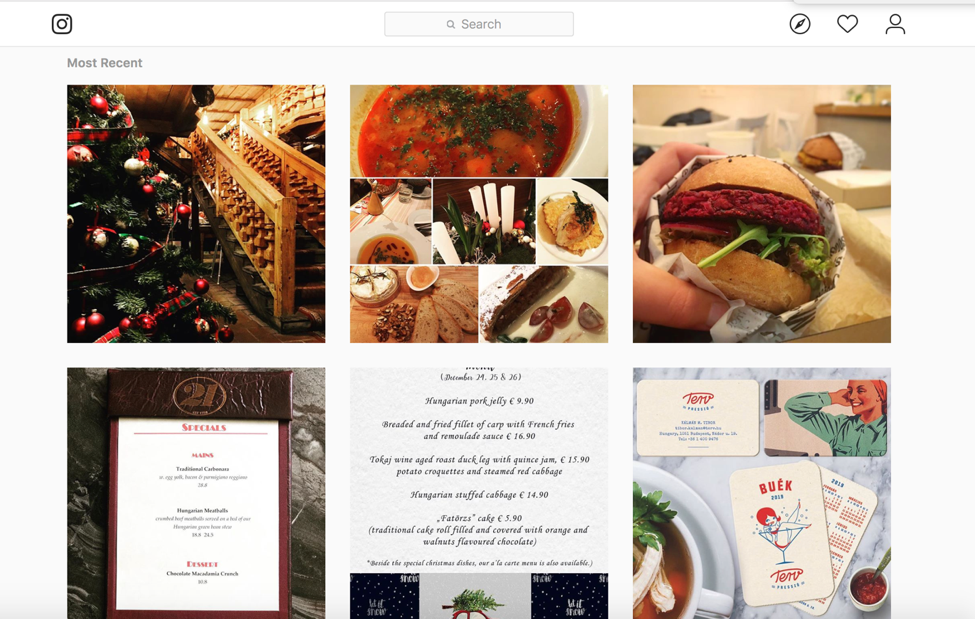 The constant need to delight others with refreshing pictures of our dining experiences is actually great for restaurants. While conventional tactics like flyers and print ads still work, posting pics of culinary masterpieces goes a long way as the brain processes images 60,000 times faster than text. And with the opportunity to add booking links to your profile, Instagram marketing for restaurants has become a free source of lead generation.
5 Ways to Leverage Instagram Marketing for Restaurants
So now that you're aware of Instagram's potential, do you fancy sharing a picture of the ever-loving burrata? We've got five ideas to help you break through the noise and create a strong presence on this social platform.
1. Showcase the interior and exterior of your restaurant
Remind potential customers what it's like to dine at your restaurant by sharing exquisite images of your indoor and outdoor space. Once they come across your warm and inviting environment, they could be more than tempted to pay you a visit – especially if you include crucial information like weekend specials or that you offer child-friendly seating.
Make sure the background is real, the composition is balanced, and the lighting is set up right (keep in mind that a restaurant's atmosphere rarely looks inviting in the dark when a flash is used).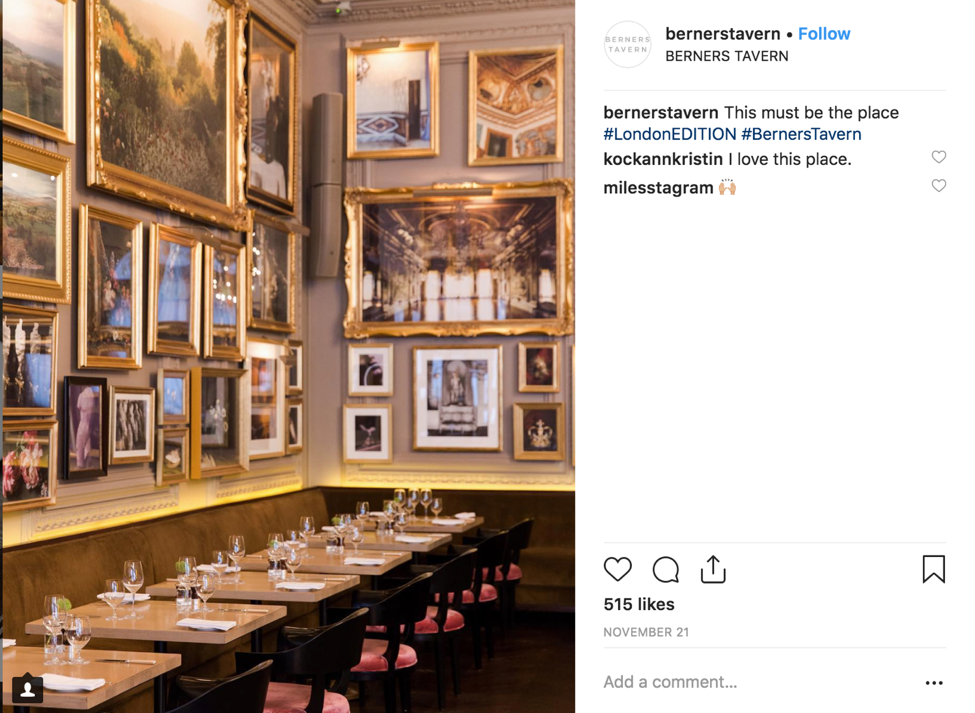 2. Encourage user-generated content
Quite often, the best marketing comes from actual customers, so encourage them to talk about you on social. Create your own hashtag, and incentivize people to use it when they post photos of the cuisine served at your restaurant.
For example, you could host a weekly contest and give away a free meal to the most creative entry. This will get your business name in front of new eyes. Remember to associate the contest with the hashtag so it's easily searchable. Also, remember to tag and thank participants by using a reposting application (this shows you're grateful that they took the time to post about your restaurant).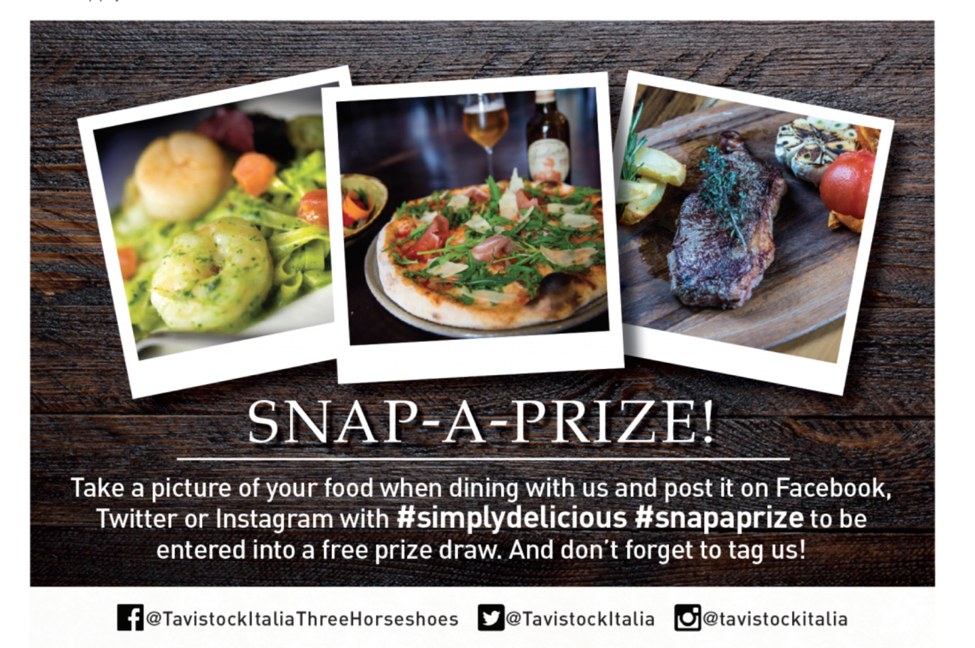 3. Put the spotlight on your specials
Does your restaurant serve an amazing brunch every Sunday? Let people know! Making assumptions that your eatery is top-of-mind when people decide to have their eggs benedict on an avocado toast could mean lost customers, as they may not be aware of your offering. Let the world know what makes your brunch different and post great images of people savoring it on your restaurant's Instagram page.
Additionally, try a combination of hashtags to increase the reach of your posts. In this case, you could use #sundaybrunch, #brunchtime, and other similar hashtags along with a nicely written caption to get the word out.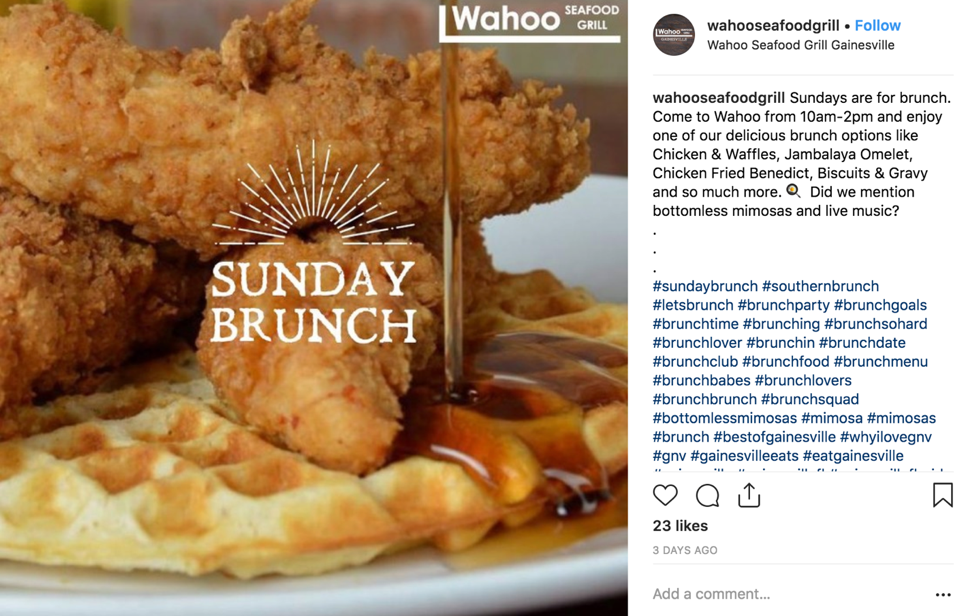 4. Take people behind the scenes with Instagram Stories
There's something intriguing about a chef flipping meat on a grill, chopping onions, or stirring a steaming pot of seafood – all these moments would make a great Instagram story for your restaurant.
The Instagram Stories feature presents an excellent opportunity for restaurateurs to show off the meal prep process and the ingredients, so people know the place where they dine offers not only scrumptious meals but also uses high-quality ingredients for food preparation. You could also occasionally weave text into your behind-the-scenes Stories to give clues about how certain ingredients could affect the outcome of the food item.
Note: To record a story, visit your Instagram profile and tap the "+" sign on your profile image.
5. Post pictures of your hard-working team
Vary your content and help customers know a little more about your team by sharing images of your employees. This will humanize your restaurant dining experience, make your guests feel more connected to the place, and present your Instagram followers with familiar faces in their feeds.
As a bonus, recognition will make your staff feel good about their work, which in turn would boost productivity and morale – it's a win-win!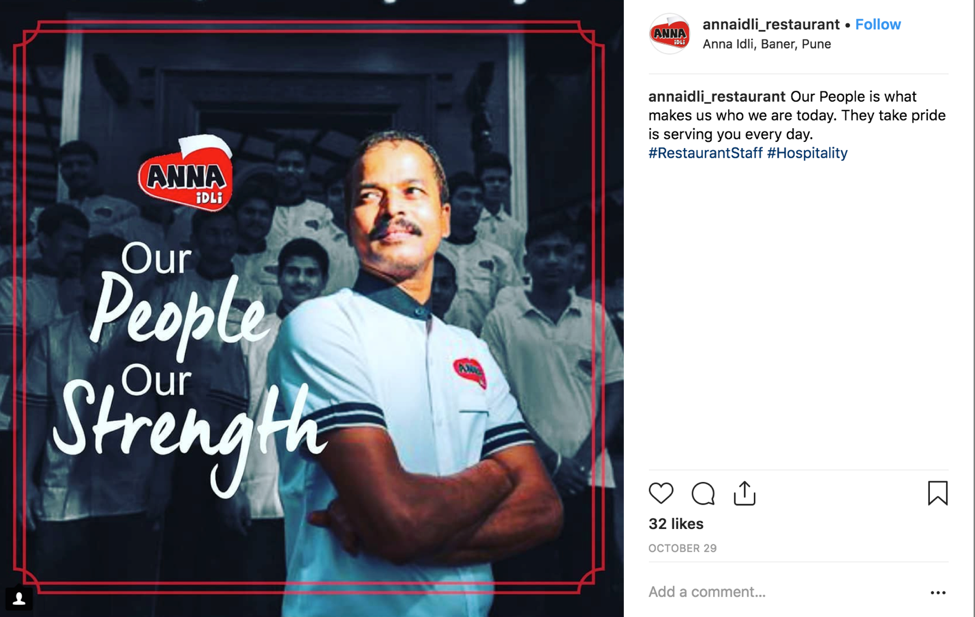 Bonus Instagram Tips & Tricks
Here are a few additional tips to make Instagram one of your restaurant's most effective and engaging social media platforms.
Add a booking link to your profile
An Instagram feature many restaurateurs still don't know of is the ability to include a booking link in their Instagram profile. If you're already using a restaurant booking solution, this is as straightforward as integrating your reservation widget link into your current profile.
This can be done by opening your Instagram profile, tapping 'edit your profile at the top, clicking on "action buttons" and selecting the "Reserve" button. Once you do that, select your reservation solution from the list (only reservation platforms that have officially partnered with Instagram will be available to choose from), and sign in with your unique credentials to connect your booking widget to your Instagram profile.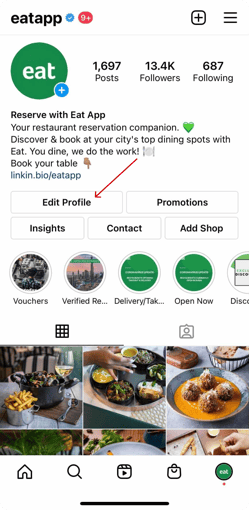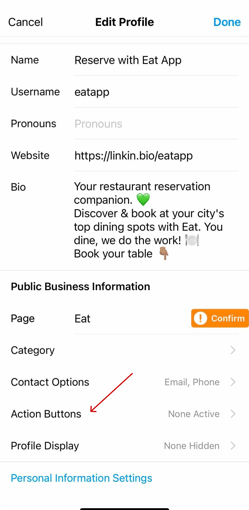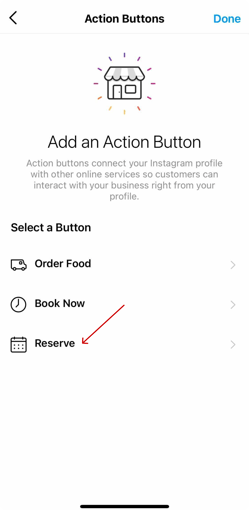 Use filters (sparingly)
The Instagram app includes a wide range of impressive filters. Use them on close-up images of food sparingly. If you go overboard with the tones and colors, the subject of the image will look unnatural and distorted. However, if the shot requires more punch, try increasing the saturation and/or contrast marginally. Chances are, that's all you'll need.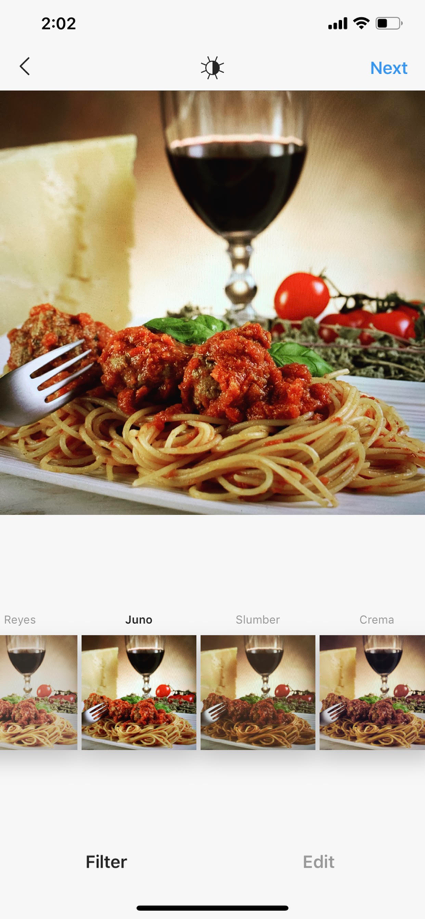 Note: You can also use apps like VSCO and Lightroom to adjust the tone and color of your images before you post them on Instagram.
Experiment with props
Like smartphones, food items lend themselves to accessories! Place medieval crockery beside the meal, or chopsticks near a bowl of sushi. If your restaurant serves food in a plated dish, add a piece or two of silverware to it. Enhance the elegance of a wine glass showcasing the wine bottle and cork, or add some flair to a cocktail by placing splashes of water and ice cubes around its serving glass.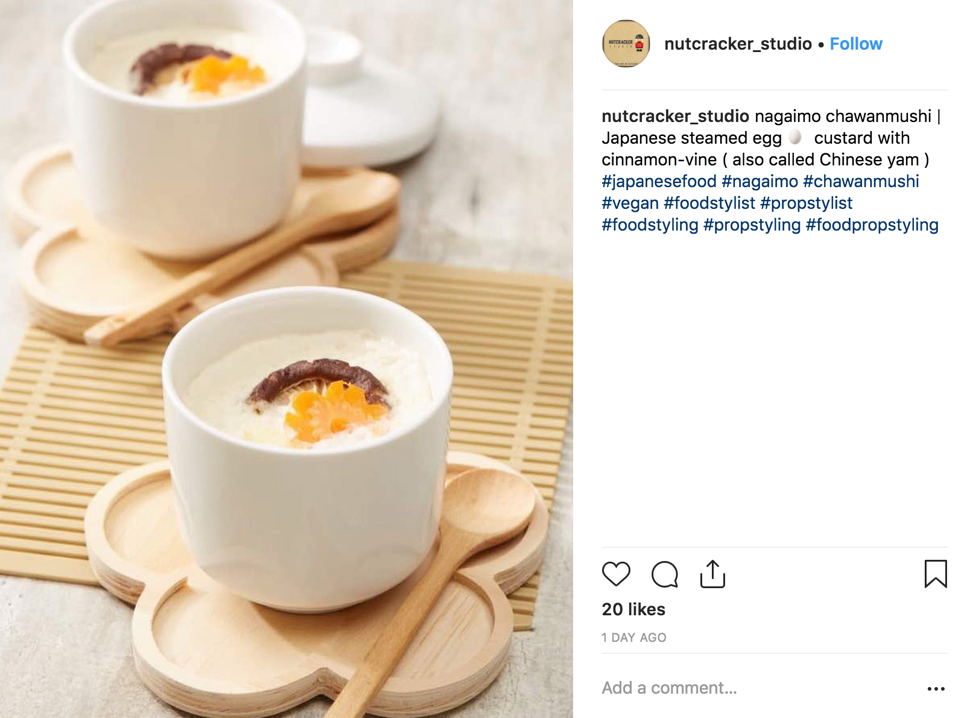 Ready to step up your Instagram game?
Tips on Instagram marketing for restaurants change and evolve, but the ones we've listed are true and tested. Whether you're shooting your own elegant images to highlight specials or finding ways to get your team directly engaged, effectively leveraging the 'Gram is guaranteed to increase your bookings and revenue.