In the restaurant industry, maintaining good guest relationships is just as important as having a functioning kitchen.
But between running a restaurant and managing its finances, restaurant management tends to forget to allocate the time to better understand their customers.
This is where Customer Relationship Management (CRM) and guest data can be of use.
CRM helps restaurants collect data about their guests through different sources like online and phone reservations. This information can be as basic as name and contact information or go in-depth with details like number of visits, food and seating preferences, allergies, birthdays, and anniversaries. With it, restaurant operators can gain insight into their guests and create a custom-tailored experience for each of their visitors.
Even if you currently don't have a CRM system, this process is likely still happening at your restaurant. Your front-of-the-house staff knows who your regulars are from the top of their head and give them a personalized experience. However, this is limited to your staff's personal, individual knowledge, and with the high number of tables and employee turnover, these important guest details get lost in communication.
A CRM system provides a centralized place to store all this crucial information easily and efficiently, allowing you to analyze the data and make strategic decisions to improve restaurant performance and guest experience.
The guest database generated by a good CRM system is incredibly valuable, and with the right actions, it can help drive sales and increase diner retention.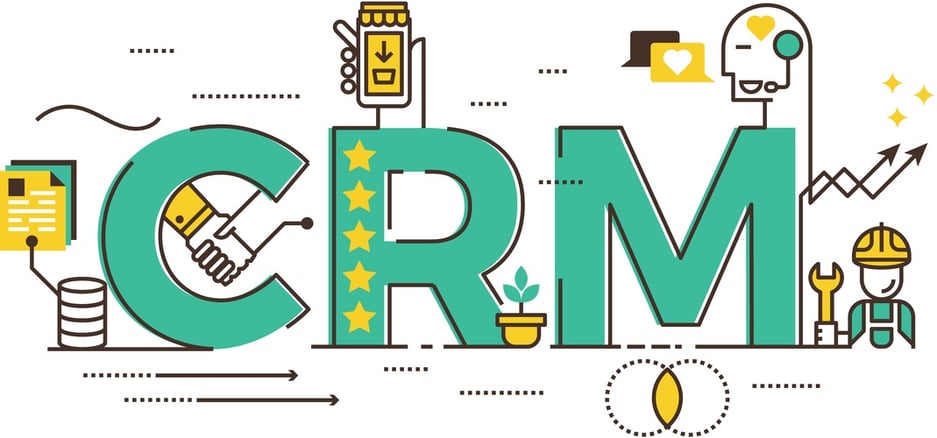 Why is CRM So Important for Your Restaurant?
Having a good CRM system in your restaurant is useful for several reasons, we've highlighted the most important below.
Understanding your customers
In the long run, a good CRM system will slowly accumulate your clientele's information to produce an incredibly valuable database with contact details, number of visits, food allergies, birthdays, anniversaries, and even average spend per visit. This information is the basis of understanding your customers and building more effective, targeted marketing campaigns.
Unlock more data
Most CRM systems can be integrated with other tech at your restaurant. For instance, when integrated with a POS system, it can unlock a treasure trove of data that would be difficult to find and analyze manually, like guest average spend, lifetime spend, and total number of visits, which helps you better understand the consumer spending behavior at your restaurant.

Optimizing marketing
Utilizing your CRM software effectively can help segment groups to target with customized marketing campaigns.

Knowing more about your customer base is an essential step in the process of creating more personalized messaging approaches, whether they be through SMS, email, or push notifications.

Understanding your customers means they will only receive messages that are relevant to them. This prevents someone with a shellfish allergy from receiving promotions from a seafood restaurant, and someone under 21 from receiving content from bars.
Loyalty programs and rewards
Loyalty programs and customer rewards are the most useful tools a good CRM system is capable of generating.

By tracking how many visits a guest makes, how much they spend per visit, and what they typically order, you can enroll them in a customized loyalty program.

This is not limited to just customer behavior, but can also be used to send special offers for birthdays, anniversaries, or special holidays.

Loyalty programs and rewards are not just beneficial for the guests, they also keep guests coming back, thus increasing retention.

Every guest is a regular
If you are operating a restaurant chain or have a number of different restaurants under your belt, you can still treat first-time guests as though they were regulars.

By plugging in a single CRM system across all your locations, it doesn't matter if a guest has been there before as long as they've visited just one in the chain.

This gives you the ability to greet them by name at the door, know what allergies they have, when their birthdays are, as well as typical spending habits and customer behavior. Imagine the look on their face when you recommend one of their favorite dishes without them having to tell you.

This also means that new employees also don't have to spend weeks familiarizing themselves with the regulars.
This curated guest experience is not limited to standalone restaurants, but also includes restaurants in the hotel industry. Through property management system (PMS) integrations, you unlock a host of data points that previously wouldn't have been accessible to your restaurant staff. This allows your customers to have a streamlined stay from the moment they check in to the moment they check out.
By plugging your restaurant management system right into your hotel's PMS, you'll be able to track guest stay metrics right from your host stand. These include room number, length of stay and guest tags.
Understanding and Analyzing Restaurant Performance
The information derived through CRM systems can help managers better analyze their restaurant performance by providing operational insights through various data points like busiest day of the week, best-selling dish on the menu, peak and non-peak hours, number of repeat customers, and more.

These insights can determine your operations' high and low points and help make strategic data-backed decisions to improve restaurant performance, like hiring more staff for busy days and marketing your best-selling products.
How Eat App's CRM System Can Help Your Restaurant
Eat App's table management system comes integrated with advanced CRM features that allow you to provide personalized guest experiences and build strong guest relationships by combining guest data with targeted marketing campaigns.
One place for everything
Collect, manage, and sort all your guest data under one system, whether you run single or multiple restaurants.
Rich guest database
Build guest databases with various details that go beyond the basics, like tracking seating preferences, allergies, regular orders, special requests, birthdays, and more, that allow your staff to provide a personalized guest experience.
Easy Segmentation and Personalized Marketing
With Eat App, you can create guest segments based on the information collected to gain a better understanding of your guest base, and also use these segments to send tailored and personalized marketing messaging from within the system (for example, you can create a guest segment for people who have previously ordered sushi and message them about your next sushi night).
Automated Guest Tagging
Eat App's advanced guest tagging feature allows you to automatically tag your guests as VIPs, high-spenders, regulars, etc. when they meet a certain set of customizable conditions (for example you can set up an automation rule to tag a guest as a regular after they visit 4 times in a month), taking away the hassle of manual tagging and making sure your guest profiles are always up to date.
Learn more about Eat App's Automation Feature
Automated Marketing
You can also use Eat App's automation feature to send out automated marketing messages to guests on special events like birthdays and anniversaries, allowing you to provide a personalized experience with minimal effort.
Interested in learning more about Eat App? Try out our free 14-day trial by signing up now!