For restaurant owners, one of the most crucial aspects of day to day operation is building and maintaining a customer database.
Between running a restaurant and managing its finances, restaurant operators can often find it difficult to allocate time to better understand their customers.
A CRM system makes customer relationship management targeted and is highly impactful to many restaurants.

---
What is CRM for restaurants?
CRM for restaurants helps restaurant management gain insight into their guests, providing them with the ability to create a custom tailored experience for each of their visitors.
Today's diners demand a personalized experience. CRM systems like Eat enable restaurant staff to give the best customer experience throughout the diner journey.
CRM for restaurants opens up new marketing and communication channels that improve retention and repeat business.
How can Eat's CRM help your restaurant?
Eat's CRM for restaurants helps operators in a number of ways, find out how you can start generating impactful metrics from your customers.
1. Expand your customer list
Automatically add online bookings to your database and easily add and sort new entries. Import your existing database in seconds.
2. Improve marketing
Utilize the data generated by restaurant CRM to better plan and execute targeted marketing campaigns.
3. Personalized hospitality
Provide a personalized experience by knowing diner history, notes and preferences.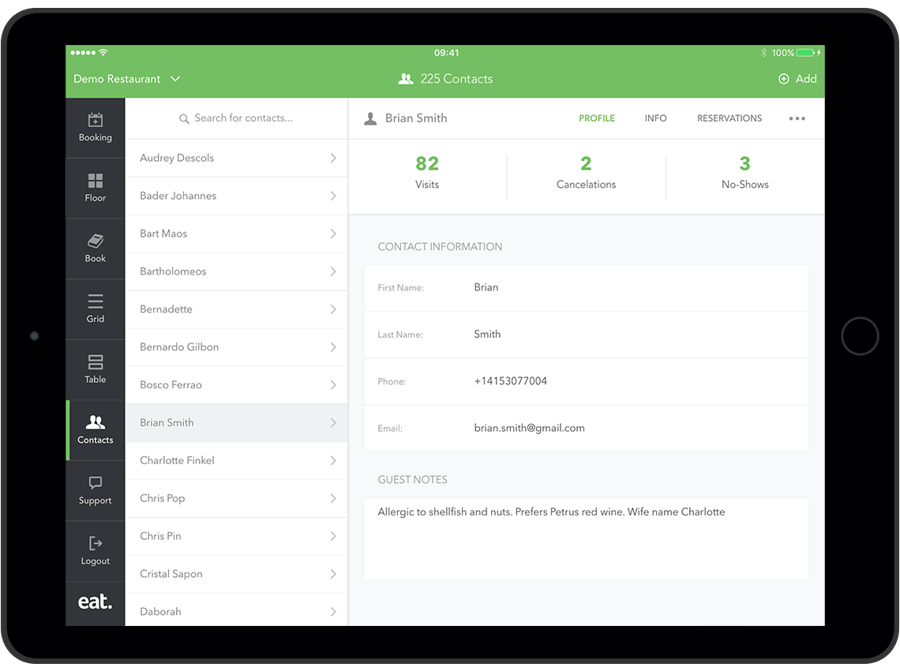 ---
Built in CRM with Eat table management
Eat's table management solution provides restaurant operators with a number of excellent CRM tools such as:
Rich Guest Profiles
Need to know who is VIP? Store diner preferences, notes and access complete diner history.
Tags
Group customers into categories, customized to what's important for you.
Data Download
Whether it's for Facebook ads or email marketing you have unlimited access to your customer list.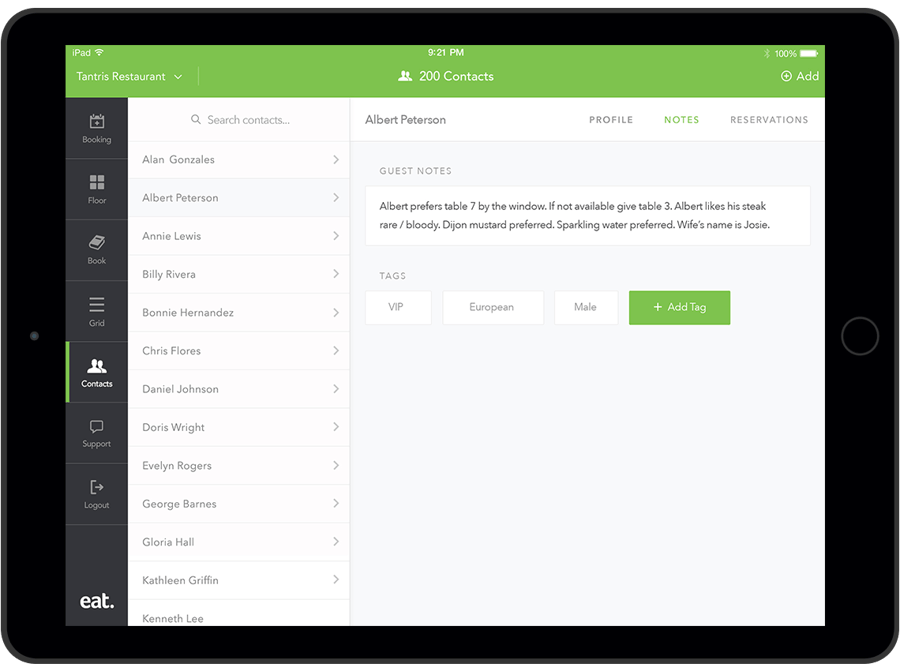 Repeat customers are a crucial revenue stream for many restaurants. Through better customer service and marketing with Eat, restaurants are retaining more diners over the long term.
---